Two girls reunite with family after a journey exploring their cultural heritage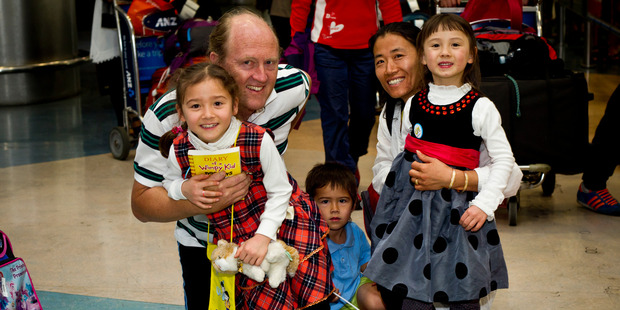 She says she saw some "very extremely good" movies on the way home. The first was Ice Age: Continental Drift. "That has very big woolly mammoths - they're like elephants - who are on an iceberg that is like a ship. Then we watched a feature about wolves. Gray wolves. Then Paranormal. It's got zombies and a witch's curse and they bring alive the dead."
Seven-year old Sophie Perry and her sister Skye, 5, have just got in from South Korea. The two girls have been staying in Gwangju, four hours' drive south of Seoul, staying with an aunt and visiting their grandparents. They've been away five weeks. Their welcoming party includes their dad Scott Perry, mum Micky, and brother Rio, 3. They're bearing balloons as usual.
"They go by themselves to Korea each year," Scott explains. "Sophie spent a year there when she was 3 and Rio went for a year when he was 1. To help with the language. And spend time with their family."
Our story actually starts a decade ago, in 2002, when Scott and Micky met at a backpacker's in Auckland. Scott worked there; Micky was studying English. "Micky checked in one day and never checked out," Scott grins.
The 47-year old now runs Skyway Lodge, a 10-room hostel in Mangere. He describes their children as "typical Kiwi backpacker kids".
"And that's why we keep sending them over there," he explains. "Because they forget they're also Korean. We want to make sure they continue relationships with their Korean family. And the bicultural thing gives them choices."
It's not always easy, he admits. "It can be pretty devastating [seeing them leave]. And my telephone bill can get scary. But with modern technology, you're never far away. Every day or two we talk to them on Tango. Pictures and videos get uploaded on the smartphone ... shots of what's happening and what they're doing. Birthdays. Family gatherings. The latest kindergarten event. Of course, it's winter over there - a 'winter wonderland', Sophie calls it. So ice-skating. Skiing."
He puts his arm around his oldest. "What was your favourite, Sophie?"
"Skiing," she says, emphatically. "I can go slow. I can go fast. And I even went on one of the high slopes."
SCOTT'S PHILOSOPHICAL THOUGHT
These days families are dispersed so widely. We meet people every day who are visiting relatives from the other side of the world.
We had a girl arrive from Brazil. She got in at midnight with a baby daughter and they were heading to Wanaka to visit the grandparents for the first time.
Can you imagine the happiness of the grandparents meeting their grandchild that first time? It's just wonderful.