Ewan McDonald rambles on about a group of Aucklanders taking a walking holiday with a few differences.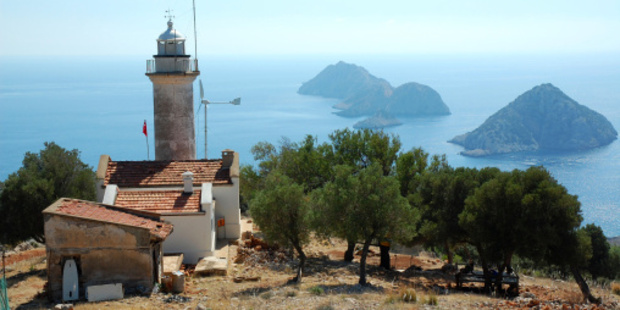 Don't ask me, I can't remember the first time I heard about the dream. Or when or where the dream became an idea that became a plan. It might have been three years ago, when three of us were lounging on one of the most beautiful beaches in the world (don't take my word: ask the loggerhead turtles); it might have been on a wet winter Sunday six months later, lounging in front of the TV in Parnell. Or it could have been when I heard stories of some times in the 70s when Jude backpacked around places where, and when, very few Kiwi girls backpacked around on their own.
Jude and I had significant birthdays late last year. You don't need to know how significant, other than that they implied a degree of maturity that puts us into the prospective readership frame for this magazine. "If you could do one thing for your birthday, what would it be?" I asked my partner in a tone of voice that might have implied, "within the limits of my Visa".
She didn't need to fake a hesitation. "You know I've always wanted to spend my [don't need to be specific] birthday on a beach in the south of Turkey." Then she refined, or reframed, the proposition.
"Not on a lounger. Walking the Lycian Way."
There is only one difference between these two modes of celebration. The first involves flying to somewhere like Cirali, parking oneself on a lounger and occasionally rousing oneself to ask the waiter on the previously mentioned contender for the most beautiful beach in the world for another Efes. The second involves the mixture as before, with rather more rousing of oneself to walk 500km along the southwestern coast, with added mountains and bonus backpacks.
It was just past Christmas and there were still earlybird flights to Istanbul to be had, so they were. One summer evening we mentioned the trek to friends. And Jude talked about it to more friends, these ones in her dragonboat team. Each conversation seemed to end with, "Why don't you come along?"
Three or four weeks later, nine Lycian acolytes met for mezze and wine at our place in Parnell, to kick around the idea of making a trek of it. Several were already committed: they'd booked their time off and bought their flights. Others were seriously keen.
Perhaps it was my killer imam bayildi, or Jude's more-ish baba ganoush, or possibly the photos of our last trip to the Turquoise Coast, but by the end of the evening everyone was on board.
We're leaving at the end of May, before the Northern Hemisphere holiday season kicks in, before the sun gets too unbearable, before the pansiyon- and lokanta-owners are over the sight, sound and serving of tourists.
Arrangements, if they can be called that, are flexible: some of us will spend four or five weeks in Turkey; others will be in Europe, some seeing family, and will join us for a leg, or two, of the tramp. One is bringing her daughter and partner; Jude's daughter is joining us from her Edinburgh University holidays.
Everyone has launched themselves into the idea. Three have signed up for the six-week Introduction to Turkish course at Auckland University's Continuing Education Department (there were earlybird fares for that, too) and after one lesson can already throw around a "Merhaba" or "Tesekkür ederim" as if they were in the market at Fethiye.
We know this because we are linked into a facebook group, posting and swapping tips on the route, other ways of getting from Point A to Mount B (I've put out a big shout for spending a few nights sleeping under the stars and the days sailing on a gulet, the traditional looking, broad-beamed, two-masted boats built in ports like Bodrum and Marmaris. Traditional looking but not necessarily traditionally powered (most use diesel) or fitted-out (there's more of what passes for luxury.
Compared with walking over hot rocks for 500km, anyway).
Jude has proffered some budget advice, which should come in handy unless the Turkish Government knocks another nine zeroes off the New Turkish Lira to create the Really New Turkish Lira, as it did a couple of years back.
People are getting fit. Three of the dragonboaters are using the southern seas season for their buildup. Others have joined gyms. I am back on the bike: in Auckland commuter traffic it's a case of feel the fear, and the gear, but do it anyway.
But I am not taking it too strenuously. For it occurs to me that whenever nine or 10 of them, of a certain age, are gathered together, someone should sacrifice the pleasure of walking 500km up mountains and down tracks, under a burning sun, and a nodding acquaintance with stroppy little land tortoises and baleful goats and the most open-hearted people on the planet, so that one may cater for the undoubted excess baggage and make sure that when the team arrives at the next village, there are beds reserved, restaurants sussed... and chilled, foaming Efes on the terrace.
Every tour party needs a logistics manager, and I've sacrificed all (okay, most) of the pleasures known to man and goat along the Lycian Way in accepting that role.
Knowing that I will be exposing myself, on any given day, to some hours in a non-airconditioned white minibus - they're called dolmus - with a tinny speaker blasting execrable out-takes from Anatolian Idol.
There are a thousand and one things to love about Turkey, though its pop music is not one of them. But I know that one afternoon, I'll be on an aged Toyota minibus somewhere between that fishing town and the next one, counting how many beds and however many vegetarians for dinner tonight and who had the red backpack and where do I get the batteries for Gemma's camera, and the song will be The Impossible Dream.
And, surrounded by old ladies and men arguing about football or politics and schoolgirls batting eyelids at boys from the next village, I can only grin, and think about the woman who, a few hills away, is marking her significant birthday with her friends, backpacking around places where very few Kiwi girls...
FIVE GREAT WALKS
Lycian Way, Turkey
Approximately 510km, from Ölüdeniz to Hisarcandir, about 20km from Antalya, past and along beaches, cliffs, sunken cities, the route mostly follows old, hard and stony donkey paths, and commemorates the ancient civilisation that once ruled here. See trekkinginturkey.com.
Milford Track, New Zealand
Usually described as the finest walk in the world, the track from the northern shores of Lake Te Anau to Sandfly Point near Milford Sound takes four days. See milfordtrack.net or doc.govt.nz.
Southern Upland Way, Scotland
Scotland's longest trek stretches 340km from the old fishing village of Portpatrick to the North Sea cliffs of Cockburnspath. See southernuplandway.com.
The Pennine Way, England/Scotland
A long-distance footpath running 402km along the Pennine Hills, "the backbone of England", from Derbyshire to Scotland. See thepennineway.co.uk.
El Camino de Santiago, Spain
One of the most important Christian pilgrimages during medieval times, "The Way" can take any number of routes across Spain to Santiago de Compostela. A Unesco World Heritage site, it now welcomes more than 200,000 walkers a year - not all for religious reasons. See reallylongwalks.com.