Justine Tyerman delves into the history of a grand old house in Manapouri, Fiordland.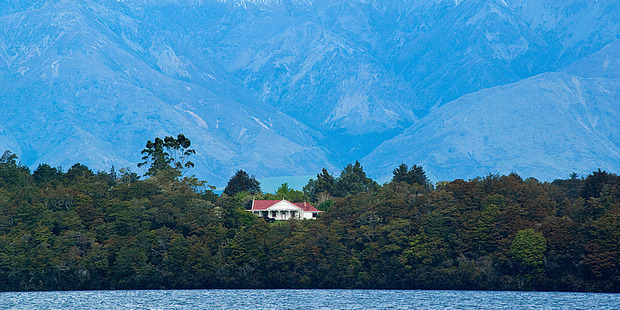 Lake Manapouri's Grand View House holds the distinction of being the oldest accommodation of its kind in New Zealand, having been in the ownership of the same family for five generations over a period of 124 years.
The guesthouse - overlooking the remote, beautiful lake, enclosed by massive, heavily-wooded mountain ranges and snow-capped peaks - must have been a welcome sight for weary travellers in the late 19th and early 20th centuries. The house was built in 1889 by Robert ("Young Bob") Murrell as a haven for pioneering tourists seeking warm, dry, comfortable lodgings while exploring the Fiordland wilderness.
Those hardy, adventurous men and women would have received a gracious greeting from Young Bob's wife, Margaret, who ran the 14-room guesthouse, before being offered shelter from the tempestuous Fiordland weather and a hot meal by a roaring fire.
Travellers 100 or so years ago might well have been taken across Lake Manapouri on the steamer Manurere skippered by Young Bob himself who would have then guided them over the rugged Wilmot Pass track, on foot, to Doubtful Sound and back, a journey which would have taken three or four days, depending on the weather - one day to walk over the pass, a day for the trip to Hall Arm in a long boat with some fishing and duck shooting along the way, and a day's rest before walking and boating back to Grand View House.
Young Bob discovered the pass in 1888 and helped cut a track to Doubtful Sound for the government in 1901. In 1904, after four seasons as manager and chief guide on the Milford Track, he became captain of the Manurere, providing guided tours of the spectacular lake, pass and fiord for those tough enough to withstand the wild weather: sudden torrential rain, impenetrable mist and unseasonal snow... clearing just as quickly to clear skies, sunshine and sparkling calm water.
We modern-day travellers had a taste of what those intrepid adventurers experienced when we arrived - albeit by car rather than horse-drawn wagon - after tramping the Milford Track. We were warmly welcomed by Robert Murrell the third, great grandson of Young Bob, and shown around the beautifully-restored historic bed and breakfast establishment with uninterrupted lake and mountain views.
We strolled around the grounds and along the lake shore before luxuriating in hot showers and sinking blissfully into comfortable beds - heaven after three nights in sleeping bags sharing bunkrooms with 40 fellow trampers on the track.
We awoke to a delicious breakfast of fresh local produce served at the 12-seater rimu table where travellers would have eaten their meals more than a century ago.
While the kitchen, bedrooms, bathrooms have all been modernised, much of the exterior and interior architecture, beautiful polished wooden floorboards and furniture are original. The dining table, sideboards, fireplace, mirrors, organ and piano date back to 1890 while the soft furnishings are new but very much in keeping with the period.
The house is a veritable treasure trove for history and antique enthusiasts.
Perusing the visitors' book is a fascinating step back in time.
In 1892, Tom Ryan from Parnell, Auckland wrote:
"Just finishing a tour of New Zealand with Manapouri Lake which I consider the most beautiful of all the lakes and a perfect artist's paradise."
In 1894, M. G. Pasco from Dunedin wrote:
"Spent four days most enjoyably cruising about this beautiful lake which abounds in delightful spots. The wonder is that visitors do not come here by hundreds instead of by dozens. The accommodation at this out-of-the-way spot is surprisingly good."
In January 1900, Mr and Mrs Hill from Melbourne Victoria wrote:
"Manapouri is the Queen of all the Lakes and Mrs Murrell is the best of hostesses."
In 1902, visitors from Dunedin wrote:
"Manapouri is named the Queen of the Lakes and will in the near future, when communication is easier, be the centre of attractions of the holiday seekers of our own beautiful islands as well as visitors from abroad. Mrs Murrell is to be complimented for the hospitable accommodations she provides for visitors."
Entries in 1892 show there were visitors from Ohio and Missouri, USA, but sadly their names and comments are indecipherable.
One of many historic photographs in the hallway shows the house in 1901 with six horses and a covered wagon parked outside.
Another shows an outstanding plate photograph of Doubtful Sound with words printed around the frame of the photograph claiming the Doubtful Track as providing "the easiest and cheapest holiday in New Zealand" amid "scenery unequalled in the world".
The fifth generation of the family to manage Grand View House, Robert and his English wife Philippa have been hosts at the boutique bed and breakfast establishment since 2006 when they took over from Robert's father, Jack Murrell.
After breakfast, we set off on our own Fiordland adventure - across Lake Manapouri to West Arm on the high-speed catamaran, Titiroa, by coach down a two-kilometre-long road to the Manapouri Power Station 200 metres underground, by coach over Wilmot Pass to Deep Cove and by boat, the Tasman Explorer, across Doubtful Sound to the Tasman Sea, a wonderful experience... all in just 10 hours.
The day dawned misty, drizzly and grey but by midday, the clouds had cleared to reveal Fiordland in sparkling splendour with magnificent views of waterfalls, mountains and valleys.