Nicholas Jones' excitement is turbocharged on a jet boat ride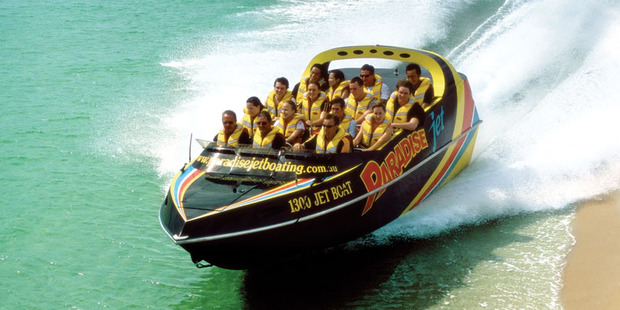 Jet boating the Gold Coast is a strange mixture of speed-induced adrenaline, and an eye-opening guided tour of the area's backwater opulence.
One minute we are tearing along the Broadwater waterways, the next slowly cruising past the backyards of the multimillion-dollar mansions that line Sovereign Island. Our skipper and guide Jamie points out one particularly large mansion as belonging to mining magnate Clive Palmer.
A huge super-yacht moored alongside the home is worth $6.2 million, we are told, and was given to the mining magnate's daughter on her 15th birthday. There are more disbelieving groans from the group when we pass another property's living room windows. Its indoor waterfall, we are told, runs 24/7, despite the property being unoccupied most of the year.
Then it's back to the business of jet boating. Paradise Jet Boating get their boats from New Zealand, with the newest a turbocharged beast which can reach speeds of 89km/h fully loaded with 22 passengers and the skipper.
It's thrilling enough travelling in a straight line at those speeds, but the real screaming starts when we sharply turn into 360 degree spins, drenching those on the outside seats. After each spin almost everyone is laughing maniacally, and we are still coming to terms with what we've just experienced when the motors roar again.
Though there are no Queenstown canyon walls to play chicken with a la the Shotover Jet, there are sandbanks, with Jamie - who races drift cars in his spare time - sliding the boat at full speed over just centimetres of water.
The tour resumes as we cruise slowly through the Moreton Bay Marine Park. The boats spotted dolphins yesterday, and there are often wallabies along the beaches of South Stradbroke Island. We settle for a lone pelican and a break from the white-knuckle speeds and stunts.
But it was never going to end on a creepy bird. We are back at top speed heading toward the finishing point of the 35km circuit when Jaime spots a large motor yacht coming in the opposite direction - and its considerable wake.
As those on the yacht look on with startled faces we begin our final 360-degree spin right before hitting their wake, and are launched clear of the water mid-spin. One of two young Japanese women - who turned up in high heels and immaculate makeup and hair, but is now drenched - is thrown from the row behind us and into our backs before falling back to her seat, laughing the whole way.
The tour offers a new perspective of the GC and thrills to beat the theme parks - just make sure to pack a change of clothes.
Wet appetite
A 55-minute Broadwater Adventure premium ride costs $79.
• Nicholas Jones was a guest of Gold Coast Tourism Corporation.