Kevin Pilley gets comfortable on the Mississippi's water.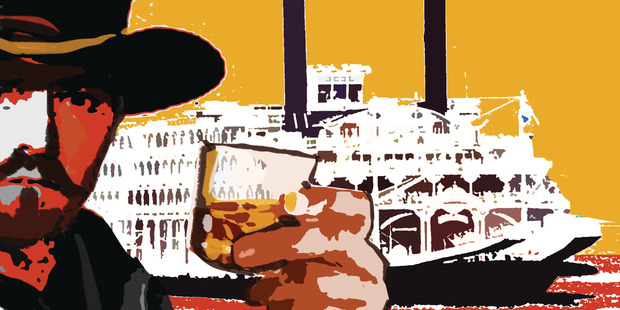 Below us, Ol' Man River rolled its mile-wide tide along. I asked Hal where his wife was.
"Probably choosing what teeth to wear to dinner. You old enough to drink? Let's go for a whistle-whetter."
We creaked up out of our rocking chairs and he led me aft. To the Engine Bar.
"I feel a Hurricane coming on," he said without looking at the window.
"Or maybe an Alabama Slammer. You don't look like a Scarlett O'Hara man."
In corroboration, I flushed cranberry. He ordered two "Bayou Backwaters" and winked.
"No gentleman would order more."
The barman set highballs before us and left the bottle.
"Only drink invented by a Heron. The great M.W. Son of an Irish boat-builder, I believe. A St Louis man. Invented Southern Comfort in 1874 in New Orleans. Died on the day Prohibition broke out. Keep them slidin', barkeep and most esteemed liquid rectifier."
Two "Barracudas" followed. We toasted Martin Wilkes Heron, the mixologist behind "The Grand Old Drink of the South", famously patented "None genuine, but mine".
Hal told me it was first called "Cuffs and Buttons" and made from bourbon, vanilla beans, honey and miscellaneous spices.
The bar was travelling at five knots and shallow-bottomed. Once, 10,000 boats plied the 4800km Mississippi river system. Now it's just a handful, including the six-deck American Queen full-stack paddleboat.
We were on a one-week "Southern Culture" cruise, downhome Louisiana style. Churning up the muddy waters from the Big Easy right up to Memphis. Via Oak Alley, Natchez and Vicksburg. And the odd tributary.
"That's Woodland Plantation," Hal said, pointing at the antebellum mansion on the label.
"It's at Pointe de la Hache. You can stay there."
He saw my glass empty. The calliope played.
"You need some more diesel, boy."
He listed my options, counting off their constituents on his liver-spotted hands: a "Steamboat" (Comfort and lemonade), a "Slammer (sloe gin, amaretto and hardly any lemon juice), "Liquid Cocaine" (pineapple juice and vodka), "Southern Pussy" (Sour Puss raspberry liqueur), "Southern Chicken" (101 per cent Wild Turkey), "Kidney Killer" (tequila), "Alligator Piss" (peach schnapps and melon liqueur), "Mississippi Gambler" (creme de menthe, Blue Curacao and Kahlua) or an "Axe Murderer" (everything).
He said his wife was a "Southern Belle" lady. Right down to the Galliano and grenadine.
I had had my fill of "Hurricane" slushes down Bourbon St and was not enamoured by the traditional Confederate beverage comprising one part watered-down indeterminate liquor, two parts crushed ice and one part barman's thumb, stylishly served in a styrofoam dentist's oral rinse cup with a complimentary easy-to-understand straw.
Aptly for this column, Hal chose me a "Barfly" and told the barman to go easy on the cherry. Some pretty impressive shot-glass juggling ensued and then it came. A dash of Diet Coke with 25ml of gin and 25ml Southern Comfort. And very smooth and soothing it was. The calliope tooted.
Hal knew his Twain and spoke of the famous river of being a book.
"And not one to be read once and then thrown aside. For it has a new story to tell every day."
Apertif-time nearly over and gumbo and jambalaya in the air, Hal invited me for dinner on the world's third longest river. He shook his head over the mud bags and recommended I try the duck. The way the locals like it. Blue.
"According to an old cotton plantation recipes, all you need is a slow-gaited waiter to walk the animal slowly through a very hot kitchen. And it's done. Cooked right through."
He kissed his fingers. Or he may have removed some garnish from his plate.
We downed our sixth apertif just as his wife arrived. She squinted over at us.
"It's our golden anniversary," said Hal, talking out the side of his mouth and waving.
"I got her a cataract operation."
From the doorway, Mary-Ann gave us a smile. She had chosen wisely. And widely.