Edward Gay flies CV91 to a remote outpost of New Zealand.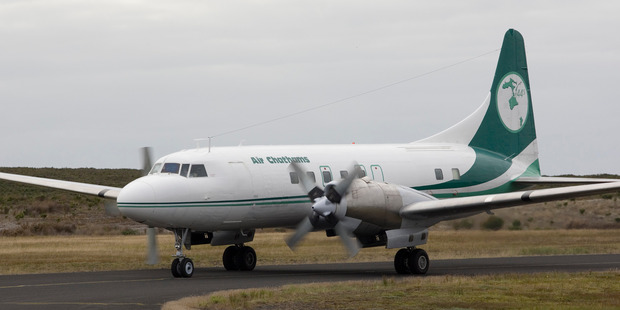 The route: Auckland to the Chatham Islands.
The plane: Convair 580, billed by Air Chathams as a "classic era aircraft". The company owns three of the planes to "allow for engineering requirements to be met".
Price: Tickets to the Chathams range from $754 to $1230 return for an adult.
Class: Just the one. On the way back to Auckland the front six or so rows of seats had been removed to make way for boxes of live crayfish - a major export of the island.
On time? The two-hour-and-15-minute flight was actually a full 24 hours late. The day before we were due to take off, passengers received a call from the travel agent to advise there was a 24-hour delay and the reason was unknown.
My seat: Anywhere I wanted. The advantage of flying Air Chathams is you can sit where you please.
Fellow passengers: The plane was mostly transporting a tour group to the Chathams. All good people.
Entertainment: Sparse, just the book that I brought with me and the amazing view out the window. One of the highlights was not having to suffer through Air New Zealand's Hobbit safety video.
Food and drink: Heading out we were given a sealed plastic container of water but on the way back to Auckland there was a sandwich, water and a cup of tea.
Luggage: 20kg allowance for your main bag and an extra 5kg for hand luggage. Air Chathams put my fishing rod on at no extra cost.
The airport experience: Air Chathams is like a black-ops mission to Iraq.
There is no listing on the boards and one airport staff member couldn't tell me where the plane was departing from.
On the island, Inia William Tuuta airport is situated on land gifted to the Chathams by the local Tuuta family.
It is a building next to tarmac and is currently undergoing a renovation.
Would I fly this again? If I want to go back to the Chathams (which I do) then I have little choice.