Three volcanoes, a castle and a train make for magical holiday ingredients, writes Elisabeth Easther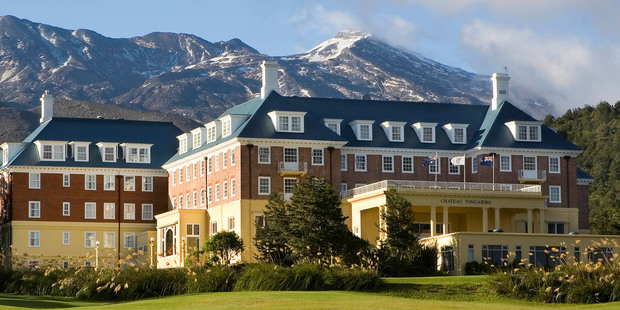 It's tricky having your birthday fall in the school holidays when you're young; more often than not your friends are away when you should be throwing a party and graciously receiving swags of generous gifts.
Short of shifting your birthdate, another way around this awkward matter is to go on your own trip, one that's so magnificent you'd never have it any other way.
Then have a party when school resumes - best of both worlds.
This year, to celebrate turning 7, my son Theo devised a plan that included some of his favourite things: a trip on a train (he's not as mad for locomotives as when he was in his Thomas phase, but they're still cool), a handful of volcanoes (eruptions optional) and a couple of nights in the lap of luxury, ideally a castle, (making The Chateau tres magnifique).
On the big day itself, we boarded the Northern Explorer, the train that connects Wellington and Auckland on alternate days. Clambering aboard at Paraparaumu, 50km north of the capital, we escaped a drizzly Kapiti morning.
Once settled in our comfortable carriage, the world rolled wetly by.
Through the generous windows we saw snippets of countryside and waterways you'll only ever see from the tracks, like being let in on a secret.
We made the occasional trip to the viewing-car, which is no longer the glass bubble we loved on previous trips; it's now an open-to-the-elements affair, which is pretty invigorating, although not as prone to make people linger.
The refreshed dining car more than made up for that change. The food was delicious, the coffee ditto and the staff personable and fun.
Long gone are the days of the railway pie and china so thick you could throw a mug at a tunnel and the tunnel would chip.
The fields, flora and fauna flew by and, in no time at all, we disembarked at National Park to be whisked to the Chateau Tongariro, a shuttle service the hotel provides free of charge.
At 84 years old and as imposing as ever, the Chateau, in its livery of French vanilla, brick and blue, is delightful, its glory ever so slightly faded. Built in 1929 in a neo-Georgian style, its lavish windows with their extraordinary views (get a load of Ngauruhoe), the chandeliers and the pianist tinkling away combine to make visitors feel the voyage is not just geographical, but in time.
During our stay, the weather wasn't the best and only occasionally did the mountains doff their caps of cloud to reveal their majestic snowy peaks. But the low skies and drizzling rain created an atmosphere we rather liked.
And we were happy to be lured down to the basement, with its games room and cinema, its eerily lit plunge pool and sauna.
We made the most of the interior fun.
The Whakapapa Visitor Centre, just a few minutes walk from the castle, is filled with tramping accoutrements, souvenirs and some interesting-ish displays.
The two short movies (The Sacred Gift of Tongariro and Volcanoes of the South Wind) were sweetly low-fi but at $1 for a child We saw snippets of countryside you'll only ever see from the tracks and $3 for an adult, one can't complain - although a certain 7-year-old would have liked more bang for his buck with regards to the volcano flick.
There are a number of easy walks that set off from the visitor centre.
The easy 10-minute nature walk is so good we did it so many times we lost count.
We loved the foaming white water rushing over rocks and took way too many pictures of delicate mountain flowers, spiders and moss.
The longer Ridge Walk, a 1.2km loop, was lovely - not at all challenging and a good appetite stimulator - and the longest walk we undertook, The Taranaki Falls Loop, was 6km.
We completed it in about 90 minutes and anyone who's reasonably sure on their feet could knock it off, no sweat.
We'd have preferred the rain to have stayed on the train or in Spain, but we didn't melt and the promise of a bath back at base camp kept our spirits up when the rain poured down.
The Chateau's food was utterly pleasing, although we didn't try the Ruapehu Restaurant's wild rabbit loins or Chateau Briand at $78.
It was somebody's birthday, but the line had to be drawn somewhere.
We opted instead for the Pihanga Cafe, which was so fab we ate there both nights running and had exactly the same thing both times.
Their kids' menu was a corker - proper food, real chicken, not deep-fried nuggets - plus perfectly cooked broccoli, cauliflower and carrots and, I'm told, the best mashed potato in the world.
Every single member of staff was sweet and helpful although, it has to be said, terribly young, which might have more to do with me being older than I've ever been before.
Did I mention the breakfast buffet?
It needs to be noted. Tables groaned with everything you could ever want and more; $25 for adults, and only $11 for a child to go crazy on the cooked and continental - a veritable feast.
I blame the crisp clear mountain air, it sure does stimulate the appetite.
In a perfect world, we would've stayed much longer.
There were many more walks we'd have liked to have tried, and the mountains still need to be conquered, but our train was booked to return us to Auckland and, once again, we trundled along the main trunk line.
Mostly, along the way, people would stop and wave at the passenger train, the romance of train travel enjoyed as much by passers-by as passengers. Although one small central North Island town that shall remain nameless had quite a different approach.
There, two small smiling boys on bikes vigorously cycled along beside the tracks.
At first I thought they too were waving but, on closer inspection, I realised they were flipping us the bird. I waved anyway, it had become a reflex.
Be warned though, the train is not cheap ($300 for mother and son from south to north in two chunks), but it is incredibly comfortable and a bit fruity, the scenery is spectacular, and feats of engineering like the Raurimu Spiral will blow your mind.
Now, it's time to start dreaming up the itinerary for Theo's 8th ...