Brett Atkinson explores the charms of Niue's coral atoll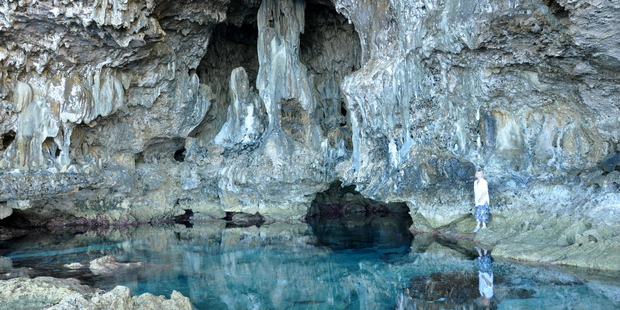 Adrift in remote expanses of wild Pacific blue, Niue is one of the planet's most surprising islands. Rugged, individual, and only 240 sq km in area, the tiny self-governing nation dubbed "The Rock of Polynesia" doesn't fulfil traditional stereotypes of a Polynesian tropical idyll.
Don't come expecting palm-fringed lagoons and arcing sandy beaches; instead pack walking shoes and an intrepid sense of curiosity to explore one of the world's largest uplifted coral atolls. Leave your trashy airport novel or Kindle at home, and prepare to be immersed in soft adventure Niue-style. Sea caves, natural arches and swimming holes punctuate the island's rugged and rocky coastline, and Niue's porous combination of coral and limestone acts like a giant sponge. This geological quirk means no rivers, creeks or runoffs leach into the ocean, so the snorkelling, diving and fishing are all spectacular.
Several of Niue's unique geological features are stretched out along the island's more sheltered northwest coast, and can easily soak up a couple of lazy Niue days. Named after the homeland of the earliest seagoing Polynesians, Avaiki Cave is a cathedral-like coastal cavern with a sublime rock pool.
Shadows dance off the cavern's ceiling in the diffused half-light, and it's easy to see why it was a favourite bathing place for Niue's royals in earlier centuries.
At the pristine Limu pools slightly further north, the cooler water of an underground springs mixes with warmer salt water rolling in from the open sea to create a strange phenomenon. Where the flows combine, the water resembles fractured glass, and viewed through a diving mask it is like swimming through a liquid ice cube.
Further north at Hikutavake, a trail leads from the clifftop to an enclosed reef studded with natural pools, the largest up to 10 metres deep and 25 metres across. Sea turtles occasionally swoop between kelp and coral in this natural aquarium, and another nearby pool is linked to the open sea by a submarine tunnel allowing white-tipped reef sharks to come and go at will. Apparently they're no threat to humans, but emerging from the underwater shadows, the sleek telltale profile looks menacingly familiar.
More exposed to big winds and even bigger seas, the east coast of Niue is raw and unrelenting. At Togo, a footpath from the island's circular road picks a precarious way through a forest of serrated coral pinnacles, the jagged blue and purple shadows morphing with the white-capped indigo smudge of the ocean in the near distance. At the end of the track, a rough-hewn ladder descends into a sandy oasis that's almost more Middle Eastern than South Pacific, the incongruity reinforced by waves crashing just metres away on the other side of the chasm.
From the ocean, Niue's procession of sea caves and rugged cliffs is equally spectacular.
For fishing fans, wahoo, tuna and mahi mahi are all abundant, and underwater visibility for divers can be up to 50 metres. From July to October, when the migrating leviathans gather in Niue's warm waters to nurse their newborn calves, it's also possible to snorkel with humpback whales. Interaction with the whales is a gentle encounter, and participants must slip quietly from Niue Dive's Zodiac to float respectfully above the whales and their calves. Often the whales are in surprisingly shallow waters just 30 metres off the coast, and passing whales are sometimes heard from clifftop accommodation. Niue's crystal clear waters provide perfect viewing of the whales, with calves up to two metres long nuzzled close to their huge mothers. It's
a compelling scene, only broken when the whales swim away with a calm and languid flick of their powerful tail flukes.
Back on land, exploring Niue is best achieved at a slowly, slowly pace, either on a personal expedition by car or motorbike, or in the company of the island's smattering of laidback tour operators. The Commodore's Orientation Tour with retired Kiwi school teacher Keith Vial is a good way to get your bearings when you first arrive. Traffic is sparse on the 64km road circling the island and, within minutes, all visitors become dedicated followers of the local fashion of waving at every oncoming car. For economy of movement, overt flourishes quickly evolve into a more frugal and laconic raising of the index finger off the steering wheel. It's more subtle, and the local thing to do.
With a population that fluctuates between just 1100 and 1600, it's remarkably easy to feel like a local on Niue. Yes, the familiar-looking guy waiting for his takeaway coffee at The Crazy Uga's clifftop cafe is the immigration officer who provided a friendly welcome at Niue's tiny international airport, and with just a few dozen tourists visiting each week, personal acknowledgement becomes the norm from the gentle and easygoing locals.
Getting to know Niue's welcoming population usually begins on the flight from Auckland. Chances are the family in the seats opposite are part of the 20,000 plus Niuean diaspora living in Auckland, en route to visiting relations on "The Rock".
Sunday is a day of rest but also the best opportunity for visitors to fast-track becoming part of the wider Niuean family. Traditional church services across the island soar with heavenly harmonies, and visitors are encouraged to attend. On Sunday afternoons, the focus for visitors and a fair smattering of Niueans is the Washaway Cafe. Tucked into a quiet corner of Avatele Beach - really the only sandy strip on the island - the Washaway is the self-proclaimed 'only self-service bar in the Pacific'. Local etiquette is straightforward. Help yourself from the bar, and settle up with owner Willy Saniteli at the end of the night. Other guests usually include a few passing yachties, other thirsty tourists, and New Zealand's High Commissioner. Order a Washaway fresh fish focaccia sandwich or one of the biggest burgers either side of the International Date Line, and you'll soon be working out how you can change your flights to return the following Sunday.

Info
Getting there: Air New Zealand flies from Auckland to Niue on Wednesday and Saturday mornings. The flight time is around three and
a half hours, crossing the International Date Line to arrive in Niue on Tuesday and Friday afternoons. airnewzealand.co.nz
Getting around: Rent a car or motorcycles from Alofi Rentals (alofirentals.nu). Mountain bikes are also available from most accommodation, and the road around the island is mainly flat and easy going. For keen biking fans, Round the Rock is an annual race around the island's circular road in early June. The concurrent Rally of the Rock includes traversing parts of Niue's 170km network of bush tracks.
Where to stay: Accommodation ranges from homestays and rental houses through to motels and the cliff-hugging Matavai Resort (matavairesort.com). On Niue's northwestern coast, Namukulu Cottages & Spa (namukulu-cottages.nu) feature a day spa, swimming pool, and whale watching lookout.
Where to eat: For a small island, Niue has a surprising number of eateries, but opening hours can be flexible and limited. The Crazy Uga does excellent coffee and burgers, while Kai Ika (kaiika.com) is good for sushi and ocean-fresh sashimi. Several restaurants offer weekly Pacific-style buffets.
Websites: niueisland.com; dive.nu