A fully equipped motorhome has replaced a canvas tent in Sarah Lawrence's holiday affections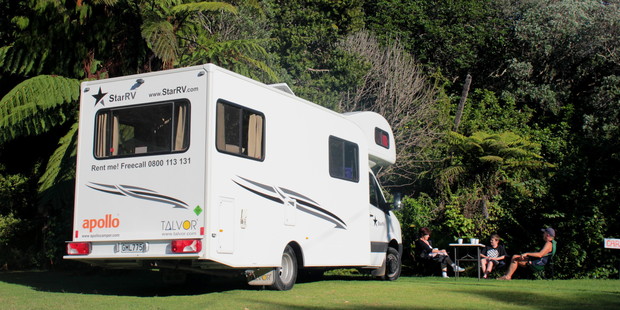 I've been camping since I was knee-high and have never considered exploring our countryside with anything but a tent for accommodation. Camping is a right of passage for most Kiwis, after all. Until now.
Motorhome holidays are rapidly growing in popularity, and I decided to find out why. My son Jack and his grandparents, who have wanted a campervan holiday for years but never quite got round to it, are keen to join the adventure.
We arrive to collect our six-berth Euro Deluxe motorhome from the Apollo depot at Auckland Airport. Friendly Eva welcomes us and gives us a thorough run-down on how to operate the many mod-cons in the vehicle.
Feeling well-versed in the intricacies of water pumps and voltage meters, we set off in high spirits, heading for the east coast paradise of Whangamata, like a little clan of happy gypsies. With the patriarch at the wheel and the matriarch at his side, Jack and I happily sit in the dining room, playing board games and reading books - what a way to travel.
When we arrive at Wentworth Falls Campground, just 10km south of Whangamata, it is well after dark, and we mistake a horse paddock for the campground. Gypsies we may be but navigators we are not.
Camp leader Nicola, sorts us out. We love that the only organisation required is turning off the engine and having a cuppa before heading off to bed. No need to wander the darkened campground in an attempt to find the loo or a hot shower - both are within our mobile home.
The campground is nestled in a tranquil bushland setting by the Wentworth River. Waking to the gentle gurgle of the river just outside our door was magical. Our kitchen has everything you'd expect in a hotel room so in no time we'd rustled up a hearty breakfast and were ready to hit the track up to Wentworth Falls. We followed the easy path from the campground, meandering over bridges and past waterholes to two beautifully cascading 20m falls that feed the river below. People swim in the basin below the falls or trek a short distance further to take in the sweeping views across the valley, which was home to hordes of gold miners and their families more than 100 years ago.
We headed on to the popular surf beach of Whangamata. After hours of sun and surf and as other beachgoers head home at sunset, we pull up on the grassy verge of the beach and relax under the shade of our awning with a wine and some nibbles.
Passing locals comment on how picturesque the view from our "living room" looks on this fine evening. That's the beauty of motorhomes - the flexibility of choosing your location at a moment's notice.
Home for the night is 15km north in the sleepy settlement of Opoutere. The to the YHA Backpacker Hostel was the main schoolhouse of the Wharekawa Native School in the early 1900s. but has been a hostel for more than 50 years with cabins and campsites.
The call of kaka and tui in the trees wake us the next morning, with nothing but the stunning views of the estuary across the road and the plush native bush to enjoy. There's a real sense of old-school Kiwi paradise and a charm that larger holiday spots just don't have.
Opoutere has its own magnificent ocean beach where we spend the day with dotterels and oystercatchers from a bird sanctuary.
Alas, we must leave this hidden treasure and return our home on wheels - but we love it so much we're already planning our return.
This is one hotel we don't want to leave.

Camping out
• Apollo Campers. Daily rates for 6-berth campers start from $67. apollocamper.co.nz
• Wentworth Valley Campground, Whangamata. Nightly rates adult $10, child $5 child wentworthvalleycamp.co.nz Ph: 07 865 7032, email inquiries@wentworthvalleycamp.co.nz
• Opoutere YHA Hostel 389 Opoutere Rd
• Nightly rates for campsites $18 per person, cabins $72 to $125 yha.co.nz Ph: 07 865 9072,; email yha.opoutere@yha.co.nz

• Sarah Lawrence was a guest of Apollo campervans and Coromandel Tourism.