Caroline Botting makes the most of her last weeks before motherhood with a trip to some of New Zealand's most relaxing hot spots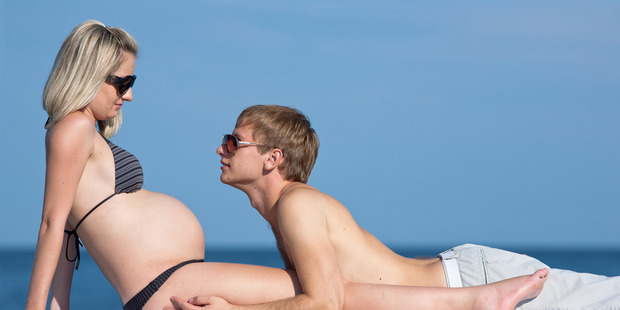 With just eight weeks before the arrival of our first child, my husband Cam and I decided to get away one last time and return to favourite tourist haunts on a local babymoon.
A fairly new term, travel companies have been quick to latch on to this trend. But you don't have to go abroad to enjoy time out.
Our first stop: Rotorua, for some serious pre-baby R&R.
With backache, leg cramps and insomnia, the thermal pools were high on my to-do list. When pregnant, you're not recommended to bathe in temperatures above 36 degrees, but the city's top thermal attractions have pools to accommodate.
At our first port of call, we were spoiled to have the lavish deco delight, the Blue Baths, to ourselves. On arrival, smartly dressed waiters were setting up for a wedding; but perhaps the look of disappointment on my face as I clutched my burgeoning belly when told they were closed led them to kindly let us in.
Left derelict since 1982, the grand building was refurbished beautifully and reopened in 1999, and as we floated in the outdoor pool you could truly imagine life at the baths in the 30s.
Suitably relaxed, a good couple of hours followed, browsing the exhibits at the stunning Elizabethan-style building housing the Rotorua Museum. I even managed to struggle to the turret, which offers magnificent views of the geothermal city.
Knowing "me-time" would soon be a thing of the past, the next morning we headed to number two on AA Tourism 101 Must Do's, The Polynesian Spa, for the ultimate pamper session.
Overlooking Lake Rotorua, the spa's alkaline and acidic springs heat its 26 pools famed for their therapeutic qualities. I was instructed to spend at least 15 minutes in the cooler pools to soften me up for my lavish Mamma Pregnancy Massage. What bliss. My whole body felt rejuvenated. Cam didn't miss out either, and after an all-over exfoliation, he was snugly wrapped in the healing Rotorua mud.
We weren't sure what to expect for the afternoon. We'd booked in for a spot of rail cruising on the world's first fully automated, petrol-electric hybrid rail vehicle. Electrical engineer Neil Oppatt and his wife Jane sank their life savings into developing the mini wagons. They leased a once weed-ridden 20km section from New Zealand Railways to transform it into a fantastic way to spend a summer afternoon. For two hours we chugged through the stunning countryside, listening to an enlightening audio commentary.
For your bloke, who probably wants something a little more adrenalin-packed, just a few kilometres away is Rotorua Canopy Tours. Deep and high in the native forest of Mamaku Plateau stretches a 1.2km network of ziplines, swing bridges and trails. It's the perfect activity for those not afraid of heights or speed.
Some information we'd picked up at the museum was the love story of Hinemoa and Tutanekai, set on Lake Rotorua. Feeling inspired, for dinner we opted for a romantic sunset picnic, complete with a variety of food to satisfy my cravings.
Only 1.5 hours' drive east of Rotorua is Waihi Beach. The town, which boasts 10km of sparkling white sand, was the perfect lay-over before our next destination, Paihia.
For mums-to-be not quite as far into their pregnancy as me, there are some amazing free activities to enjoy around Waihi Beach. There's a short, but at times steep walk, to stunning Orokawa Bay. Bring a picnic to feast on under the huge pohutukawa trees. For flatter terrain, there's the leisurely bike ride to the old pa sites at Bowentown, and another level cycle or walk through the Karangahake Gorge, once home to a flourishing gold-mining operation. This ride takes you through the abandoned buildings and tunnels.
Simply wanting to rest up, our time was spent with the foolproof pre-baby plan - beach, great eats and a spa treatment. I revisited Jeanette McCallum, who runs Waihi Beach's Yoga and Reflexology at the Beach, and whose masterful hands expertly tended to my swollen feet. We spent hours sipping on lattes and reading the paper at the tropical Secret Garden Cafe and enjoyed a delicious meal at award-winning restaurant The Porch. Then it was onwards and upwards to Paihia and aboard the cruise ship, Ipiriri.
Our 24 hours afloat was spent relaxing and snacking on the deck or taking in the scenery of the historical region from our king-size bed. For more action, there are plenty of activities including snorkelling, kayaking and beach walks. We slept very well after a delicious buffet dinner and some interesting tips from Annika, a German midwife, and woke to picture-postcard views - the sun sparkling on the water accompanied by a spectacular show from a huge pod of dolphins.
After being told these friendly mammals have the ability to detect whether a woman is pregnant, a swim with the dolphins was booked and eagerly anticipated. Three hours into our journey we came across a pod. Given strict instructions on how to interact with them, I jumped into the choppy ocean. The cold initially took my breath away (a wetsuit was impossible to squeeze over my bump), but it was the strenuous swim I had to undertake to try to keep up with the mammals that proved a little too much. No doubt on a calmer day, with a larger group, this would have been an amazing experience, so perhaps I'll plan to return when I'm expecting number two ...
Across the water at Russell, we dined at the country's oldest waterfront pub, The Duke of Marlborough, which concluded a fantastic week.
Times have changed since its opening in 1887 when it "refreshed rascals and reprobates".
With a team of slick staff and a menu created by Dan Fraser, who trained under celebrity chef Simon Gault from Auckland's Euro, The Duke offers some of the best food and service in town, as well as a priceless sunset to enjoy with a glass of some of the region's fine wines - or, in my case, a glass of ginger beer.
PRIOR PLANNING
* Travel is best in your second trimester (14-28 weeks).
* If you are heading overseas, check that you don't need a doctor's certificate to fly.
* Make sure there's medical help nearby and book trip cancellation insurance just in case.
* Choose a fairly close destination. A six-hour stop-over or 12-hour car ride isn't going to be comfortable.
* Splash out and book a hotel or motel with a king-size bed and loads of pillows.
* If you're going somewhere hot, stay hydrated to stop water retention.
GO ABROAD
For those preferring a pregnancy-friendly international destination for one last childless hurrah try:
RAROTONGA
Flight time - three-and-a-half hours
The relaxed laid-back lifestyle of this Cook Island paradise will have you into island time before you know it. Enjoy a prenatal massage on the beach, followed by a tropical fruit platter and a dip. There's also a host of adventurous activities including hiking, fishing, or dive trips for your significant other. Many of the resorts also offer babymoon packages.
BORA BORA
Flight time - five hours
At the celebrity end of the budget - Pierce Brosnan and his wife Kelly spent their babymoon here - the French Polynesian island is renowned for its luxury over-water resorts and iridescent waters. If you're feeling adventurous join the famed ray- and shark-feeding tours or take a helicopter ride over its volcanoes. Alternatively, simply enjoy long strolls on the white sands, snorkelling and candle-lit dinners.
SYDNEY
Flight time - three hours
A great place for city slickers to get their fix before bub arrives. Appreciate uninterrupted adult conversation at many of the city's amazing restaurants, visit the art gallery, museum, or see a show.
Shopaholics, now's your last chance in a while to hit the high street.
WEBSITES FOR ADDITIONAL INFORMATION
* The Polynesian Spa
* The Blue Baths
* Rotorua's rail cruise
* Rotorua Canopy Tours
* The Ipiriri
* Swimming with the dolphins
* The Duke of Marlborough
* Caroline Botting was a guest of Rotorua Tourism, AA Tourism's 101 Must-Do's and Fuller's GreatSights Bay of Islands.