Danielle Wright takes her family twilight dining on the harbour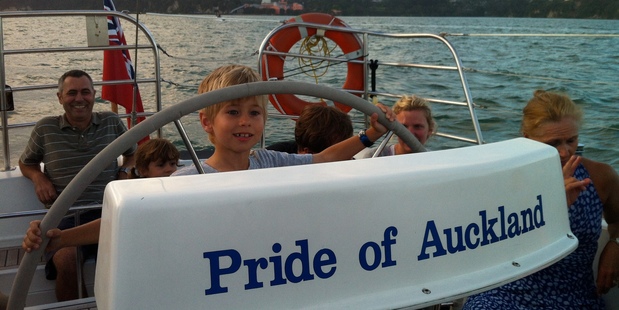 Leaving the clatter of cutlery and the high-pitched laughter of diners at waterfront restaurants behind us, we head out on the Pride of Auckland. The cruising yacht, based in Viaduct Harbour, offers a dining experience of a quieter nature.
We head under Te Wero Bridge as it rises like a sail into the sky, past the recently returned Rainbow Warrior and a returning whale-watching boat. It's a whole new world of adventure and a nice feeling being on a yacht in the summer breeze with the sun setting.
Our children are on their first yachting adventure, shared with around a dozen others: a father and son from Norway, a family from Minnesota and locals celebrating a birthday.
It reminds me of years spent twilight sailing with my mother every Thursday night. Back then, I couldn't wait for the yachts to get back to base so I could avoid the adults and play with the kids at the yacht club dinner afterwards. The difference tonight is that instead of a good couple of hours on the water, nibbling food as we sail, we've only motored around the corner to Westhaven Marina, where we stop for dinner.
It's a bit disappointing not to be able to set sail in the sunlight right away.
It's an intimate dining experience, set out a bit like a diner with separate booths. The food is from Kermadec but the presentation feels more like an aeroplane meal and the skipper, Mike, doubles as the waiter.
My starter is beetroot, hazelnut and goat's cheese salad, followed by roast breast of free-range chicken on pasta salad of orecchiette, peas, globe artichokes and mint. It's nice enough, but over-salted and quite difficult to eat piled on a small plate. However, the vanilla creme brulee with Scottish shortbread dessert is heavenly with its crumbly shortbread fingers and silky smooth creme brulee.
As we're finishing dessert, a few people head up on deck for fresh air and, before long, we're out on open water heading for the Auckland Harbour Bridge.
The motor is, at last, turned off and it's just the sound of ropes being winched, sails flapping, seagulls squawking and traffic trailing over the bridge as we inch closer to it.
"Are we gonna fit?" asks one of the passengers. For a moment, it looks like we're about to crash the 22m-tall mast right into it.
"We could almost get the mast under the bridge twice. It's an optical illusion," reassures our skipper, who has been sailing since the age of 6.
He lets some of the passengers take turns at the wheel and tells us of one who was colour blind and, when asked to head for the red marker, zigzagged in quite the opposite direction.
Our children take turns stretching their hands as wide as possible to hold the wheel before accidentally letting go, watching it spin for a few seconds before regaining control.
It's exciting to watch them find their sea legs and we get as far as Chelsea Sugar Refinery, past dozens of fishers at Birkenhead wharf, then turn towards the city, cruising past The Cloud and the Hilton Hotel before returning to the Viaduct.
Although we had a lot of fun on the short sail, I can't help wishing the international visitors onboard had been shown a bit more - out around Devonport's North Head, at least - on what is no doubt their only on-water sightseeing tour of our City of Sails.
As we reverse into the Viaduct berth, back to the noisy diners, our children play pirates below deck before scrambling out to the bow and back. It's a much more relaxing way to wind down after a busy week than in a loud restaurant on land.

Just cruisin'
Pride of Auckland Dinner Cruise is $120 for adults and $85 for children; under 5 free, drinks not included. There's a cash bar onboard. Departs Viaduct Harbour at 6pm, for a 2-hour dining experience, bookings essential. Call (09) 359 5987 or see explorenz.co.nz.