On the island of Rotoroa in the Hauraki Gulf, Elisabeth Easther finds beaches, birds and peace.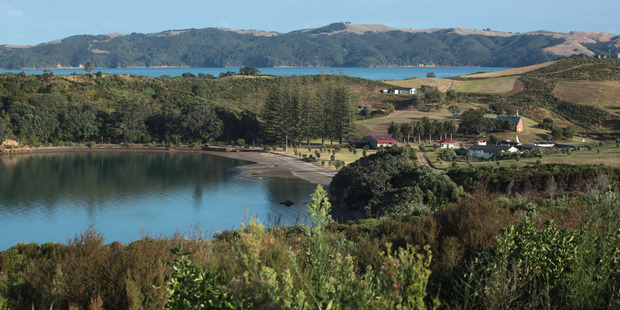 If you ask me, Rotoroa is one of the most charming islands in the Hauraki Gulf, tucked discreetly to the east of Waiheke, and within cooee of Ponui and Pakatoa.
For almost 100 years, the island was home to The Salvation Army's addiction treatment centre, but in 2011 was reopened as an arts, heritage and conservation estate, thanks to benefactors Neal and Annette Plowman.
Smart retro baches have been available to rent, but our group was there to check out the Superintendent's House, freshly minted as an option for larger groups or individuals. Imagine, if you will, a glamorous hostel with mesmerising views from every window.
The house, thought to have been built in the early 1900s, sits high on a hill overlooking Home Bay. As well as a spacious communal living area, there are four bedrooms, with 18 bunks, plenty of bathrooms, barbecues and furniture, plus enough glasses, china and cutlery to cater for a veritable army, salvation or otherwise.
It's all so spick and span and fresh. Visitors only need bring their bedding and food, because everything else is here. And at only $35 a bed a night, you're sure to meet all sorts of interesting people, or you might have the place to yourself. The surprise is half the fun.
Arriving on Rotoroa on a balmy summer's evening, the 70-minute ferry trip quickly deleted all memory of the traffic chaos we'd experienced in Auckland's rush hour. The island's resident custodians met us at the wharf and kindly transported our gear (I confess, there was a fair bit of luggage) up the hill.
There are shelves of books (you can swap your novel for another, if you like) and magazines (an impressive collection of NZ Geographics), games, a stereo and happily no TV, which the children failed to notice since they were so busy occupying themselves in the hills and on the beach.
On the island of 82ha, there are several kilometres of walking tracks that go in a sort of figure of eight (with tentacle offshoots) around the island, through regenerating native bush and veritable avenues of flax.
More than 400,000 native plants have been reintroduced to Rotoroa, using mirror planting from surrounding islands. And there are numerous curiosities to explore; the old schoolhouse, the chapel, a butchery, jail cells and a small cemetery. The Chris Booth sculpture on the island's southern headland is worth the walk. And with a bunch of sandy beaches, whichever way the wind's blowing there'll always be a sheltered cove. The sand on Ladies Bay was so spectacularly soft, one of our gang described it as like walking on cake.
One of the many things the island deserves to be known for is the visitor centre which opened in 2009 to commemorate its fascinating past. The elegant building, modern yet at one with the environment, requires you to take the "12 steps": up a gentle ramp. The exhibits are beautifully realised, the oral histories captivating.
There's a fair bit of wildlife too. We saw stingrays and those with better eyesight than me spotted a distant pod of orca.
We also saw herons, weka, pukekos, oyster-catchers and a pair of fetching shelducks. That aspect is only going to get better, thanks to a new partnership between Auckland Zoo and the Rotoroa Island Trust. The two organisations are going to work together to set up a wildlife conservation sanctuary which, once established, will give the public an opportunity to interact with an environment under restoration. So, today it is the island being rehabilitated. Thanks to a small team of employees and a large bunch of volunteers, Rotoroa will continue to be a sanctuary, for flora, fauna and humans, an oasis of serenity.
CHECKLIST
Getting there: 360 Discovery Cruises operates a ferry service. It's also accessible by boat.
Staying there: The island has a range of accommodation, including three cottages and the newly opened Superintendent's House, where beds are just $35 a night (reductions available for schools or community groups). And unlike the smaller cottages, visitors can stay for just one night, or as many nights as they like. See rotoroa.org.nz for details.
Elisabeth Easther was a guest of Rotoroa Island Trust