Kelowna, in Canada, is liberally furnished with wineries, some of which owe their origins to Kiwi talent, writes Sue Hoffart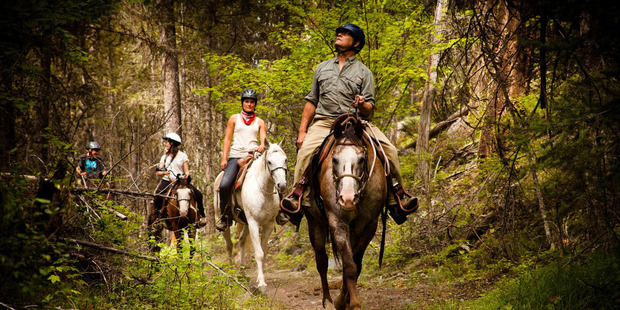 In summer, the Canadian lakeside city of Kelowna thumps and perspires.
Traffic crawls along the waterfront through July and August, when midriffs appear and temperature gauges can hit 40C. The population rises, too, interrupting year-round golfing retirees with a string of festivals and events, roaring motors, pounding music. The mood is akin to Mount Maunganui or Whangamata at play in January, only deep inland and encircled by impressive Canadian mountains.
On land, it's bone dry and dusty.
On 144km-long Lake Okanagan, it's another story. Miami Vice-like monster speedboats appear alongside jet skis, water skis and houseboats. Ice hockey stars and "blue-eyed Arabs" - holidaymakers from the neighbouring oil-rich province of Alberta - emerge from their lake mansions in oversize, shiny trucks.
So the city's vineyards are leafy havens. Their air-conditioned tasting rooms and fine restaurants offer cool, hushed respite from the summertime party.
Some of the best wineries also proffer familiar accents.
Kelowna's viticulture industry is emerging from its infancy with a distinctly New Zealand flavour, thanks to a cluster of winemakers who learned their trade Downunder. Not only is the region leaning towards favourite New Zealand grape varietals like pinot noir and chardonnay, but screwcaps are also showing up on bottles.
This is thanks to men like Quails Gate winemaker Grant Stanley, who fell into his trade via a mussel farm in Marlborough Sounds. Or Tantalus Vineyard winemaker David Paterson, who cut his winemaking teeth at Nelson's Neudorf Vineyards. New Zealand-born John Simes was head winemaker at Montana before he took a job with the Okanagan grand flagship winery, Mission Hill Family Estates.
All three men are effusive about their adopted home, in the Okanagan Valley, four hours' drive east of Vancouver and the coast.
Kelowna, population about 120,000, hosts about two dozen wineries. It sits roughly midway along the valley, with a further 175 or so wineries scattered to the north and south. In the early 1980s, there were just 13 wineries in the entire province.
According to the Kiwi-Canuck winemakers, Kelowna is also a kind of giant outdoorsy playground.
In winter, Grant Stanley plays ice hockey and often skis 30 days in a season - the town boasts three ski hills and deep powder snow conditions within about an hour's drive.
David Paterson also skis before switching to canoeing, golfing, wake boarding and beach volleyball through summer. John Simes likes to cross-country ski and hike.
"One of the things I love is to kayak ... within one hour of my house I'm in wilderness," John says. "It's absolutely spectacular. There's so much of that kind of stuff, if you're into hiking or fishing. My vineyard operations manager is a New Zealander and he was born with a fishing rod or a gun in his hand. He'll fish for trout and salmon, see elk, moose, deer."
John is something of a wine idol round here. Oenophiles know he's the guy who helped place New Zealand sauvignon blanc on the world map when he lived in Marlborough. In 1994, two years after arriving in Kelowna, he garnered similar international accolades for Okanagan wine and proved Canada could produce more than maple syrup.
There is no doubting the prestige of the winery that employs him, either. The ivy-smothered stone buildings of Mission Hill Family Estate sprawl across a hilltop, above cascading vineyards and the lake. A white Venetian crystal chandelier illuminates the private tasting room. At noon each day, a 12-storey bell tower emits welcoming peals to diners bound for the five-star alfresco restaurant.
John works long hours and often travels hundreds of kilometres to visit estate-owned wineries at the even hotter, drier southern end of the valley. It's cacti and rattlesnake country down that way. When he's at the home vineyard, he makes a point of taking a lunchtime stroll in the neighbourhood. After hours, he and his wife often hike in the provincial park five minutes' drive from their house, or walk through the city.
"We park near the hockey arena and take the boardwalk along the lake. Every stranger I meet will say hello. If you go hiking, it's the same. Canadians are nice. I've been ridiculously lucky, living in unquestionably two of the best places in the world."
He likens Kelowna to Central Otago, though with hotter summers and fiercer winters. Every year, temperatures as low as -20C curl toes and kill a few grapevines.
"And when the sun shines here, on a good summer's day in July and August, we have ripening till 9.30pm. We get 17 hours of daylight. It will still be 25 or 30C at 9pm."
It's an ideal climate for stone fruit and a Kelowna summer is synonymous with cherries and apricots. From July, roadside stalls sell fat, juicy cherries for less than NZ$8.25 a kilo.
In vintner's terms, Palmerston North-born, Lincoln-educated David Paterson reckons Kelowna is Waiheke Island crossed with Central Otago, although he estimates the New Zealand wine industry is 15 years ahead. In terms of lifestyle, it's Queenstown without the price tag, he says.
"I feel like we get more for our dollar here. You can still camp for $20 a night. It's quite a summer town. We go from having hardly anyone on the roads, to traffic jams. There's not much international tourism but we're trying to change that."
David, who married his Canadian-born wife last year, has been in Kelowna since 2009. When New Zealand friends visit for the first time, he makes a point of climbing Knox Mountain with them, for grand views.
Naturally, they also tour the local wineries. David likes to visit the Australian winemaker at Cedar Creek winery and buy sparkling wine at Summerhill winery, with its attractive lakefront and quirky pyramid showpiece. He also knows where to find the best culinary treats and, during summer, shops at markets and roadside stalls rather than at supermarkets.
When the NZ Herald visits, he is heading home to make shortcake that will accompany locally grown strawberries for the 80 dinner guests he expects the following night. He has already smoked the onions to accompany slow-cooked pork ribs.
As a confirmed foodie, he naturally takes out-of-town guests to visit Grant at Quail's Gate, for a chat and lunch in the excellent Old Vines restaurant on site.
Born in Canada to New Zealand parents, Grant was educated in New Zealand and landed in the wine industry "totally by accident", after being laid off from a mussel farming job in Marlborough Sounds. He came to Kelowna almost a decade ago, from Ata Rangi winery in Martinborough.
"When I came here, I thought I was really well equipped at dealing with extreme conditions in viticulture. This takes it to another level. It's one of the northernmost winemaking regions in the world. And it's an exciting time to be here. The wines are being recognised as world-class."
Outside the vineyard, Grant likes to mountain bike, cheer for the local ice hockey team and play tennis - he sends like-minded visitors to Okanagan Mission Tennis Club to meet welcoming locals. And he reels off a list of wildlife he spotted on a telemarking ski trip last winter: "A timber wolf, four moose, a couple of deer, a couple of coyotes. Round here, it's all about outdoor activity. Last summer we borrowed kayaks and kayaked around Lake Okanagan, a lake the size of King Country, 162,000ha. It's a spectacular place, really."
BEST EATS
•Old Vines restaurant at Quail's Gate treats local produce magnificently.
•Mission Hill's Terrace Restaurant offers more formal, classy dining in spectacular grounds.
•Raudz is a favourite with winemakers and savvy locals
•Kelowna Farmers' and Crafters' Market operates twice a week. Buy organic produce, culinary treats and look out for the Nelson woman selling ...
•Visit Pioneer Country Market and Museum (1405 Pioneer Rd) for home baked rhubarb-strawberry pie and - on Saturday mornings only - David's favourite doughnuts, made with potato flour.
•The restaurant at historic Hotel Eldorado. "Go there late afternoon, get a table on the deck and it will blow you away," John says. "It's right at the edge of the lake. Sit and have a Mission chardonnay."
BEST OUTDOOR SPOTS
•Golf at Predator Ridge for a treat. "It's the best golf course I've ever played ... really difficult but absolutely stunning views," David says. For inexpensive fun, he also recommends Orchard Green, where the holes are cut amongst a working orchard and green fees include all-you-can-eat fruit off the trees.
•Bike or hike Kettle Valley Railway or, for more thrills, Grant suggests mountain biking the Smith Creek trails; "It's a bit of a mecca."
•Beach lovers head to Bertram Regional Park beach or Sarson's Beach, where locals swim and picnic. Grant recommends Gyro Beach, in central Kelowna, for people-watching. "There are some freaks there, some interesting sights," he says.
•Hike Knox Mountain close to town or head to Kalamelka Lake to see golden eagles, bald eagles, blue heron. Ski hills like Silver Star offer summer hiking and downhill biking. Free overnight camping available in Okanagan Mountain Forest Park.
CHECKLIST
Getting there: Air New Zealand flies from Auckland to Vancouver. From there, hire a car (it's an easy, scenic four-hour drive) or fly to Kelowna.
Wineries: Mission Hill, Tantalus and Quails Gate
Online: tourismkelowna.com or hellobc.com