Sydney's bars have unique appeal, writes Jo Bates.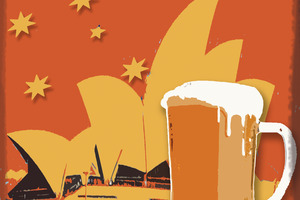 Since the change in Sydney's licensing laws in 2008, a dynamic, ever-evolving bar scene has sprung to life, regenerating the CBD and inner city.
Hard-to-find, down dodgy lanes, in basements, on rooftops and hole-in-wall spaces, many are pocket size, quirky and personal. Bar owners have finally had the chance to open the kind of bars they want to hang out in.
Meanwhile, with the latest wave of openings, the cheese factor is big - think California kitsch tiki-bar and dive-bar themes. It follows on from the speakeasy, prohibition-era and sly-grog den trend.
They're all outdoing each other with cocktails and carefully selected wines and boutique beers. Expect quality because that's exactly what you should get.
Here's a small sample of what's in walking distance in the CBD.
The Baxter Inn
At 154 Clarence St, turn into the alley, turn right and down the stairs into this hard-to-find basement bar that offers more than 300 whiskies.
It's a knockout selection and tiers of bottles and ladder access make for quite a theatrical display. If whisky is not your thing, there's a neat list of classic cocktails, Australian wines presented in French style (moselle, burgundy) and beer.
With a "no such thing as VIPs" attitude and no door list, it's an egalitarian, good-time atmosphere. The "inn" is named after American crime don James "Whitey" Bulger, who spent 16 years on the run under the alias John Baxter.
Shady Pines Saloon
In Surry Hills, this is one of the first small bars in Sydney, Its owners have also just opened Frankie's at 50 Hunter St in the city. So new it had no sign when I went, Frankie's retro pizzeria and beer joint has an LA dive-bar feel; the kind of place you could have an "accidentally" large night.
Grandma's
With nana touches, retro furnishings and homespun knitting, this place stays true to its name in style. Grandma likes a tipple, too, as there are pages and pages of well-crafted cocktails to choose from. Owners James Bradey and Warren Burns have known each other since they were 12 and Grandma's has a comfy-as, well-worn friendship feel. After one or two of their luscious libations, you'll end up better acquainted with your companions in this small, very popular bar.
Stitch
Preceded by Pocket Bar in Darlinghurst - one of Sydney's first small bars - and Button in the rag-trade area of Surry Hills, true to the theme on names, Stitch greets you with a window of antique sewing machines. It's a charming welcome that carries through to the moody, schmoozy basement bar. It has an epic cocktail selection, a playlist of moochy Blues, inviting booths, dude food (hot dogs, burgers, tacos), and friendly staff.
Palmer & Co
Not technically a small bar, but hard to find, Palmer & Co is a tribute to the US Prohibition era and its old, brick-lined basement lends an air of authenticity, or at least illicit dealings,. Not that a Prohibition-era bar would've had a charcuterie, but as a creation from entertainment mogul Justine Hemmes, you won't get run-of-the mill here. Waitresses are dressed flapper-style and barmen sport pressed white shirts and bow ties. It may be a bit much for us reticent Kiwis, but after a cocktail or two from the 46-page list, you'll soon get into the swing of it.
Tapavino
Tapavino recently claimed runner-up behind Arcadia Liquors in Redfern as Best New Bar in the SMH Good Food Guide. Consider this laneway bar and restaurant a celebration of the best of Barcelona and Madrid wine bars, with the most impressive sherry list in town - as well as predominantly Spanish wines, cava and aperitivo. Classy.
Ketel One Bar Tours
Get your bar bearings with a tour by Ketel One, which has compiled a well-researched list to choose from, including CBD Hidden Bars, Speakeasies, and Razorhurst (the former watering holes of Sydney's criminal underbelly). $65 gets you the tour, three cocktails and nibbles.
Getting There
Fly there with Air New Zealand Book now.
Find out more at Australia.com