Weary traveller Trudy Lefeber rediscovers her vitality at Brazil's Carnival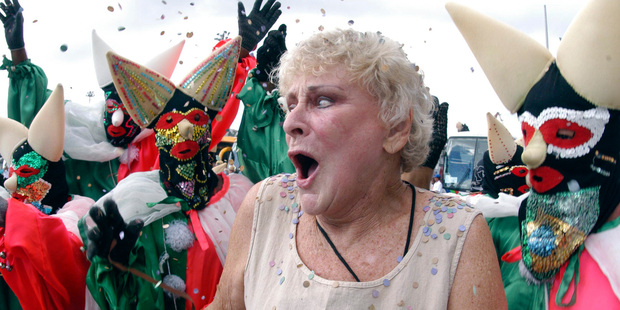 It had to go out with a bang, a big bang. And it did; in a less-known corner of Brazil, Salvador da Bahia, the place with the best African feel, a place where rhythm and music are crucial parts of life. Salvador has an old, colonial city centre and beautiful sandy beaches. It was the end of our trip through Venezuela and Brazil and we had to experience Carnival.
Little did we know that we would get much more than just the five days of carnival itself (this year's ended last week).
In the six weeks before Carnival, all the bands in all the cities around Brazil practise their music and dance. In Salvador, you can join in one of the blocos, the musical street groups. Just go to the old centre and ask around.
The sound of drums and trumpets reverberates off the walls of the old Portuguese colonial houses that lean against each other, tired of all the misery they have seen. If you look close enough you can even see them getting energised by the music and trying to straighten themselves, much like the inhabitants, mainly descendants of African slaves, often poor and jobless.
Many of the people keep their spirits high on music, drums and dance. And it does help; just walking up those narrow streets is hard work and very tiring. Hearing a drum band - many of them practise no matter what time of year - re-energises a flagging visitor.
There is plenty of opportunity to party - definitely for the young ones, but also for those who have become a bit rusty in the hips, like me. Around midnight on the last day, exhausted by three months of travel and all the different impressions and culture shocks, in one of the back alleys on my way back to the hostel, I stumbled upon a bloco of older people and a song: Alegria, which means joy, happiness.
The music came from the sound system on a small truck in front with, not to forget, stacks of beer and other alcohol on it. Every now and then one of the men stepped out of the group, answering a call of nature against the front of an old house. The beer has to go somewhere, no fuss.
The music appealed, upbeat but slower than usual. I followed my urge and joined them.
The people were swaying with the rhythm, moving forward over the cobblestones between houses, all so slowly. It seemed we were taking one step forward and two steps back, a certain calmness and acceptance seemed to hang over them, something contagious and hypnotising, that soon got to me, too.
It was one of those few moments in life when suddenly we have the feeling that nothing really matters, and are completely happy and accepting. This is it; slow ... simple ... enjoy the moment. No worries.
Not all big bangs have to be loud.