Danielle Wright takes the kids for a ride to see the musical side of Melbourne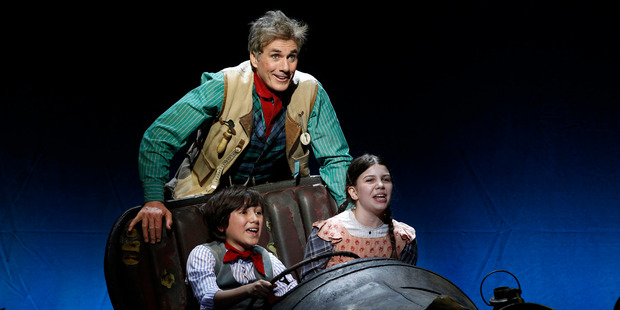 It has been described as the love child of Mary Poppins and James Bond, and Chitty Chitty Bang Bang has held a special place in the hearts of generations of children - many now with families of their own.
The movie was loosely based on a children's book, written by Bond author Ian Fleming for his son Caspar. Its screenplay was co-written by master storyteller Roald Dahl. With Benny Hill added to the mix as the toymaker in the film, a classic was born.
Before we head to Melbourne's stage version of Chitty Chitty Bang Bang, fresh from a successful Sydney season, we set the mood with a Tiffin morning tea at the Langham, where our children, aged 4 and 7, get a taste of the musical high life. They're enchanted by a three-tiered cake stand with pop rocks, microphone icecream cones, sandwiches made to look like piano keys and music notes, chocolate guitars on mini muffins and a rock star show bag filled with sparkly wigs and blow-up microphones and guitars.
After all the sweet treats, we chase them along the Yarra and through the city to Her Majesty's Theatre, which dates back to 1886 when it was originally named after Queen Victoria.
It's an intimate venue and quite grand, with the authenticity of the original building preserved. Underneath the stage, the orchestra plays a lush yet playful soundtrack to warm up the crowd, which needs no encouragement to clap along to every tune.
We're sitting next to three women who came on their own because they loved the film so much, and the man behind us recounts the olden days with constant comments such as "Oh, remember the crank?" It's not just for kids.
From the very first scene, the production is stunning - everything from the music to the props, sets, lighting and costumes, not to mention the amazing flying car. There are even real dogs running on during scenes inside the sweet factory.
The cast is impressive, my favourite being Australian tenor David Hobson, who plays Caractacus Potts, giving the impression he's having the time of his life performing everything from dance routines in Me Ol' Bamboo to the beautiful solo of Hushabye Mountain.
He's given a run for his money, though, by the beautiful voices of the child actors and by Rachael Beck, who plays Truly Scrumptious, managing a tricky "doll on a music box" scene with almost as much grace and longing as Sally Ann Howes did in the movie version.
It was never going to be an easy task to outdo Dick Van Dyke or the stellar team behind one of the most successful and enduring films of our generation, but the stage adaptation did come into its own with special effects and spine-tingling vocal performances.
Just like Caractacus Potts breathed life into an ailing motor vehicle, this vibrant stage adaptation is breathing life into an old-fashioned story for a whole new generation to fall in love with.
CHECKLIST
Getting there: Emirates flies daily to Melbourne from Auckland.
Further info: Chitty Chitty Bang Bang runs until March 3 at Her Majesty's Theatre, Melbourne.