Peter Malcouronne meets new arrivals at Auckland Airport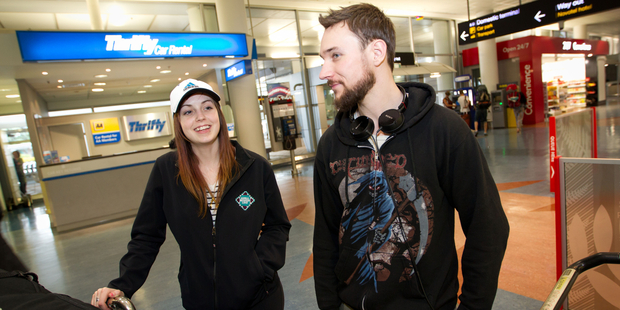 Their bags - and they're not travelling light - are festooned with maple leaves, a subtle clue this young couple hails from everyone's second-favourite country.
"Where am I from?" Chelsea McDonald, 20, asks, smiling. "You won't have heard of it. Prince Edward Island."
Named for Queen Victoria's dad, this small eastern-Canadian province is home to just 140,000 people. But I've heard of it. Of course I have. Everyone has. This is the island of Anne Shirley - Anne of Green Gables. The book, by Lucy Maud Montgomery, sold 50 million copies; the first woman I ever loved was Megan Follows, who played Anne in the 1985 CBC television series.
But enough of that. Poor Chelsea has spent 26 hours travelling and is probably not in the mood to indulge this writer's reminisces. "We left LA at 10pm on Monday," she says, "and we've only got in now. Arrived at 7.30 this morning on ... what day is it? Wednesday?"
The tyranny of time zones. Chelsea's boyfriend, Daniel Brandon, rubs his eyes, suppresses a yawn.
"It's a long way," he affirms. Is that a Tasmanic twang I hear? It is. Daniel is from Sydney's Blue Mountains.
He was working as a snow-shoveller - and snowboarder - in the legendary Anzac outpost of Banff when he met Chelsea in 2011. Granted a two-year Canadian work visa, the 27-year-old also worked on a lobster boat, at an oil field, and as a woodsman. He's an intrepid fellow.
He certainly made an immediate impression on Chelsea. "He was wearing Uggs [boots]," she recalls. "Outside! I'd never seen a guy wear them before."
Fortunately, for our purposes, Daniel's roguish convict charm was enough to overcome his sartorial crimes. He and Chelsea are travelling the world together. They're heading to Australia next, then Japan, and then - maybe - Europe. But first they're doing the minivan thing in Aotearoa. "We're gonna head to Waitomo," Daniel says, "and explore around there." And then where?
"Um. We wrote down lots of places - we have a list somewhere - but I can't remember a single one. Think we need to sleep."
TOP TIP:
Daniel: "You've gotta stay in a hostel. Regardless of where you go in the world, a hotel's a hotel. You don't experience anything except the same bed and little fridge set-up you have everywhere. You don't meet anyone. Hostels are always unique - and they're not just for young people. We met this guy from Newfoundland who'd been on the road for 45 years. Legend. Had the best stories."