Bike trails on the Waikato River led Elisabeth Easther to bush, bridges and a five-star boudoir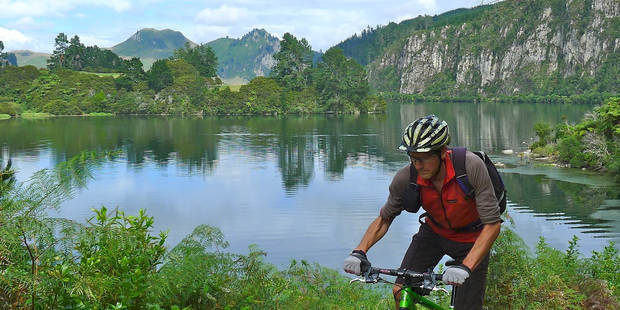 When we felt like a weekend that combined pedal power, paddle power and a spot of tree-hugging, we found the perfect itinerary. The Waikato had just what we needed, and we could take in some of the top treasures, with a jaunt along a selection of the Waikato River cycle trails.
Our multi-transport outing started at the Coach House B&B in Cambridge, where we spent a night in luxury's lap before tackling the hard-ish yakka of the cycle trail.
Kind hosts Karl and Vicky have a flair for food, and a knack for making visitors feel at home in a house filled with treasures and trinkets. My boudoir, The Bali Room, was straight out of a five-star resort, the bed like sleeping on clouds.
The next morning, we hit the road early, in search of Arapuni (40 minutes from Cambridge) and the Rhubarb Cafe.
Proprietors Bryan (a former fitter-welder) and Lou (a serving police officer) run an enchanting establishment in the middle of nowhere. Their eggs benedict and vege stack make the trip worthwhile, ditto the coffee.
For a laugh, check out the door handle.
Psyched up to cycle, we coasted to the nearby Arapuni swing bridge, a magnificent piece of engineering built in 1929 for the workers on the Arapuni hydro dam. It is stunning to look at and invigorating to cross.
The easy, well-designed tracks on the riverside make for cruisy cruising, with a few sharp bends and steep patches thrown in for good measure. In cycling parlance it is graded 2 out of 10, meaning it is suitable for riders with a reasonable pulse.
Wilhelmina, our cycle sherpa, was waiting at Little Waipa Reserve with her trusty chariot. Stowing the bikes on the trailer, she transported us 60km to the section that heads off from the Whakamaru Christian camp.
The 12km ride to Whakamaru is a more challenging route, with undulating trenches and twists, on surfaces from sand to clay, gravel to pine needles, and even a possum if you chose not to ride round his ripe carcass.
This portion includes Ongaroto Reserve, which we could happily have stayed to enjoy, but we needed to leg it to Mangakino, if we were to catch a lift on the paddleboat.
Panting up to the pier, we loaded our bikes on to the old vessel Otunui and off we sailed. She is the oldest working paddleboat in New Zealand and resembles a child's drawing of a boat, as cute as a button.
Chugging south towards the Whakamaru Domain, we glided beneath picturesque bridges (a real highlight of the river trails), before the waters narrowed and giant cliffs loomed, primeval in their majesty.
Instead of making it a round trip, we jumped ship with our cycles to enjoy another portion of river trail, an easy flat 6km back to the lakefront reserve at Mangakino.
We'd run out of oomph, so just as well Wilhelmina was waiting to transport us to Awhina Wilderness Lodge.
The converted shearers' quarters couldn't have been more comfortable, or our hosts Mariata and John more welcoming. Our digs in the middle of a working dairy farm had a fridge filled with food and wine, and the fire was stoked.
We were told to make ourselves at home and would be welcome at milking, if we fancied making an appearance at 5am. We didn't fancy.
The next day, we were primed for Walking with Giants, a tour to the foothills of Mt Titiraupenga. It's no surprise Awhina Wilderness Experience is taking off as a visitor experience round here.
Just 30km from Lake Taupo, Mt Titiraupenga is estimated to be 1.89 million years old, which is a mind-boggling thing to try to comprehend. In the bush, John and Mariata told us stories of the land, the people, and shared the secrets of the trees. The sight of a rata invading a towering totara tree is simply extraordinary.
Whether you prefer to travel on two wheels, two feet or by boat, this jaunt will delight you.

The best bits
Waikato River Trails: waikatorivertrails.com. This cycle path currently covers 102km and there are so many ways to take bites out of it, from little nibbles to great big gulps that use all your gears.
Cambridge Coach House:
3796 Cambridge Rd, Leamington, Cambridge. (07) 823 7922. cambridgecoachhouse.co.nz.
Rhubarb Cafe: 6 Arapuni Rd Arapuni. (07) 883 5722
Blue Tui Shuttles: (07) 872 2404. bluetui.co.nz
The Paddleboat Company: Lake Maraetai, Mangakino, (07) 882 8826 paddleboat.co.nz.
Awhina Wilderness Experience: Mt Titiraupenga, Whakamaru, South Waikato. 027 777 6648. awhinatours.co.nz. If you call now, you might have a chance to experience the special Valentine's Day deal.The cycle trails along the Waikato River are easy and well designed.
• Elisabeth Easther was a guest of the Rhubarb Cafe.