Brett Atkinson explores the craft beer pubs of Perth and Fremantle.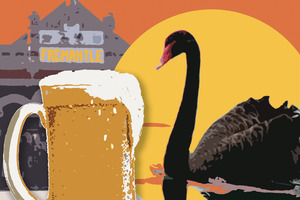 Hops-laden, assertive and downright tasty craft beers are surging in popularity in New Zealand, but two decades before that, Kiwi beer drinkers were exposed to well-named beers and breweries from Western Australia. Now a new generation of WA brewers are keeping the hoppy dream alive.
Here are six essential stops for the travelling beer buff:
* Sail and Anchor
64 South Terrace, Fremantle
This corner pub in Fremantle was actually the first incarnation of Matilda Bay Brewing in 1984, and while the brewery's original brands are now owned by multinational SABMiller, the Sail and Anchor's still one of Australia's finest beer destinations. With 43 taps, there is plenty of scope for the pub's own brews and a dazzling array of international guest beers.
* The Monk Brewery and Kitchen
33 South Terrace, Fremantle
Across the road, The Monk's a relative newcomer, but is already renowned for seasonal brews linked to beer festivals.
It's a top spot for Oktoberfest or grab an outdoor table and a pint of The Chief, an India pale ale.
* Little Creatures
40 Mews Rd, Fremantle
Back in 2000, Little Creatures kicked off Antipodean interest in hoppy American pale ales. Little Creatures is now owned by Lion, but the harbourfront brewhouse is still one of Freo's hippest spots. White Rabbit White and Dark Ale are on tap, and on Firkin Thursdays, special one-off beers are tapped.
* Feral Brewing Company
152 Haddrill Rd, Baskerville, Swan Valley
Feral is an essential destination in the Swan Valley. Up to 16 beers are on tap. Cool down with Watermelon Warhead, a sour German wheat beer, or Raging Flem, a massive 8.5 per cent alcohol Belgian-style IPA.
* Mash Brewing
10250 West Swan Rd, Henley Brook, Swan Valley
Like Feral, Mash Brewing also features a sleek and modern bistro. Weekends are busy, so try and visit mid-week for beers including Freo Doctor Pale Lager, West Coast Wheat Beer and experimental beers, such as Tussle in Brussels, a pale ale with a Belgian accent.
* The Old Brewery
173 Mounts Bay Rd, Perth,
From 1879, refreshing Swan and Emu beers were brewed here, but now this restored building on the riverfront houses a microbrewery and steak restaurant, serving beers like Eliza's Saison, a Belgian farmhouse ale.
ANOTHER ROUND?
If you're heading south to Margaret River:
bootlegbrewery.com.au
bushshackbrewery.com.au
cheekymonkeybrewery.com.au
cowaramupbrewing.com.au
colonialbrewingco.com.au
eaglebaybrewing.com.au
duckstein.com.au

Getting There
Fly there with Air New Zealand Book now
Find out more at Australia.com