Hungary's capital, Budapest, has dusted off the dreary years of communism to become as great and glamorous as it was 100 years ago.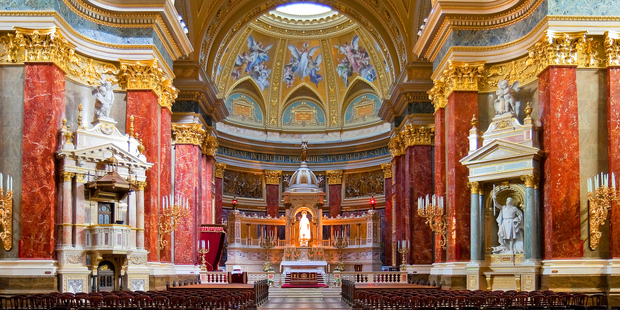 Stroll, shop, eat
Vaci Street, 1.5km long and pedestrian-only, has been Budapest's main shopping street forever. It's lined with neo-classical buildings and has a mix of souvenir, craft, designer and big-brand shops and lots of bars, restaurants and cafes.
This street was made for walking and people-watching, especially on weekends when Budapestans come out in droves to see and be seen and to enjoy long languid lunches at one of many pavement cafes. Russian-imposed communism destroyed the wine and fine food industries but 20 years of freedom have brought both back brilliantly.
To market, to market
Central Market Hall, at the end of Vaci Street, was built in the 1890s soon after the towns of Buda, Pest and Obuda joined to become this big city. It's of great-hall style with elegant iron framing, a roof of bright tiles and the upper walls are glass giving it abundant natural light.
Abundance describes the ambience. The ground floor is overflowing with stalls of fruit, vegetables, pastries, spices, sausages, pickles and other Hungarian culinary specialties.
Upstairs there are craft shops and numerous well-priced eateries specialising in Hungarian food. The best craft buy is Hungarian lace made into mats, tablecloths, curtains and, for the courageous, fancy jackets.
Cross the Danube
The river slices through Budapest and in the central area five bridges straddle it. There are walking and cycle paths along the banks and strings of fine heritage buildings to be viewed in passing. The river walk gives a broad view of the city and the mighty Danube that is almost always busy with boats.
Don't miss Szechenyi Chain Bridge, a 375m suspension bridge built by British engineers in 1849. It's a vintage industrial marvel suspended by massive iron-link chains and ornate stone towers. Snarling marble lions greet passers-by on this iconic bridge.
Tour the power house
Conceived when the three towns united to become
one city, the Hungarian Parliament building, designed by Imre Steindl, was completed in 1902 after decades in the making. Money was no problem; it required 40 million bricks, a workforce of over 1000, half a million precious stones, 40kg of gold and 242 sculptures. And then there are the fancy gilded columns, stained glass windows and fresco paintings. All this makes it one of the world's finest Gothic revival buildings.
The Hungarian Parliament building was used during communist times but most Hungarians considered communism an imposed sham. The red star the Russians put on the tallest spire came down in 1989 and the democratically elected parliament now meets here with pride. There are guided tours of the interior when parliament is not sitting.
Become a train-spotter
Nyugati Station has classic Victorian train station architecture of iron and glass and was built by the famous French Eiffel Company in 1877. It's big, busy and beautiful but beware of the beggar-types that hang round big European stations. The old dining hall is now home to one of the world's most elegant McDonald's and another claim to fame is that a portion of the 2011 Mission Impossible movie was filmed here.
Go to an island
Hungary is land-locked, hundreds of kilometres from the sea, and the closest its people get to a beach is Margaret Island, in the middle of the Danube. At 3km long and 5km wide the island is covered with woods, paths and gardens. It's history includes being
a royal hunting ground, having a 500-year-old convent and, after the discovery of hot spring water a century ago, a spa.
The north end, near the spa, has three swimming pools including a beach pool but Budapestans in bikinis or Speedos lounge about on grassy patches all over the island, soaking up the sun. It's a great place
for a peaceful stroll, to admire the gardens and enjoy the fresh air.
Go to church
A carillon of bells loudly and melodiously chime from 9.45 on a Sunday morning, joyously calling people to St Stephen's Basilica. The huge church is full of people when the service begins at 10am.
The basilica was completed in 1905 and has a 96m dome that makes it the tallest building in Budapest. Luscious lady-angels in silky gowns float prettily around the dome, baby angels peep from behind clouds, gold glitters lavishly and frankincense fills the air.
The choir harmonises hallelujah in complicated and beautiful ways, and white-robed
priests preside over proceedings. It's an amazing and gracious place to be on Sunday morning regardless of whether one is Christian.
Have coffee in a ballroom
The ballroom of the Paris Department Store seems to have more mirrors than Versailles and the old-glory vibe is heightened by renaissance paintings on the domed ceiling, gilded columns, a black-tie pianist playing a grand piano and gold chandeliers dripping crystal. The Paris Department Store, 1909, was the most elegant building in Andrassy Avenue, the most stylish street in Budapest. It's not longer a department store but the lower levels have a selection of shops for the well-heeled; a wine shop, book store, high-end cosmetics and designer souvenirs.
The cafe in the ballroom on the top floor is the biggest attraction. Relax into a soft leather armchair and enjoy excellent coffee, intense chocolate-covered orange cake, music and the old-world ambience.
Admire the architecture
The art nouveau era, from the 1880s to 1912, coincided with Hungary's golden age.
Hungary was autonomous, wealthy and had a flourishing intellectual and artistic scene.
During this time hundreds of art nouveau buildings were constructed. Odon Lechner was the pioneering architect of Hungarian art nouveau and he adapted the international style to include uniquely Hungarian folk art.
Gersham Palace, the Hungarian Treasury, the Geological Institute and the Applied Arts Museum are fine examples of large civic art nouveau buildings. Andrassy Avenue, and the streets around, have many apartment buildings of this era. Though they suffered during communist times many art nouveau buildings have been restored to their former glory.
History, art, architecture, culture and fine food; Budapest has everything but a beach.
• Liz Light visited Budapest travelling on Trafalgar's
At Leisure 10-day Prague, Vienna and Budapest guided holiday. At Leisure, guided holidays are conducted at a relaxed pace with two or three nights in each location and plenty of time to explore the cities.