A little sweat can boost your sightseeing. Carol Pucci looks at some of the best city rides around the world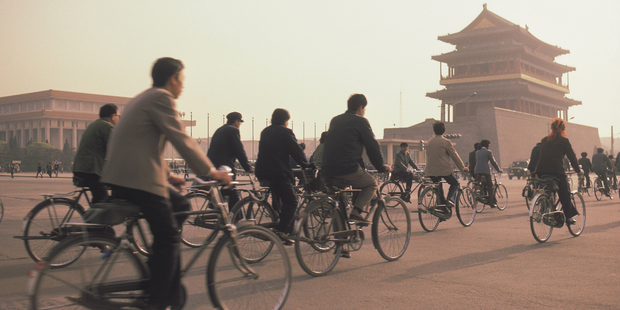 Bouncing through Prague on a bicycle seat without springs didn't make for cushy cycling, but it was a memorable ride that combined sightseeing with the thrill of careening through a foreign city behind a fearless, 20-something guide. Scout out a route that's relatively car-free in the morning or late evening, and even Bangkok or Beijing qualify as bike-friendly.
Renting a bike and exploring on your own is always an option, but my favourite way to get to know a big, foreign city is to spend a few hours on an organised small-group ride.
Get the lay of the land. Learn a little history. Make new friends. I think of these excursions as walking tours on wheels.
BANGKOK
People travel by river boat and SkyTrain to avoid the constant traffic congestion, but off nearly every main street are alleys too narrow for anything but pedestrians and pushcarts. Guides from Co van Kessel Bangkok Tours lead groups first through Chinatown, then across the Chao Phraya River to Thonburi - perfect for cycling along canals connected by raised concrete paths shaded by banana and coconut trees.
Co van Kessel Bangkok Tours: Five-hour morning and afternoon rides ($54).
PARIS
I had doubts about a night-time bike tour of Paris. The first test came as our group crossed the busy Rue Henri IV. Surprisingly, the cars stopped and waited for us. Before we knew it, we were gliding along back streets, past little restaurants and cafes, not a car in sight.
If you can take just one bike ride in Paris, do it at night or at dawn when Paris is waking up. Either way, you'll see the city in a new light.
Paris a Velo c'est Sympa offers a three-hour "Paris at Dawn" ride ($55). Fat Tire Bike Tours has a four-hour night ride for ($45).
FLORENCE
It was morning rush hour as a dozen of us waited for our guide to round the corner in his van and whisk us away for a day of biking in the Tuscan countryside.
We cycled along a steep two-lane road hemmed in by stone walls. Cars and motorbikes whizzed by, but it was all worthwhile when we spotted our lunch stop, the Casa del Prosciutto restaurant. Bottles of Chianti arrived along with platters of grilled bread spread with chopped tomatoes. The afternoon sun was low in the sky when we climbed back on our bikes. With our backpacks filled with wine and olive oil, we relaxed. The ride was literally downhill from here.
I Bike Florence offers 24km tours in the Tuscan countryside ($128), including transportation and lunch.
BEIJING
There were some tough hills and a few nice downhill runs, but the paved road we followed on a ride to the Great Wall with CycleChina wasn't the quiet country lane I expected. This was China, after all. Construction was booming. Cement trucks ruled the roads.
The reward was a remote section of the wall called Huanghua Cheng or "Little Flower". We put the bikes in a van, then climbed about 1.5km uphill on a path of crumbling rock. When we reached the top, it was just our group of 10 and our Chinese guide, who decided to entertain us by playing his favourite song, Country Road, on his MP3 player.
CycleChina offers Great Wall tours (80-$130).
SYDNEY
A ride through Australia's biggest city brings fabulous coastal and harbour views and with the right guide, you can find tranquil spots and the easiest routes through which to cycle without traffic hassles. With great weather, minimal pollution and a compact central city areas, Sydney is a great place to cycle.
Local cycle company Bonza Bike Tours offers hourly hire and a basic tour taking in Sydney's classic highlights ($125). Their Manly Beach and Sunset Cruise ($162) includes a tough hill, but is worth the effort.
- AAP