Headland Sculpture on the Gulf is a great excuse to explore Waiheke, writes Donna McIntyre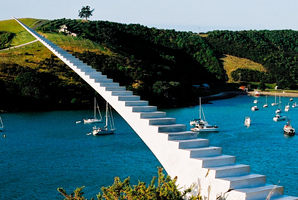 Waihekeans are inviting you to venture further up the road after you've taken the sculpture trail and enjoyed the offerings in the event's Matiatia pavilion.
It's a pleasant amble to Oneroa, especially if you walk the track through the Atawhai-Whenua regenerated bush. Or you can catch one of the Fullers buses meeting incoming ferries to the island gateway village.
Oneroa has plenty to offer art lovers. The village's community art gallery has exhibitions and a shop. In nearby Waikare Rd, Waikare on Waikare has workshops as well as exhibitions.
And a special offering this year is Oneroa village's first sculpture walk, running at the same time as the headland walk with works outside shops and cafes.
For visitors wanting to venture further, a tour is a stress-free way to explore the island, with a choice of beach-hopping, visiting wineries, restaurants and art galleries.
But let's start with Oneroa's artworks, since this is a month celebrating aesthetics on the island.

Art in Oneroa
The Waiheke Community Art Gallery in Korora St should be visitors' first stop in Oneroa, says gallery director Linda Chalmers.
There's a sculpture exhibition by previous Headland exhibitors including Julia Oram, Jill Gatfield and Jim Wheeler and a selection of works by Waiheke artists, as well as Jacqui Birch's contemporary flax weaving.
Down the road and around the corner is Waikare on Waikare, a Maori design, arts and culture studio in the old police station. Jeanine Clarkin, creator and organiser, says the studio offers poi making and tutoring sessions, plus workshops for visitors to try their hand at sculpture. Sculptors on site include Tawera Tahuri from Gisborne and Darren Ututonga, a returning islander, plus resident artist Glendale Rangihaeata.
Villagers are especially excited about new venture Sculpt Oneroa, on from January 18 to February 18.
Island artists and gallery owners Sally Smith and Paora Toi Te Rangiuaia brainstormed the idea of having 19 artworks by 15 artists woven into the village environment.
"These works celebrate the island, our artists, our village," says Smith.
Rangiuaia and Smith intend the non-profit Oneroa sculpture walk to be an annual event. "We're bringing art into everyone's life," says Smith. "We're making it accessible."
Some of the artists are using the opportunity to work in different scales and materials - for example Lung by Kiya Nancarrow, placed next to the Oyster Inn. Other works have been specifically designed to work in with the site such as Set In Stone, by Smith and Chris Bailey, which denotes the sculpture's placement of the protected viewpoint beside Wai Kitchen.
"The sculptures are not plonked on the footpaths," says Smith. "They are in courtyards, in trees, in gardens, you have to discover them. Paora has a piece high in a tree. Kids will enjoy finding it."
Visitors can join the guided walk each Sunday at 11am or self-guide using the Sculpt Oneroa brochure.

Eating in Oneroa
The village's cafe and restaurant scene is buzzing with new arrivals as well as tried-and-tested favourites. About to open its doors is Solar Eatery and Bar just above Rangiuaia's Ape-x gallery, with another newbie being the much-lauded Oyster Inn. The streetside coffee bar Double Shot embraces the island's casual vibe and allows you enjoy a coffee without worrying about wiping the sand from your feet if you've just popped up from nearby Oneroa Beach.
Spice is also a great place for that caffeine hit, as is Fenice across the road - it's also a popular spot for a pizza or wine. Vino Vino, Wai Kitchen, the Red Crab and Ricky's all offer sensational views over the bay, as does the Sand Bar.
But you don't have to eat up large, either. Grab fish and chips from OFC, or a natural, organic pleasure in a cone comes courtesy of Ice Queen gelato outside Waiheke Fruit and Veg.

Shopping in Oneroa
Oneroa shopkeepers are a friendly lot offering an eclectic selection of goods, reflecting Waiheke's point of difference to Auckland.
Check out Veranda and Escapade for homewares, including island-produced soaps, honey and Tree Essence furniture. At Upcycle, everything has had a former purpose in life.
"If you see it and you like it, you'd better buy it, because it's not going to happen again," says co-op member Iaso McKenzie.
At multimedia shop Tivoli you can appreciate artworks including an installation by Tessa Laird, until January 24, with Sue McKenzie's work to follow, while you browse books including contemporary fiction, politics, graphic novels and New Zealand private press. Saturday night screenings of political documentaries, animations and classic films have seating for 25.
Resortwear, too, is a theme in the village with the Oyster Inn shop, Shop the Rock, Salt, Zola, Chances and Body and Soul offering a range including T-shirts, jandals, must-have shoes and throw-on beachwear. Factor in time, too, for Island Design's New Zealand-made arts, jewellery and clothing and We'ar yoga and lifestyle clothing, Rock Isle streetwear, merino and cotton tees at Glowing Sky, T-shirts and souvenirs at Shop the Rock and jewellery at Indulge.

Touring the island
There is, of course, a whole island waiting to be explored and the easiest way to do this is by catching the Fullers tours meeting ferries at Matiatia or joining one of the independent tour operators.
Who better to ask what to see and do than Nigel Robinson, who came to Waiheke 39 years ago for a two-week holiday and decided to make the island his home. He and Jenny McDonald operate Ananda Tours, visiting vineyards, restaurants, olive mills, gardens and artists' studios.
"Waiheke still has an unspoiled feel and yet we have the sophisticated olive oils, wines and restaurants," says Nigel.
Alternatively, if you want to combine walking and sampling wine, consider the five vineyard walks in the Onetangi valley. Executive Tours can transport you to either end of the walk at Te Motu or Casita Miro.
Taste the wines at Wild on Waiheke, Te Motu, Stonyridge, Obsidian and Casita Miro and, afterwards, swim at Onetangi. Just be aware you're walking through private property at the owners' behest; the walkway is open 11am to 4pm daily, December to April.
Walking time is about 20 minutes but allow two hours to walk and taste the wines. It pays to book ahead if you want to eat at the vineyard restaurants.

More info
Oneroa sculpture: Runs January 18 to February 18. sculptoneroa.co.nz
Transport and tours: Fullers, ph (09) 367 9111; Ananda Tours, ph (09) 372 7530; Sealink Highlights Tour, ph (09) 300 5900; Jaguar tours, ph (09) 372 7312; Around Waiheke, ph 0800 287 8687; Wine Tours, ph (09) 372 2140; Executive tours, ph (09) 372 0088.
Vineyards: Casita Miro, ph (09) 372 7854; Stonyridge, ph (09) 372 8822; Te Motu, ph (09) 372 6884; Obsidian, ph (09) 372 6100; Wild on Waiheke, (09) ph 372 3434.
Staying longer: Staywaiheke.com

Headland Sculpture on the Gulf
• January 25 to February 17, Matiatia, Waiheke Island. Opens from 8.30am. Free (shuttle bus $5, other packages available). Visit sculptureonthegulf.co.nz.
• Thirty new large-scale sculptures exhibited along a spectacular 2.5km coastal walkway on Waiheke Island, New Zealand's premier contemporary outdoor sculpture exhibition.
• Shuttle buses to the start of the walk leave every 15-20 minutes from the Pavilion near the ferry terminal.
• The Pavilion features an art gallery and offers examples of local food and wine.
• Open 8.30am to 5.30pm Monday to Wednesday, 8.30am to 10.30pm Thursday to Saturday and 8.30am to 8.30pm Sundays.
• Packages are available for morning and afternoon teas with artists' talks (Monday to Friday at 10am and 3pm, $15), lunches (daily, $30 per person), or twilight walks with tapas/light dinner (Thursdays to Saturdays, $50).