Many people say it's London, Paris or Munich. But the most exciting shopping is in Bangkok. The air conditioned and squeaky-clean trains stop right at the entrance of the most important shopping complexes on the lively Sukhumvit and Rama I roads.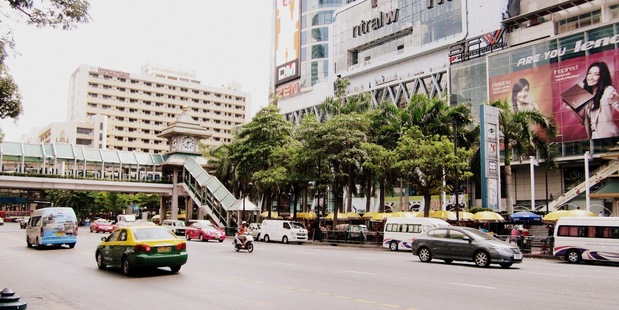 Bangkok's malls are just steps from the sky train stops - via covered passenger bridges. Below the shoppers, cars are honking horns and fighting for space with motorcycles and rattling tuk-tuks.
Like the Central World shopping complex, which sprawls over the space of 77 soccer fields and includes 600 shops and restaurants, most malls in Bangkok attract even more shoppers with live music and giveaways.
Many youngsters see a mall visit as a chance to be seen in the latest clothing or even become famous.
There is always a regional star singing somewhere in the malls or a skater competition. There are also casting shows such as on the third floor of Central World, where some 100 teenagers queue for numbers and a brief appearance at the regular event.
Siam World is a world of its own. The advertising slogan on the mammoth mall's wall - "Pride of Bangkok'' - can be seen easily from the Siam station.
Two Thai youngsters and their father press their noses to the glass of a luxurious car salon on the second floor. The friendly salesman waves them in and tells them it's okay to carefully stroke the Lamborghini, which shines next to Maseratis and Porsches.
There are also book and beauty shops with plenty of shoppers on this floor as well as bank branches and cafes. And up another flight there is a cinema complex featuring pillows and quilts for the visitors.
The lower floor features a small recreated ocean including reefs, boot trips and an aquarium with more than 10,000 fish. Feeding the sharks is easy and cheap compared to a diving with the sharks. The guided tour lasts several hours and costs about NZ$250.
Things are much calmer and nobler at Gaysorn, which features cool, elegant design with lots of glass, chrome, pillars, sculptures and areas to sit, relax and marvel. On one recent visit, a pianist was playing classical music and was accompanied by a female singer.
The security men meanwhile wear dark clothing, looking almost like bodyguards, as they kindly point out in nearly a whisper that photography is not allowed.
- AAP