After two decades of renting Kiwi baches, Leeanne Templer has figured out the rules for finding the perfect summer spot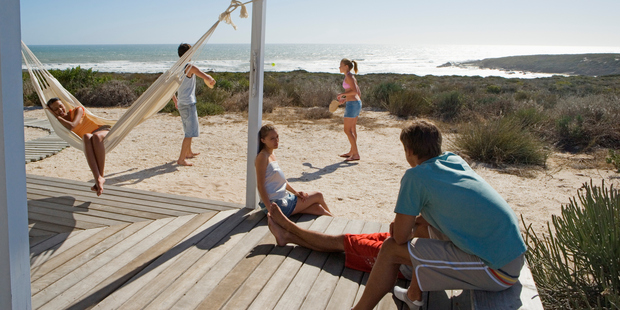 1: Make sure the toilet isn't a bucket
The first bach we rented had sea views, and was near a white sandy Coromandel beach. Although it was a no-frills studio bach it was just right for us to get away from it all, at the most distant tip of the peninsula.
It sounded too good to be true as it was within our tiny budget, so we braced ourselves for some unexpected surprises. Just as well, because the catch was that the toilet was a bucket with a seat on it, behind a curtain. So make sure the bach has a flushing loo.
2: ... and preferably indoors
Unless you're comfortable with a night-time stroll among the mosquitoes, it pays to check the bathroom is inside the bach.
We recently rented a great place just around the corner from a gorgeous sandy family-friendly beach.
It would have been nice if the owner had warned us the bathroom was outside at the back of the garage.
This made for some interesting nocturnal adventures involving large spiders. I had even asked my now standard "flushing loo" question. Once we stayed in a tipi in Raglan instead of a bach. We knew the loos there were outside eco-friendly composting types, but we did not anticipate that kids would flatly refuse to use them.
3: Generally, you get what you pay for
This follows on from tip one. We found there is a higher risk of surprises when you go for a budget bach.
4: Ensure the bach is quiet
I accept you can't know in advance whether you will have noisy neighbours, but holiday parks with outdoor movie theatres are guaranteed noise risks. We once stayed in a holiday park that boasted an outdoor movie theatre.
We did not anticipate that our bach would be just behind the speakers and that movies were screened late into the evening. Check the map of the park to see where potential noise sources are located. If all else fails take earplugs.
5: Go for a great swimming beach
We have stayed in Taupo a number of times as it's a good central family meeting place in the middle of the North Island.
We rented some lovely large, fenced, family-friendly houses with playgrounds for children and sprawling decks. However in summer we found the lake water too cold for swimming and the hot pools too warm an alternative.
If you like to swim over summer stay near a beach with warm seawater, or with its own pool.
6: Short of sheets
Check whether you need to take bed and kitchen linen. If linen is not supplied make sure you have enough room in the car to take large duvets or sleeping bags.
7: Mind the curfew
If the bach is in a park, check what time the curfew is. One bach we rented was in a park that locked all gates at 9pm - not great on New Year's Eve. This information is usually available on the relevant website, just make sure you read it and digest the implications in advance.
8: What's cooking?
Find out if the bach has a BBQ, microwave and outdoor furniture. If you don't think you can do without them you may want to take them with you. Some of the beautifully situated Auckland Regional Council baches have fairly basic facilities.
9: Check the water supply
You may need to take extra supplies with you, an extra electric jug or two, and ask visitors to bring an unusual type of BYO beverage.
We also have a little travellers' water boiler which we take along for emergencies.
10: Get confirmation
A diligent bach hunter will check that the confirmation from the bach rental website matches the dates agreed upon with the owners.
A bach rental website once sent us a confirmation email which showed the date of arrival as a day before the date we had originally agreed upon. We presumed the owners had allowed us to arrive a day early, however it was a mistake and the owners were still cleaning up after the last people when we arrived.
Don't rush your decision to rent a bach. Make sure you have checked over tips one to 10 first.
Ensure that your focus on avoiding problems last year does not stop you from seeing other potential traps the following year.
Make sure the bach will have everything you need. Otherwise you may end up like one family we saw last year who tied several mattresses to the car roof so they could fit everything in at the last minute.
Surprisingly, it wasn't us.