Winston Aldworth gets a taste for the high life on board an Emirates A380.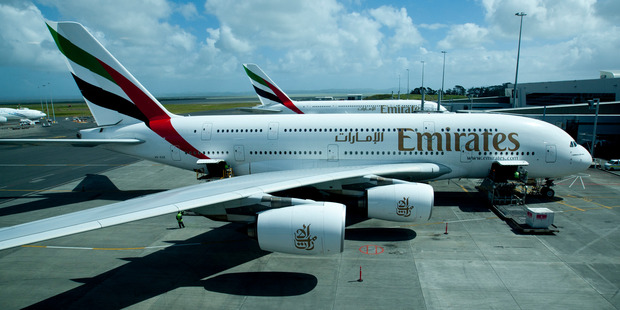 When the seatbelt sign goes "bing" a few minutes after takeoff, a tremor runs up the business-class cabin as more than a dozen keen flyers unbuckle and head for the bar.
We're on board an Emirates A380 and the bar in question is a tasty mix: one part modern-day wonder of conspicuous consumption, one part elegant reminder of travel's more civilised age and all topped with a splash of dateline-dashing bonhomie. It's a proper international staging post; a civilised tipple between frontiers.
And, wouldn't you know it, we're too early. The cabin crew tell us they need 10 minutes to set up the bar. The 10 minutes become 20, mainly because so many of the passengers are milling about getting in the way.
The bar is tucked down the back of the 76-seat business-class section. For takeoff and landing, the area is stripped bare. Once the kitset horseshoe-shaped bar is set up with a couple of curved couches on the sides, it's all aboard for the 36,000ft swill.
I can report they mix a strong vodka tonic. Second and third ones: equally strong.
The beer range is basic, but on a long flight the homogenous green-bottle wash of a Heineken is probably about right. The top-shelf stuff was all near enough to top label. There's 18-year-old Glenfiddich, Chivas Regal, Hennessy XO, Bombay Sapphire and Hakutsuru sake. The barman will mix any cocktail you fancy, although on our flight he was busy enough just keeping the Moet flowing and topping up the bar snacks.
There's a palpable air of excitement at the bar, even from the more seasoned business travellers who have had a tipple at Chez A380 before. The novelty is obvious.
What's the legal drinking age in international airspace? My barmates don't test the legalities too much. We're convivial without being rowdy - staff tell me that's typical.
Unlike most bars, if you get too hammered here they can't open the door and chuck you out. So, like all cabin crew, they're trained to recognise when a passenger has had a few too many. In classic airline fashion there's a checklist: delay, distract, dilute and - finally - deny.
But on our flight, the only delay came from the horde mobbing the bar. The poor staff poured as quickly as they could.
BEST BIT
On our flight, a bunch of seasoned pros who work in the travel industry packed the bar, all as excited to be in the famed A380's in-flight tavern as any novice to the aircraft - it made chichat easy. When Emirates A380s fly into Saudi Arabia, they don't carry booze.