When you've strolled around the City of Love visiting icons like the Lourve, Notre Dame, the Eiffel Tower and eaten more than your share of fresh baguettes and gooey cheese, here are five off-the-beaten-track things to write home about.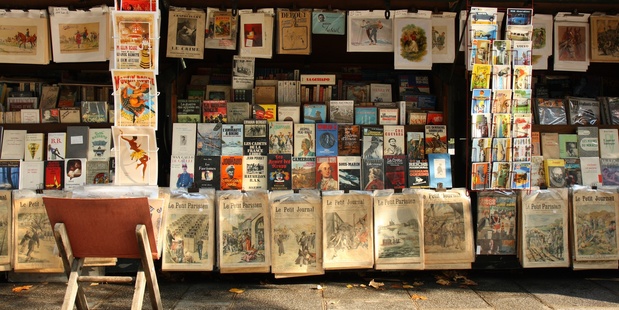 For unique Parisian souvenirs, walk along the banks of the Seine and browse in the little green kiosks. These bouquinistes (used book sellers) have been plying their trade along this three-kilometre stretch of the river for about 300 years. You'll find paintings, posters and antique books collected from flea markets around the region - and they're happy to bargain on the price.
Palais Garnier, the grand opera house, is a spectacular building and worth taking a guided tour through even if you don't see a show. It was built in 1875 and is the fictional home of Erik of The Phantom of the Opera. When it opened there was more gas lighting in here than in the whole of Paris so people flocked to be seen in their finery. But nothing could have been finer than the third floor gallery covered in gold leaf and Chagall paintings.

Take a 2CV tour around the city with 4 Roues sous 1 Parapluie (four wheels under one umbrella), but prepared to be photographed as much as those famous sights.
These Citroens with open tops are driven by beret-wearing local guides and a 90-minute tour is a great way to get your bearings of Paris without all the walking.
Take a two-hour boat ride along leafy St Martin's Canal, through bohemian neighbourhoods from Paris Marina Arsenal to Parc de la Villette. This 4.5km canal was built under Napoleon and was nearly covered in when it fell into disrepair. You'll plunge into darkness as you quietly ease underground while Edith Piaf plays on the sound system, then through a series of locks and draw bridges while locals stop to watch.
Dine at Café de l'Homme in the Musée de l'Homme, 17 Place du Trocadero. This boasts one the best views of the Eiffel Tower in the city, looking across the Seine and is not crowded with tourists because it's hidden in the museum. It's due to reopen soon after being closed all year, so revisit their site when you head over and grab a table on the terrace to watch the sun go down and the Tower light up.
- nzherald.co.nz