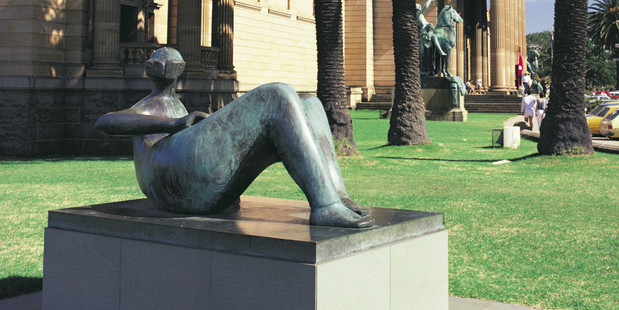 "Egg and chive dumplings with lychee iced tea." No, I wasn't that fussed either, but it was 2pm Sydney time, and after a 6am start back in Auckland and a walk around one of the best privately owned art galleries in Australia, I was prepared to try anything.
The soft, glistening ball of delicate flavour and smooth texture that arrived at our table in the White Rabbit Gallery Tea House was so far removed from the gluggy, tasteless dumplings I'd had at a restaurant recently, I couldn't believe they were the same food item. But then White Rabbit is one of Sydney's best-kept secrets if you're doing the art circuit, and art, not dumpling sampling, was the real reason for my visit.
Unlike Auckland, Sydney doesn't close its doors to art over summer. Quite the opposite. Yes, the dealer galleries have a holiday, but the big (and little) institutions have banded together in recent years to offer an art experience for those of us who are looking for more than sun and sand.
Founded by Kerr and Judith Neilson, White Rabbit owes much to Judith's love of contemporary Chinese art from 2000.
There is no state or federal funding and the plethora of sponsor's logos that have crept on to gallery walls of late is missing here. Instead, with this collection, she has transformed Chippendale, a previously rundown part of central Sydney, into a very cool destination.
Entry is free to this old Mercedes factory, a cleverly transformed space on three levels of intimate galleries. Banish forever nasty thoughts about "Asian art" and be prepared, instead, for some of the most beautifully crafted and cleverly installed contemporary pieces you'll encounter anywhere. There are no blue and white urns, no lurid communist paintings, but there is much comment on what it means to be a contemporary artist in China today.
Shows are up for six months, and the current third anniversary show, Double Take, is a mix of new pieces and old favourites that encourage visitors to take a second look and think about appearance versus reality.
While the dumplings quietly digested, I returned for another squiz at Liao Chien-Chung's deliberately wonky Harley Davidson, Te Wei-Cheng's Valentine's Day chocolate shop offering miniature guns, bullets, soldiers and other not-so-sweet items made from real chocolate. Smells delicious, too. Gao Rong's embroidered bus stop, complete with ripped timetables, fools you from across the gallery floor with its realistic depiction, and the workmanship is exquisite.
Each piece we encountered was thought-provoking, challenging and unexpected. White Rabbit is open only Thursday to Sunday (and is closed for Christmas until January 2), so it's worth timing your visit to Sydney to catch it.
While you're in the area, visit some of the artist-run spaces that have popped up. A bonus is that they open on Sundays, unlike similar spaces in Auckland. MOP is just round the corner from White Rabbit and has ever-changing exhibitions. Chalk Horse in Surry Hills is a real find: a large working studio upstairs where you can meet the artists. The gallery space feels tight and dark in comparison, but is memorable. There was also jolly nice wine and company at the opening I attended.
Another surprise was Brett Whiteley's studio, home and exhibition space, also in Surry Hills. Whiteley is the anointed father of contemporary Australian art - think McCahon and Hotere and you're getting there. The Art Gallery of NSW looks after his studio, which is just as Whiteley kept it (he died in 1992) with furniture, books, paint, unfinished paintings, even his old telephone. I'm not a fan of these sorts of shrines, but seeing a large body of his work in the gallery space below, The London Years, was an excellent introduction to the Francis Bacon retrospective that I saw the next day at AGNSW.
Whiteley, a laconic, smoking, drinking, laidback Aussie and the upper-class bred Bacon struck up an odd friendship when Whiteley was working in London in the 1960s, and Bacon's influence as a painter can be seen in Whiteley's expansive canvases.
Which brings me to the big guns, the Art Gallery of NSW and the MCA who, with Destination NSW, have pulled out all the stops for this summer's international art series with two blockbusters - Francis Bacon and Anish Kapoor.
The Bacon show covers five decades of this prolific artist, born in Ireland, raised in the UK, gay, wild, brilliant and unpredictable. If you love painting you will be in heaven as this show has gathered some of Bacon's best.
The Kapoor show couldn't be more different: ambitious, colourful sculptures that move and sigh sometimes, made of clay, plastic, pigment, steel and wax. Even if you are not a sculpture fan, I dare you to not be moved by Kapoor's audacious art.
Just make a date with those dumplings first.
WhiteRabbit
30 Balfour St, Chippendale
Artist-runspaces
* MOP: 2/39 Abercrombie St, Chippendale, mop.org.au
* Chalk Horse: 8 Lacey St, Surry Hills, chalkhorse.com.au
* Brett Whiteley Studio: 2 Raper St Surry Hills, artgallery.nsw.gov.au
Art Gallery of NSW
Art Gallery Rd, The Domain
Francis Bacon - Five Decades Until February 24, 2013
Museum of Contemporary Art (MCA)
140 George Street, The Rocks, Anish Kapoor Until April 1, 2013
Josie McNaught travelled to Sydney courtesy of Destination NSW and Qantas and stayed at the Sofitel Wentworth Hotel.