Whether you live there or you're just visiting, there's loads to do on Waiheke.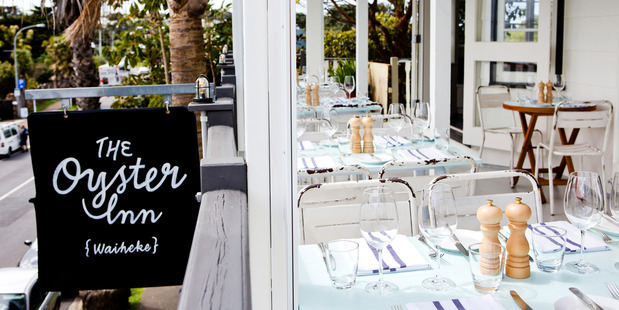 1. Eco Zip Adventures
150 Trig Hill Rd, Onetangi 0800 2 GO ZIP or 09 372 5646.
EcoZip Adventures is one of the newest flying fox zip-lines in the country. Two people can fly smoothly side by side on the three 200m dual flying fox ziplines down into a stunning tract of native bush. Finish with a scenic walk back to base, to learn about local flora and fauna and conservation. Ideal for nature lovers aged 8 to 88. Ticket price includes pick up from the island ferry and drop-off at a range of locations, $20 discount for advance bookings. Open from 9am until 5pm, seven days a week. Sensible shoes essential.
2. Oyster Inn
124 Ocean View Rd, Oneroa, Waiheke Island. 09 372 2222.
Waiheke Island's Oyster Inn the newest little pearl in the beachy village of Oneroa. Take a seat on their ocean-view restaurant verandah or in the breezy dining room and make the most of the coastal-inspired menu.
Or just drop in and enjoy a summer cocktail or glass of wine. Arrive when you like, eat when you like - the kitchen is open all day - savour the atmosphere. Check out the chic little beach shop and, if after all that you can't bear to leave, stay the night in one of the three luxury boutique hotel rooms.
The only drawback is having to return to real life when you leave.
3. Waiheke Island Community Cinema
Artworks Complex, 2 Korora Rd, Oneroa. Call 09 372 4240 to make bookings.
If it all the adventurous outdoor action gets too much, it rains like last summer, or it's just too darn hot, why not park yourself at this sweet little cinema. See all the new releases, enjoy a packet of jaffas or an ice cream, and all from the comfort of sofas. Like being in your own home, but with a much bigger screen. Bring cash as there's no eftpos, just like the olden days.
4. Whittaker's Musical Museum
2 Korora Rd Oneroa. 09 372 5573.
This wonderful attraction is a wonderfully quirky Waiheke treasure, where antique musical instruments are played before your very ears. There's also plenty of educational information about the instruments' origins, and you can even play some of the instruments yourself. The show begins at 1pm, although you visit anytime between 10am and 4pm to have a look around.