The stage adaptation of Legally Blonde is even better than the movie, discovers Carol Smith.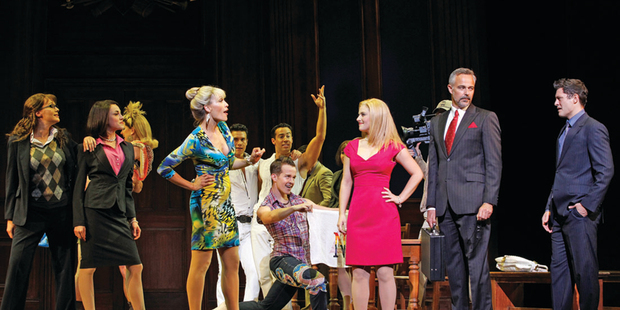 I'm legally brunette. But that didn't stop me enjoying Sydney's latest musical offering at the Lyric Theatre.
Legally Blonde star Elle Woods, played with aplomb by Lucy Durack, would snap her fingers and say, "Omigod you guys, you have to see it." And I agree. The high-energy show, directed and choreographed by Jerry Mitchell, was a great success on Broadway and the West End and won an Olivier award for best musical last year.
Theatre-goers may know Legally Blonde as a film starring Reese Witherspoon, but the theatre version, although carrying a similar plot line, is much better.
At first you may not like this Delta Nu sorority "it girl", whose sole purpose in life seems to be shopping in heels (with her designer handbag dog) and waiting for a big rock from her smarmy boyfriend, Warner Huntington III, well acted by Rob Mills.
But the girl whose signature colour is pink - "whoever said orange was the new pink was seriously disturbed" - is about to have her heart broken. Warner tells his "Pooh Bear" that he has to break up with her because she is not serious enough to be in his future, which includes going to Harvard Law School and finding a privileged, preppy girlfriend.
Despite this setback, our prom queen remains positively in the pink as she decides to qualify for Harvard Law School herself and win her sweetheart back. What follows is an infectious, hilarious ride through many all-dancing, all-singing numbers.
When Elle visits unlucky-in-love hairdresser Paulette, played by Helen Dallimore, to get her hair dyed brunette so people will take her more seriously, we are treated to one of the show's best numbers. Ireland is a fantastic song performed by Dallimore (who originated the role of Glinda in Wicked), who steals the show every time she is on stage with her big personality, great vocal chops and wacky costumes. Her future love interest, the UPS delivery man, also has a quirky cameo role.
Durack and Dallimore work the stage well together and the audience begins to see that Elle is not so shallow and has a heart of gold. Elle teaches Paulette the Bend and Snap, which she guarantees will win over any man. If you want to learn this flirty technique, WikiHow will show you in seven easy steps.
Elle is determined to prove she is smart and I warmed to her character when super sweet Emmett Forrest, played by David Harris, helps her get her head out of fashion magazines to hit the books, and the way she defends a fitness guru who is accused of murdering her husband: "Exercise gives you endorphins. Endorphins make you happy. Happy people just don't shoot their husbands. They just don't!" she exclaims.
She's not the normal Harvard Law School student and this show is far from reality. But that's why it works. It doesn't take itself seriously and the cast are happy to poke fun at themselves and show the audience a good time.
If you don't leave this show with a smile on your face after being entertained for more than two hours, then Omigod, you must be a Prep.
CHECKLIST
Getting there: Virgin Australia connects from Auckland to Sydney.
Where to stay: Sebel Pier One is a luxury hotel set on Sydney Harbour in The Rocks district.
Further information: Legally Blonde is playing at the Lyric Theatre, Star building.
Carol Smith was a guest of Destination NSW and Virgin Australia.