Perfect porcini, peccorino, pasta... Jim Eagles relishes a meal in.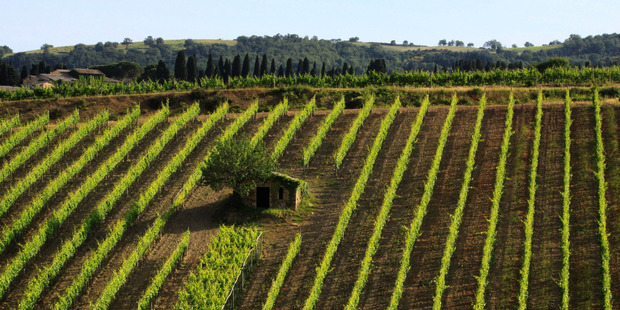 When I expressed an interest in the origin of the special for the day, fresh porcini mush-rooms, chef Stefano de Arrivati beamingly beckoned me into his kitchen.
There he produced a tray of huge brown mushrooms and in English which was not much better than my Italian led me to understand that they had been gathered that very morning from the surrounding forest.
I could, he said, have them sliced in a salad, fried or in a sauce served with pasta.
Fried sounded a good choice and so it proved. The mushrooms were cooked in a in a light batter which allowed their delicate taste to shine through. Delicious.
Stefano's restaurant, I Tre Rioni, in the tiny village of Campiglia D'Orcia, is only a 30-minute drive from the Tuscan hilltop city of Montalcino where we were staying for a week, and the perfect place for lunch.
Our friend Luigi Dusi, who suggested Campiglia, said: "I want to show you that it's not necessary to go to a big city to eat well in Italy.
"This village probably has fewer than 300 people but the food at Stefano's place is superb."
It was. Equally superb was the scenery along the way. Fields of golden wheat, groves of olive trees twisted with age, vivid green rows of grapevines and elegant lines of cypress provided spectacular backdrops for the many ancient stone villas, watchtowers and churches.
I asked for so many photo stops that Luigi eventually said, "I think we better do the rest of the photos on the way home or the restaurant will be closed by the time we get there."
Thank goodness he did because the food was incredible.
As well as those porcini mushrooms, I had a small salad of local peccorino cheese chopped up with fresh pear; chestnut pasta - made with nuts gathered in the surrounding hills - with walnuts and bacon fat; and a stunning dessert made from pureed green apple stirred into freshly whipped cream. Wow.
And while we ate we talked - of the Italian attitude to food and Campiglia's annual festival to celebrate the chestnut and why a chef like Stefano had chosen such a tiny village; of the glorious art found in Tuscany's churches and the new travel apps for smartphones and scary moments in Africa; of retirement and grandchildren and learning to savour a slower pace of life.
Add in a few glasses of a refreshing local white wine and it was one of the finest lunches I've experienced.
But that didn't mean I had forgotten Luigi's promise of a few more photo stops on the way back.
First, I wanted a shot of the belltower perched on top of a rocky crag in the middle of Campiglia itself.
Then there was the huge stone watchtower brooding above the hilltop village of Castiglione d'Orcia.
Next, Luigi took us to the thermal spa town of Bagno Vignoni, where Roman ruins testify to the sulphury waters bubbling from the ground. The waters have been prized for at least 2000 years.
The modern town is not built around the usual piazza but a square pool full of bubbling springs which acts as a greenish mirror to reflect the stone of the surrounding hotels.
And right on the edge of Montalcino there was one last stop for a photo of a small stone cottage sitting in the middle of a vineyard.
The slanting evening sun highlighted the textures of the cottage and the surrounding vines perfectly and I was very pleased with the result.
But why, I wondered, was the sun so low? Because, Luigi said, it was now approaching 7pm. Good gracious. Our lunch had taken six hours.
Luigi added nodded approvingly. "That is what a lunch in Italy should be like - long and leisurely, with fine food, good wine and great company."
CHECKLIST
Getting there: Cathay Pacific flies every day from Auckland to Rome via Hong Kong.
Getting around: You can find out about visiting the Montalcino area at prolocomontalcino.com.
* Jim Eagles went to Europe with help from Cathay Pacific Airways, but paid his own way around Italy.