Soak up a slower pace of living in Italy's untouched southern region.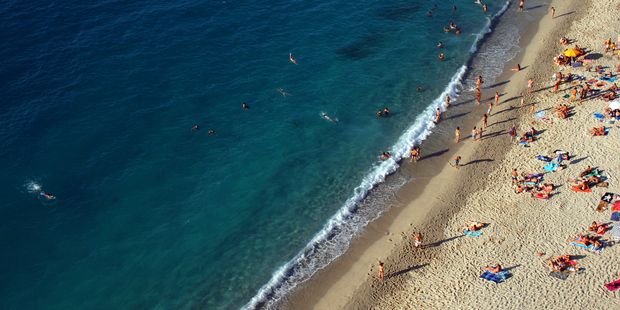 Goats and motorways rarely combine well - except, that is, on the sun-kissed trunk roads of Calabria.
Every afternoon, the Pizzo intersection of the A3 autostrada that shuttles Alfa Romeos and juggernauts along the length of the mountainous region that forms the "toe" of Italy's "boot" is brought to a halt by a herd of 200 goats moving from pasture to an adjoining dairy.
The shepherd in charge of this ceremony puts his hand up to the traffic and waves his bleating charges across the asphalt, while the traffic patiently waits without even an impatient beep.
It is a daily ritual that speaks volumes about life in mainland Italy's southernmost region.
Calabria, with its 900km of Mediterranean coastline and hilly, lush interior, has a slower way of doing things.
In its small, often tumble-down towns and villages, the four-hour lunch break is rigorously enforced. The hours between 12.30pm and 4.30pm are strictly reserved for sitting down for a glass of peppery wine and a plate of Calabria's hearty national dish, pasta alla Norma - aubergines in tomato sauce with grated boiled egg, basil and ricotta cheese.
Though Tuscany can point to its Renaissance treasures, the Calabrians patiently explain the widespread evidence in their province of great and ancient civilisation. The Bronzi di Riace - full-size bronzes of Greek warriors found in the sea and on display in Reggio di Calabria, the regional capital - and the archaeological jewels of Locri Epizefiri, a walled Greco-Roman town - are proof of Calabria's status as the cradle of Italian civilisation. It is no coincidence that Calabria's first indigenous tribe was called the Itali.
With its turquoise waters, hidden coves and ancient villages, Calabria remains largely undiscovered by foreigners. The region, one of Italy's poorest, is taking a new-found pride in the myriad treasures that have survived the ages, cut off from the coach-party hordes by miles of twisting country roads.
A drive through vistas that range from beaches lined with palm trees to olive groves and meadows dotted with cherry and almond orchards, is rewarded by happening upon places such as Squillace on Calabria's east coast. This tiny hill town with a cathedral and Norman castle is home to a community of pottery workers making pignatari, a form of painted terracotta. Their products can be bought only from the studios in the village.
Travellers seeking an authentic taste of the region should head for the agriturismi, or farm-based guest houses, many of which can be rented through southern Italy's Long Travel.
At Basillani (also known as I Monaci after the 11th-century Orthodox monastery it once housed), guests are served a tantalising combination of the wisdom of its owner, Marina Martelli, and home-cooked Calabrian food dominated by fresh vegetables, chilli and acorn-fed pork.
Marina is a firm advocate of the serendipitous approach to her adopted homeland. "The history of Calabria is the history of living on the margins. We were squeezed between the sea and mountains, between kings and pirates and Europe and Africa," she says.
"Today you have not got the richest place in Europe but a very unspoilt place. You must go and look for Calabria. You must go to the pastry shops, stop at the fruit stalls on the road and knock on the church doors. But you will be rewarded by some of the most hospitable and generous people you can find. It is a place to move slowly, stop and look."
This is borne out on the Violet Coast, named after its dramatic sunsets. The ancient towns of Pizzo and Tropea perch on cliffs overlooking some of the pristine beaches that Italians flock to. In the main square of Pizzo, everyone gathers for the evening passeggiata. Every now and again, a freshly caught swordfish is brought into the fishmonger. Like the crossing of the goats, it is a process which requires the traffic to stop.
And the Calabrians do stop and watch.
- Independent