Ditch boring hotel rooms and try something out of the ordinary next time you visit.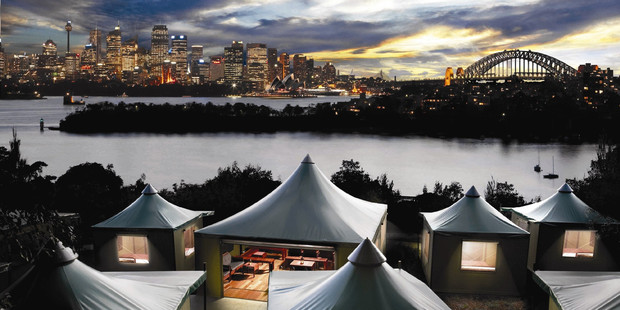 Sydney is all upfront, sexy glamour with its show-off harbour, gorgeous beaches and sunny blue skies. It's also a big city and because of its urban sprawl, visitors can easily miss its unique experiences. Who knew you can spend the night at Taronga Zoo, stay on an island, have Russell Crowe as a neighbour or sleep in the same suite as George Clooney (OK, not at the same time, but smug in the knowledge you shared the same bed). Here are some of Sydney's most surprising stays.
Spot a celebrity
The Darling is the kind of hotel Sydney was crying out for. It is part of the Star Casino complex, which also houses The Astral Residences where Leonardo DiCaprio chose to camp when filming The Great Gatsby, and the Astral Tower, which is currently being refurbished floor by floor. The Darling is the place to spot A-list celebrities.
With 171 rooms and suites, it also houses a world-class day spa that includes Sydney's first hamam (a Turkish bath-house), a 25m lap pool attended by pool staff in funky 50s uniforms, custom-made beds, Molten Brown toiletries and more.
The Darling is the hotel of choice for the likes of Elle Macpherson, Justin Bieber and Clooney.
I'm having high tea in the unofficially named 'George Clooney' suite, one of the five huge penthouse suites occupying the top floor, designed to attract high-end customers like an Elton John, a Bon Jovi or the actor himself. The hotel's general manager, Drew Schlesinger, proudly shows off the stunning views of Darling Harbour back to the city, the 34-ounce down pillows, James Russell artwork, hand-carved wooden panels, oversized round tubs and more. The hotel has its own branded 'Darling plum' colour and Schlesinger admits he tested eight different mattresses for two weeks before deciding on the perfect bed for all the Darling's rooms and suites. "When you stay at The Darling, the fact that it's part of a casino is irrelevant. You can focus on the fabulous food and have treatments at our spa without ever stepping inside the casino," says Schlesinger, who played a large part in the hotel's design.
Savvy staff in crisp blue and white shirts man the entrance to the hotel, and pool attendants serve up caprioskas to guests on recliners. The Star complex also boasts a revered restaurant precinct and I was lucky enough to try all the eateries at a progressive dinner, starting with an entree of sashimi teamed with nashi pear cocktails at Sokyo, mains of signature grills such as grass and grainfed rumpcap, wagyu and striploin at Black by Ezard, dessert at Balla, followed by a nightcap at Cherry.
Standard rooms at The Darling start from A$279 a night, but check the website for special offers.
Stay at the zoo
It's the ultimate sleepover - camping at Sydney's iconic Taronga Zoo. And surprisingly, it's not just for families. On the night we arrive, a chilly winter's evening, the large crowd gathered with their overnight bags is a mix of mainly singles and couples. Families like ours with a small child are the minority.
As we make our way through the zoo at night, past giraffes silhouetted against the setting sun, there is a tangible sense of excitement. We are shown to our luxury dome tent and despite the heavy rain, it's dry and seriously well equipped. Polished wooden floors, a double bed with electric blanket, linen and a single bed for our daughter Ella, who's beside herself that she's finally at 'Roar and Snore'. The best part of the campsite is the expansive view of Sydney Harbour and its twinkling lights on one side, while on the other are lions, meerkats and other exotic animals.
We meet for a cheese platter at the campsite's central hub, where over a glass of wine, zoo staff introduce us to a beautiful diamond python, a baby crocodile, a green tree frog and bearded dragon. Everyone then sits down at two long tables for a fantastic buffet dinner before embarking on a walking safari of the zoo at night, seeing lions sleeping and feeding bears. The night ends back at the campsite enjoying hot chocolate and home baked brownies before turning in.
The next day it's still raining cats and dogs (be warned, Roar and Snore is an all-weather event), but it's a thrill to experience a behind-the-scenes tour of the zoo before the crowds arrive. We pat a seal, feed carrots to a giraffe and marvel at surely one of the best views offered at any zoo in the world.
Roar and Snore costs from A$290 per adult and A$195 per child (5-12) and includes a buffet dinner, nibbles and refreshments, tea, coffee and sweets, light breakfast, complimentary parking, all linen and towels and access to the zoo once the programme finishes.
Location, location, location
When Condé Nast released its fabled UK Gold List this year, the renowned BLUE Sydney, a Taj Hotel, not surprisingly made its category of Best Hotels for Location. This wonderful multi-award-winning hotel sits on the waterfront of the Finger Wharf at Woolloomooloo, providing guests with the best of Sydney on tap. Within walking distance of the CBD and the Sydney Opera House, the boutique hotel is also adjacent to the beautiful Royal Botanic Gardens, ideal for a morning's stroll, the famous Boy Charlton Pool, and, in the other direction, is all the action of Potts Point with its plethora of fabulous cafes and eateries. Combining cutting edge interiors with the intimacy of a small hotel BLUE's unique design has brought to life the historic Sydney wharves in its 100 guest rooms and the undeniably chic Water Bar. Adjoining the hotel are multi-million dollar residential apartments with knockout views, one of which is owned by Russell Crowe. The wharf is also home to six fabulous restaurants including Otto and China Doll. Savvy staff wearing discreet headsets will point you in the right direction for everything from good coffee (Gypsy Rose in Potts Point) to dinner reservations or anything else your heart desires.
A superior wharf room is priced from A$225 per night, but other offers are available on the website.
Stay on an island
Who knew you could stay on an island smack bang in the middle of Sydney's beautiful harbour?
Off limits to the public for more than a century, Cockatoo Island is world-heritage listed for its history of convict detention and industry. It's now not only open to day visitors, but those wanting to sleep over as well.
At 18ha, Cockatoo Island is Sydney Harbour's biggest island and provides the world's first urban waterfront campground (thousands camp on New Year's Eve), a waterfront bar, licensed kiosk and historic apartments and houses with some of Sydney's best water views going. Our two-bedroom Harbour View apartment is fully self-contained and offers a large balcony with gob smacking views across Sydney Harbour and the vessels that ply its waters day and night. You can book a tour or take yourself on a self-guided journey to learn about the island's history, first as a penal establishment, next as a centre of shipbuilding (the island constructed the Empress of Australia which when completed in 1965 was the largest roll-on roll-off cargo ship in the world), and later as a base for the Royal Australian Navy.
There are tennis courts, kayaking, a swimming area, places to eat including the fabulous Island Bar and activities for children. But the best part for me was sitting on the deck with a glass of wine, transfixed as ferries, ships and leisure craft passed by, while overhead aircraft took off from Sydney Airport. Oh and the ferry ride to and from Circular Quay was fantastic. Do it, you'll love it.
Cockatoo Island's Harbour View apartments are priced from A$250 a night for a one bedroom and A$390 for a two bedroom. Ph +61 2 8898 2100.
Other surprises in Sydney
* Kitchen by Mike is a banquet of organic, biodynamic and just plain delicious dishes by ex-Rockpool chef Mike McEnearney. Sharing a warehouse space with Koskela, the Australian-made designer furniture showroom, it's a feast for the eyes and the taste buds. 85 Dunning Ave, Rosebery, + 61 2 9045 0910.
* The School is the latest venture for Megan Morton, one of Australia's leading stylists, offering crafternoons and make-it-yourself lessons with specially selected teachers. Classes are structured with all levels of experience in mind. 85 Dunning Ave, Rosebery, +61 2 9693 2782.
* Secret Foodies is possibly Sydney's best-kept secret. Meeting at surprise venues, guests purchase a ticket unaware of where they're going or whom they'll meet until two hours before the event via text message. Hosted by 'Ms Darlinghurst' and a chef, guests learn about the philosophy and passion behind their meal. +61 422 667 488.
* Alexandria's most exciting foodie development is The Grounds, by creative entrepreneur Ramsey Choker and coffee guru Jack Hanna. It's an innovative, sustainable specialty coffee outfit in a heritage-listed warehouse. Coffee roasting here is a spectator sport. There is also a micro-farm, bakery, resident horticulturalist, even gardening classes for kids. Building 7A, 2 Huntley St, Alexandria. +61 2 9699 2225.
* If you're after terrific coffee close to the CBD, try Single Origin, a fabulous roaster and cafe. Sadly only open Mon-Fri. 5/80 O'Riordan St, Surry Hills.
* Liquid nitrogen and theatre are key ingredients of cocktails at The Roosevelt. 32 Orwell Street, Potts Point.
Further information: Visit sydney.com