Jennifer Ennion sets her sights on D'Aguilar National Park, in south-east Queensland, home to more than 800 plant species and 200 species of native animals.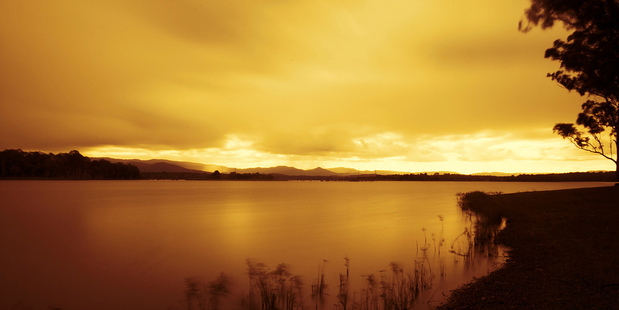 It is a well-orchestrated assault. They pick their target, wait for the perfect moment and launch into a full offensive.
They are missiles, slicing through the air. Plummeting from all sides, it's an attack that will quickly grow into a fierce battle.
Senses will need to be heightened if we have any chance of combating this onslaught.
The park rangers building a picnic shelter close by warned us this would happen, but we are hungry and perhaps a little ignorant.
At first, the wide, glaring eyes of a lone kookaburra on a nearby tree branch don't worry us.
Sure, it isn't bothered by us either, letting me within a metre for photos, but we don't realise just how tame and determined it is.
Within 10 minutes, we are surrounded by an army of hungry natives.
As a single sizzling sausage is plucked from the pan and drawn to my mouth, war breaks out.
A mischievous creature flies within centimetres of my nose. I turn just in time to move the tasty morsel out of the line of fire.
It's a very close call, and as we come to experience, one of many.
Adamant to defend our lunch and to ensure we aren't contributing to the growing number of problem people feeding wildlife, we eat quickly.
Sausage sandwiches are buried between fingers and scoffed into mouths.
Once bellies are full we place a lid over a few leftover bangers, still in the pan on the wood-fire barbecue.
But our enemy is wise. We realise we've been fooled into believing a white flag has been waved when a maverick swoops from a tree, charging at its target.
Hovering above the pan, it pushes aside the lid, momentarily hops on the still hot frying pan and triumphantly pinches its afternoon snack.
Cackles erupt around the picnic site; they are laughing at us.
We quickly tidy up; removing any other temptations before winding down with a cuppa from our billy.
We woke early to drive about an-hour-and-a-half north-west from Brisbane to D'Aguilar National Park. We had been itching for a 4WDing adventure and had never been to D'Aguilar.
So three of us set off in a dual-cab Hilux to explore a portion of this 35,000-hectare park, of which there are two main sections - South D'Aguilar (formerly Brisbane Forest Park and within 20 minutes from the city) and Mount Mee (formerly Mount Mee State Forest and Forest Reserve).
We headed to the Mount Mee section, in the park's north.
Our journey began by travelling along a sealed road through the town of Dayboro. We then headed along Mount Mee Road and down Sellin Road into the bush.
The first part of the trip was fairly tame; driving along wide dirt tracks with mild inclines and easy-to-handle bends.
The view from some of the higher spots was gorgeous; the green valley opened up as the morning mist slowly disappeared.
It is refreshing to be out here and surprising such beauty and expanse is so close to the city.
D'Aguilar is home to more than 800 plant species and 200 species of native animals, according to the Department of Environment and Resource Management.
Those animals include the Mount Glorious torrent frog, which has not been seen since 1979, and the spotted-tail quoll, also rare to find.
During our day trip we don't come across either of them, but we do notice the environment change from eucalypt woodlands to scribbly gum forests and then subtropical rainforest.
When it came time for lunch, we pulled over beside a cool river, set up chairs and soaked up the surroundings, a soundtrack of bell miners in the background.
The water level was low but the river still moved along polished stones and under fallen logs.
As we started preparing lunch, my husband recalled leaving the gas cooker back in the driveway at home. We settled for a potato chip morning tea instead.
Then it was back in the truck for the rest of our adventure.
We climbed steep tracks and skid out around muddy bends. We ploughed through large puddles and disturbed small creeks.
The roads in D'Aguilar are mainly intermediate grading, with challenging climbs in areas, like our favourite called A-break.
When we visited, there were deep corrugations in other spots but nothing too head-jolting to worry about.
Aside from the 4WD tracks, D'Aguilar has plenty of waterholes where kids can cool down and parents can stretch their legs.
They include Walkabout Creek on Mount Nebo Road at The Gap, which has wheelchair access and is close to Brisbane near the entrance to South D'Aguilar.
There is also Broadwater, which is popular in summer and is at the northern tip of the Mount Mee area.
We chose to visit Rocky Hole, surrounded by eucalypt forest and located off Neurum Creek Road.
A wooden boardwalk is signposted at its entrance and leads to a small viewing platform, above a waterfall. The walk is about 200 metres return.
More stairs lead to a welcoming pool below, surrounded by sheer rock walls. Again, it is beautiful; isolated.
From the lookout we spotted a single tortoise swimming.
After a short while we again called lunch and went in search of a picnic area with wood-fire barbecues.
We came across The Gantry, accessible by a sealed road. It is the main day-use area in Mount Mee and is large and grassy with picnic tables, toilets, plenty of parking and barbecues.
There is also the remains of an old sawmill there, which operated until 1981.
It is while we were at The Gantry that we came under attack. But we didn't mind; it's all part of being in the great outdoors.
IF YOU GO:
GETTING THERE:
D'Aguilar National Park is north-west of Brisbane and takes in two main areas - South D'Aguilar and Mount Mee. To reach the Mount Mee section turn left off the Bruce Highway at the Petrie exit, if you're heading north.
Follow Dayboro Road through Dayboro, and then either head along Mount Mee Road or Mount Brisbane Road (partially a forest drive). Heading north through the park you will reach The Gantry first, however you can detour along forest drives to Somerset and Falls lookouts, and up to Archer campground, before making a loop south again.
Rocky Hole is accessible off an unsealed track. Drive toward Mount Mee and Woodford to return to the D'Aguilar Highway and eventually to the Bruce Highway after passing through Caboolture.
STAYING THERE:
There is vehicle access to camping spots throughout D'Aguilar National Park, and there is also bush camping in the South D'Aguilar section, accessible only by foot.
There are formal camping areas in the Mount Mee section of the park, including Archer and Neurum Creek campgrounds. Permits are needed and fees apply.
PLAYING THERE:
There are scenic tracks suitable for two-wheel-drive cars in South D'Aguilar, however if you want to head deep within the park a 4WD will be needed. Most roads in the Mount Mee area are unsealed and depending on recent weather there can be deep corrugations and parts where it would be easy to become bogged in the wet. However, this should be avoided with Mount Mee closed after heavy rain. Vehicle permits are not required and the speed limit on forest drives is 50km/h.
Forest drives are unsealed with some sharp curves, narrow sections, loose surfaces and steep grades. For more information about current road conditions and permits, visit derm.qld.gov.au.
D'Aguilar National Park also has walking tracks for all levels of fitness. Some trips are only 1.5km return (Corymbia circuit), while others are 5km (Araucaria trail), and there is even a 13km walk - Somerset trail. Walking maps can be found on the DERM website. You can also organise a ranger-guided tour and talk.
Other activities include horse riding and mountain biking (only allowed in South D'Aguilar).
MUSTS:
Take drinking water or be prepared to boil water from the park. Take all of your rubbish out of the park when you leave as there are no bins.
- AAP