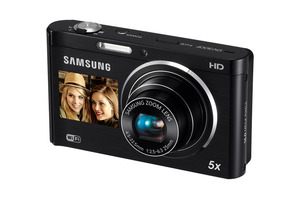 How many photographs have been taken in the history of photography? I was pondering this question as I started to write this review.
On his photography blog 1000memories.com, Jonathan Good estimated that 3.5 trillion photographs had been taken by September of last year: add another 375 billion for the past year and we are beginning to build a rather large picture.
That makes nearly four trillion photographs since the first daguerreotype of a man getting a shoeshine on a Paris street in 1838.
It's no surprise to learn that the number of pictures taken increases every day.
There are good claims that we take more pictures in two minutes than were shot in the whole of the 19th century. This brings me to the Samsung DV300F camera.
It's a smart compact in many ways: it looks good and is small enough to fit in your pocket; there are enough features, including photo manipulation such as fisheye and tilt-shift and smart flash and face recognition and, to top it off, it will connect to the internet via Wi-Fi or to a computer or smart phone.
What's the connection? Well, how is it that we're taking so many pictures? One billion photographs a day, or 41.67 million pictures a minute. That's 700,000 every single second of every single day.
I originally thought "why yet another camera?", but I'm beginning to see why.
Okay, your phone may take a great picture on an 8mp sensor that you can post immediately to the internet and still get a reasonable print. And you can add great effects through instagram, snapster, hipstomatic or other apps. But you need another camera.
Why? Well, if you're browsing the internet, texting or actually talking on your phone then you can't use the camera.
But you might have a compact camera already.
Yes. But, does this camera connect via Wi-Fi to your phone or the net? Can you operate the camera remotely through a special app from your smartphone? With this Samsung you can.
Finally, do you have a camera that has a sleek metal body that magically transforms into another screen at the front? The DV300F has just such a thing that helps you compose those self-portraits or attract a child's attention when you want them to look at the camera.
And the price: at less than $300 means you could buy two for the price of a smartphone and still have change.
How long until we reach another four trillion pictures? Who really knows, but it could take less than a 10th of the time it took to get us this far.
Samsung DV300F
RRP: $259