Leena Taylor overdoses on America's chocolate capital.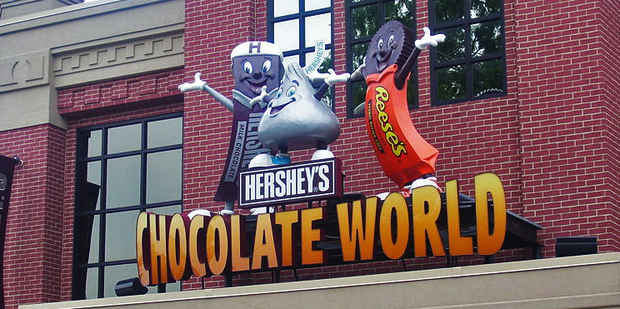 "What? You want a Philly cheese-steak on a Sunday?" a baffled young man asks with a slight but clear look of bewilderment. It's 1.30pm and we're determined to use our last few hours in Hershey to get a taste of the sandwich made famous in nearby Philadelphia. It's so good that even just with the grilled onions, peppers and cheese and minus the steak, which I don't eat, it's a must-try, a friend assures me beforehand.
When at last I sink my teeth into a bare, bland chicken version, it's an instant lesson: this is Hershey - you come here for chocolate, not cheese-steaks.
Not that the cute Pennsylvanian town, developed by Hershey's Chocolate founder Milton Hershey, is short of attractions or food.
From the moment you step off the plane greeted by a row of giant Hershey's Kisses (not real ones), every inch of "Chocolate Town" has been dusted with cocoa, from the Yoga on Chocolate studio to the kiss-shaped street-lamps along Chocolate Avenue.
Nearby is Chocolate World, built after the original chocolate plant became so inundated with visitors that a bigger site was needed. Here, singing mechanical cows guide us while following cocoa beans from the rainforest to screening and pressing machines. A sample is handed out afterwards, just don't foolishly save it for later and have the heat turn it back into liquid.
For a hands-on go at chocolate-making, US$14.95 ($18.30) buys the "Create Your Own Candy Bar Experience".
After aprons, masks and caps are hurled our way - even nail polish is a hygiene threat, I'm told - we select ingredients and enter the lab, where a heavenly, chocolate-flavoured breeze overwhelms every sense. Inhaling what feels like calorie-ridden air, I watch my base get sprinkled with almonds and butterscotch-chips then design a wrapper before receiving, "Leena's Chocolate Bar".
Two rich bites later, I'm in need of something savoury so we head to the food hall where I dip my fries in chocolate-barbecue sauce, a smoky concoction with the subtlest taste of cocoa.
Next door, Hersheypark, originally opened for employees, houses a water-park, zoo and 12 roller-coasters, including the new SkyRush. I'm no wimp with roller-coasters but this blur of a ride will pound your head side-to-side. For a second I peek through my eyelids, but instantly fear the force could extract my contact lenses. Riding with hair and makeup ready for later that night wasn't the smartest idea.
Days later, my legs still ache from the crushing safety bars. Yes, it's one hell of a 63-second ride, but if roller-coasters are your thing, SkyRush must be conquered.
For a break, head to The Hotel Hershey, home to The Chocolate Spa (offering treatments like the Chocolate Fondue Wrap), a gorgeous, Mediterranean-themed lobby and a must-try Hershey's hot chocolate. While pricey at US$7.10, the coffee is also some of the best I've tried in the US. Room rates are just as daunting so, instead, choose a nearby motel or go to Harrisburg, where chains like Crowne Plaza are about US$129 a night.
A 20-minute drive away, Harrisburg is home to the State Capitol building with it's Italian-influenced architecture. It sits on a park with sprawling greenery reminiscent of New Zealand. It's the perfect place for people-watching, although I feel slightly out-of-place in red jeans after losing count at 14 of locals wearing tan pants with blue shirts like it's some sort of Harrisburg uniform.
Nearby, Restaurant Row's bars and eateries, like Stocks on Second, serve fusion dishes like chicken quesadilla spring rolls. It's also home to numerous pizza places, any of which will whip up a Philly cheese-steak, our friendly bartender tells us.
Just don't ask on a Sunday...
Further information: Hershey is in Pennsylvania, one state below New York, making it the perfect side trip from NYC. The closest airport is Harrisburg.
Leena Tailor paid her own way to Hershey.