Walking through the historic centre of Macau, a world heritage site, it's easy to forget you're in Asia. As a former Portuguese colony, remnants such as St Augustine's church could serve as a backdrop for a movie set in Lisbon if you didn't know better.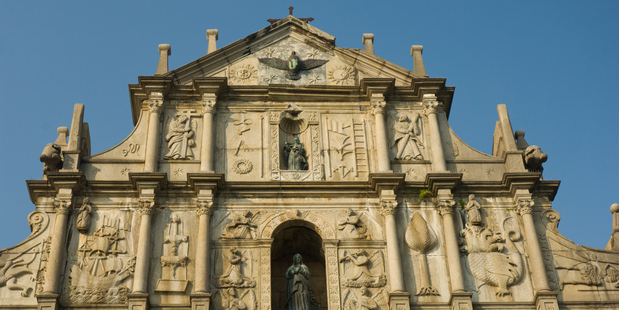 There's a 16th-century Spanish monastery, bakeries filled with delicious Portuguese tarts, fabulous French wine to guzzle - so European, so stylish, but this is Macau.
It's the nearby alleyways full of local merchants - selling everything from "magic'' elixirs to heal whatever ails you - and the humidity that reminds you that this is Asia, not Europe.
And if we needed any further reminder of where we were, the presence of the Chinese Olympic gold medallists, on a national tour to celebrate their London success, was all that was needed.
Their bus forced us into a slight detour, but not to worry - Macau is a compact place, downright crowded you might say.
Little parks do however offer a respite from the city. They are scattered throughout the central city and the locals love them - to exercise, stretch, meditate, play cards or just sit and enjoy a little piece of nature.
While Macau may be known for its poker and Blackjack tables, there are other types of tables that provide a far more fulfilling experience.
Aside from the architecture the Portuguese influence has spread to the plate, too. But there are also thousands of Chinese restaurants, serving everything from controversial shark-fin soup to stewed rabbit to braised oxtail.
Be warned: shark finning - the practice of cutting off the shark's fins and throwing the animal back into the water to slowly die - is abhorrent beyond the bounds of cruelty, but the locals, sadly, don't seem to care as they queue up outside a tiny establishment tucked down a back street, which we pass near the end of our tour.
Fortunately, shark fin soup is not part of our lunch plans. Instead we head to the Robuchon Au Dome, on the 52nd level of the Hotel Lisboa, for a classic French feast.
As impressive as the food and service - "Would you like your butter salted or unsalted, sir?'' - the wine list steals the show. With over 9000 labels, Robuchon Au Dome boasts the world's largest list - so large that holding it serves as a quick weight training session.
The most expensive wine listed is an 1847 Chateau d'Yquem, priced at a mere HK$800,000 (NZ$126,497).
For a more low-key dining option, there's Antonio's Portuguese restaurant in Taipa, an island linked by bridges to Macau's centre.
Owner Antonio, a middle-age Portuguese character, is happy to entertain his guests with spectacles such as using a real sword to pop a champagne cork.
The restaurant is packed because the food is fabulous - lashings of local specialty African chicken, grilled in piri piri peppers, then there's the flambe that nearly sets the place on fire, although Antonio seems to know what he's doing.
Mixing Portuguese dining with a more beachside atmosphere is the restaurant Miramar, located on Hac Sa beach.
The Portuguese head chef serves up a a whole grilled fish, and to end the meal we succumb to the famous Macau egg tart - an unforgettable crusty pie shell filled with a mix of egg and cream.
It's not just about expanding the waistline while visiting Macau. There is the Macau Science Centre, which improves the mind. The modern 12-storey interactive exhibit devotes each floor to a different subject - from food science and meteorology to space and sports science. So if you've ever wanted to test your reaction time or pretend you are a TV weatherman, you can here.
Off course these days, with the help of businessmen including Australia's James Packer, Macau has rocketed past Las Vegas to become the world's biggest gambling city. But that reason alone is probably not going to attract hordes of Australian tourists if you're not into gambling.
The smoke-filled gambling rooms in the casinos - about the only public place you can smoke in Macau these days - are not particularly appealing to a non-smoker, unless you enjoy second-hand smoke.
Nearly 30 million people visited Macau last year, mostly from mainland China (where gambling is illegal), so the local tourism board is making a concerted bid to lure more international visitors who aren't necessarily interested in gambling.
By Turbojet, Macau is less than an hour from Hong Kong, which makes it a nice side trip - and you don't need a visa.
While both the previous British colony of Hong Kong Macau have been handed back to China, they have maintained their own personalities.
For starters, Macau traffic is not nearly as chaotic as your average Chinese city. In Macau, most drivers actually obey the road rules, even though the island is tiny and crowded - 600,000 residents squeezing into just 30 sq km.
So if you fancy a flutter in Macau without even putting a foot into a casino, there are plenty of sights, sounds and savoury pleasure to bet on.
IF YOU VISIT:
WHERE TO STAY: Accommodation ranges from super luxurious to basic. In the luxurious category, the Mandarin Oriental has rooms from HK$2088. Visit mandarinoriental.com/macau.
WHERE TO EAT: Dining options abound to suit every budget.
A few suggestions.
Lorcha - Delicious Macanese cuisine at reasonable prices. 289A Rua do Almirante Sergio, Macau Peninsula, Macau.
Antonio's - As much about the theatrical owner as the food, antoniomacau.com.
Miramar - Dine indoors or out. The setting is nice, the food even better, miramar.com.mo.
Robuchon Au Dome - Three star Michelon restaurant. French food with magnificent service. Two-course lunch HK$458. Full menu HK$688. Grandlisboahotel.com/dining-Robuchon_au_Dome.
GETTING THERE - Air New Zealand flies non-stop from Auckland to Hong Kong, from where you can transfer to Macau ferry without leaving the airport.
CURRENCY - The local currency is the Pataca (MOP) but HK$ are accepted everywhere and are worth virtually the same amount.
FOR MORE INFO
* Andrew Both travelled to Macau courtesy of Qantas, Macau Government Tourist Office and Mandarin Oriental.