America's byways are a perfect network for a road trip, says Rob McFarland.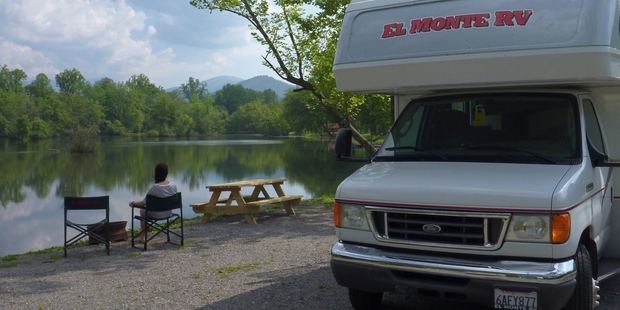 As I inched our new home out of El Monte's hire depot in Orlando, I felt that tell-tale tingle of anticipation that signifies the start of something special.
We were about to embark on the quintessential American holiday: an RV trip.
We had two weeks to get from Florida to New York, a journey that would take us through eight states and some of the country's most historically significant towns and cities. It was exciting and, for someone who hasn't owned a car for 10 years, mildly terrifying.
RV stands for Recreational Vehicle, and ours was a 9m long, 3.5m high, six-berth Class C Fleetwood. It had a fully equipped kitchen, complete with fridge, freezer, oven, microwave and grill, a dining area with flat-screen TV, a double bedroom with en-suite toilet and shower and two "slide-outs" that extended when parked to provide extra space.
All in all, it wasn't much smaller than my apartment and in many ways was better equipped.
Our first destination was the historic coastal town of St Augustine and I was surprised how quickly the initial "Oh my God, I'm driving an articulated lorry on the wrong side of the road" feeling subsided.
We rolled down the windows to let in the warm Florida air, opened a bag of chips the size of a pillow case and cranked up Bruce Springsteen's Thunder Road on the stereo. This was more like it.
We quickly realised that America's extensive network of freeways and interstates is great for chewing up the miles, but not so great if you actually want to see anything. So, we ducked off the main I-95 on to the much more scenic A1A, a coastal road that took us past endless stretches of white sand dotted with million-dollar beachfront homes.
We arrived in St Augustine to be faced with a conundrum that would be a persistent challenge during the trip. Where do you park something the size of an elongated monster truck? Supermarket car parks are a good bet and we found many museums and attractions have dedicated RV and bus parking.
Although theoretically you're self-sufficient in an RV so could stay pretty much anywhere, most people tend to overnight in RV parks so they can hook up to water and electricity and have a decent shower. We decided to stay in sites run by Kampgrounds of America (KOA), which has an extensive network of campgrounds throughout the States.
One piece of advice: don't arrive at your first campground in the dark. Hooking up the water, electricity and sewage pipes will eventually become second nature, but doing it for the first time by the light of an iPhone was an unwelcome challenge.
Leaving Florida, we crossed the border into Georgia and into the heart of America's South.
The South, loosely defined as the 16 south-eastern US states, tends to get a bad rap, particularly from Hollywood, which often portrays its inhabitants as dim-witted simpletons who talk slow and think slower. Although many of the locals we met did have intoxicating Southern drawls straight out of Forrest Gump, they certainly weren't slow.
They were also some of the most hospitable people I've ever met.
Georgia's biggest drawcard is the charming town of Savannah, whose 22 elegant, park-like squares are lined with historic homes, many of which provide guided tours.
From Savannah, we headed north to another grand dame of the South, Charleston, in neighbouring South Carolina.
We took a horse-drawn carriage tour around its impressive historic district (the world's second largest after Rome, according to our guide), past beautiful wooden houses painted in delicate pastel colours with intricate wrought-iron railings and flickering gas lamps.
After just a few days on the road, our initial fumbled attempts to set up had transformed into an exhibition of military precision.
Within 10 minutes of arriving, we were hooked up, our sides were out and we were sitting by the lake with a pre-dinner gin and tonic (don't worry, the jargon will come to you).
If I were forced to pick one highlight from the trip, it would be driving the Blue Ridge Parkway. This 755km scenic road gently winds its way through the Appalachian Mountains of North Carolina and Virginia.
Started in 1935 as an employment initiative during the Great Depression, it offers an infinitely more scenic route than the neighbouring highways. You'll find no chain stores, fast-food restaurants, billboards nor gas stations, just a meandering, single-lane, tree-lined road dotted with stunning lookouts, gardens and parks.
The speed limit is 45mph (72km/h) which ensures a leisurely pace and commercial traffic is banned so you won't be stuck behind lorries and trucks.
It was with a genuine pang of sadness that we handed back the keys at El Monte's depot in New Jersey, a short train ride from New York.
We'd covered 3266km, taken a frightening number of photos and amassed a headful of unforgettable memories.
And the beauty is that it's something you can repeat all over the US. Pick a region you'd like to explore, crank up Springsteen on the stereo and, as Ray Charles once said, "Hit the road Jack ..."
Top 10 RV tips
1. Get a GPS - it will save your friendship/relationship/marriage.
2. Book ahead - campgrounds often fill up at the weekends and on public holidays.
3. Don't try to tackle more than 400km a day.
4. Avoid reversing. If you can't, get someone else to get out and help.
5. Don't drive into the middle of small towns. Park outside and walk in or get a taxi.
6. Be careful when you make a turn as the back of the vehicle swings out in the opposite direction.
7. Secure everything before you set off.
8. Be mindful of low bridges and overhangs.
9. Use the manual's comprehensive arrival and departure checklists at campsites.
10. Bribe your travelling companion to empty the waste tank - it's the yuckiest job.
CHECKLIST
Getting there: United Airlines flies to Orlando via Los Angeles. Ph 0800 747 400.
Where to stay: KOA has more than 450 campgrounds across North America.
Getting around: El Monte RV has America's biggest selection of motorhomes for rent, with locations across the US.
Rob McFarland was a guest of United Airlines, El Monte RV and KOA.