Despite the name, the Blue Mountains are really not mountains at all but an ancient sea bed now devoid of sea.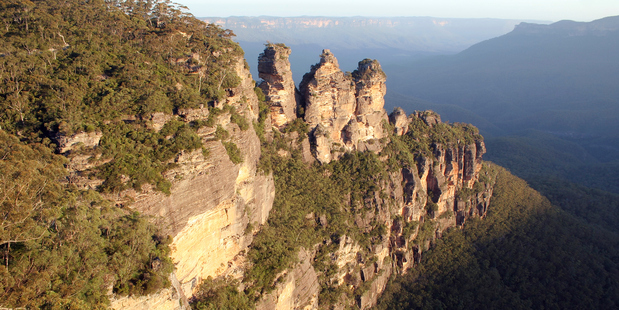 Looking out at the blue sea of eucalypt it's hard to fathom that the valley was once under water.
The huge bowl drops dramatically from the Echo Point lookout where I am standing and spreads out to a horizon I cannot envisage ending.
To my left are the Blue Mountains' "Seven" Sisters, well the three that remain at least - the other four are crumbled piles of sandstone. The daring used to rock climb the Three Sisters, but as they are continually eroding it's no longer permitted.
On a clear day hikers and tourists alike can see all the way to Mittagong, south of Sydney's coastline.
Today is clear but also very crisp, with a biting wind common in this part of Australia.
As I drove west of Sydney's centre the afternoon before, the temperature gauge in the car dropped from 25 degrees to a cool eight - and that was within the 2.5 hours it took to get here.
I didn't pack for such cool weather conditions so as I stand at Echo Point, I am keen to get moving if for no other reason than to warm myself up.
But, of course, there are plenty of other reasons - the beauty of the mountains being just one of them.
I have joined an easy hiking tour that lasts about 1.5 hours. It's a good morning warm-up and a great introduction to the mountains for those who aren't so adventurous or who have never ventured here before.
Tim, our guide from Tread Lightly Eco Tours, is enthusiastic about his backyard, rattling off numerous facts about the region.
"There are over 2000 minor and over 700 major waterfalls in the Blue Mountains,'' he tells us as we move along a narrow bush track.
It's difficult to spot any unless we get further into the valley, but we take his word for it; Tread Lightly has been operating for about 16 years so Tim knows what he's talking about.
We hear some movement above and Tim stops us to point out crimson rosellas in a casuarina tree along the edge of the trail.
Kites, kestrels and falcons also call this area home, he tells us.
As we continue on to Lady Carrington Lookout we learn that the eucalyptus tree first evolved here.
"We consider the Blue Mountains the birthplace of eucalypt,'' Tim says.
He's very passionate and it's a shame when the walk comes to an end.
Having warmed up despite the chill in the air, I am keen to continue on; to learn more about this stunning geography many of us take for granted.
Tim, however, walks us back to Lilianfels, a luxury hotel we're all staying at that looks out onto Jamison Valley.
I'm keen to linger to find out more about walking in the Blue Mountains but he has another group to lead; another group to impress his passion and knowledge upon.
IF YOU GO
GETTING THERE:
The Blue Mountains is about a 2.5-hour drive from Sydney's centre. There is also a train station at Lithgow with regular services from Sydney.
STAYING THERE:
After a guided hike reward yourself by staying at Lilianfels, a Luxury Collection resort in Katoomba.
PLAYING THERE:
Tread Lightly Eco Tours offers a number of guided walks in the Blue Mountains, varying in length and difficulty.
- AAP