The waves are pumping on Durban's Golden Mile, discovers P.K. Stowers.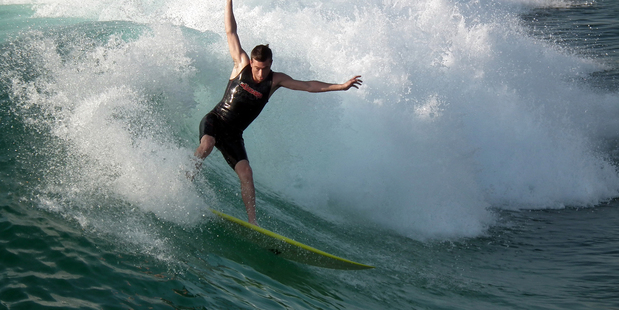 As someone who has unsuccessfully attempted to master the art of surfing on several occasions, I can only wonder what the results would have been had I first tried at Durban.
The city is often referred to as the birthplace of surfing in South Africa, and it is easy to see why.
A section of beach virtually next to the downtown city centre, which is known as the Golden Mile, features a large number of high quality and consistent surfing spots, all with a soft sand base and no rocks to be seen.
A light rip can develop in spots (although I didn't see any evidence of one on my visit), but compared to the areas where I always tried - on Auckland's wild west coast beaches - learning conditions seem as good as it gets.
I expect my tolerance for drinking seawater and battering myself around the head with a fibreglass board would have been much higher if I could have learned at a beach that had consistent waves and didn't seem intent on trying to kill me at every opportunity.
Durban's beaches, clearly the city's main tourist attraction, feature wide stretches of golden sands artificially separated by seven piers.
Confusing at first, each stretch of beach between the piers has its own name. So for this short section of coastline, no more than a couple of kilometres long, there are more than 10 different "beaches".
Although this may seem odd for a tourist trying to get directions from, say South Beach to Addington Beach (in fact, no directions would be needed as they are right next to each other on the same stretch of sand), it is great for surfers looking for precise information on where the best waves can be found on that day.
The best waves can normally be found at Dairy Beach, next to North Pier, but they can also run quite big at North Beach next to Bay Pier.
Favourable winds and the easy access to the waves (you can always just jump off a pier if you don't feel like paddling out) make Durban one of the most popular surfing sites in the country. This popularity, however, means that when the surf is at its best, you may find the competition for waves quite strong.
On a quiet afternoon in May, well out of peak season but when the waters are still warm, our group witnessed a good-natured crowd of about 20 surfers of various ages scanning the horizon for the best incoming swells.
While taking photos of the action I got into conversation with a Durbanite surfer named Dan, who was also using the pier as a vantage spot for photography. "If you are going to tackle some of the really popular spots, such as New Pier, it's best to watch a while to see how the locals operate, rather than just paddling up and dropping in," he told me.
"On a day when the waves are offshore and over four foot, there can be more than 80 people in the water waiting for their turn."
That may sound a lot for Kiwi surfers used to sharing a beach with five or six other boarders but, thankfully, the other main characteristic of this short stretch of African coastland is the variety of surfing experiences available.
The waves near New Pier can often get higher than six foot (1.8m), tubular with a size and strength suitable for world class competitions. Then, just 100m down the road is South Beach, which is suitable for beginners. "What the waves sometimes lack in power, they make up for in consistency," said Dan, "and you can almost guarantee surfable waves for at least 200 days of the year."
For more experienced surfers, the Bluff and the North Coast offer exciting reef breaks, while the south is home to some world-class point breaks. The area is also protected by a series of shark nets.
Of course, if surfing isn't your thing, Durban's beachfront has a number of other distractions, including Ushaka Marine World, the Sunken Gardens, a skate park, street markets and the Suncoast Casino and cinema complex to the north.
Plus, if you think it is never too late to learn to master the waves, there are a couple of surfing schools to teach you the art of standing upright - and staying on your board.
CHECKLIST
Getting there: Qantas Airways offers regular flights from Sydney to Johannesburg. Durban is a short flight of around 60 minutes from Johannesburg.
Where to stay: There is a number of well-appointed hotels along Durban's "Golden Mile". The Southern Sun Elangeni offers room rates of around NZ$200 a night, depending on the season.
Further information: See the Durban Tourism website or see southafrica.net for more on travelling to South Africa.
P.K. Stowers travelled to Durban with assistance from South African Tourism.