Bernd Kubisch visits Cox's Bazar, a long, sandy beach in the south-east corner of Bangladesh that has been a prime surfing destination for keen surfers for two decades.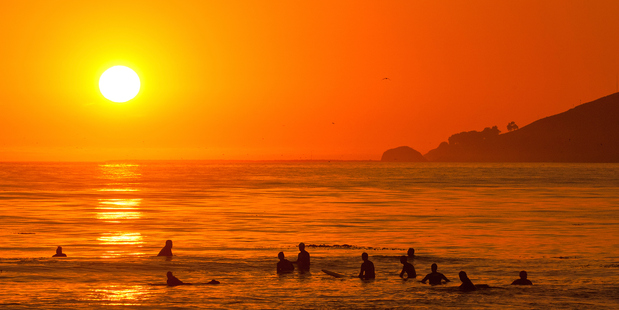 Many of the headlines coming out of Bangladesh tend to be negative and the country can seem a teeming and rather daunting place. At the same time there are beautiful beaches to lie on and a wealth of cultural sites to be seen. Just avoid riding the buses, say old hands.
Meanwhile, over in the spacious courtyard of Hazrat Shah Jalal mosque, the faithful are staring intently at a pond. Children are kneeling at the water's edge in order to be as close as possible to the fish which are regarded as holy.
The shrine at Sylhet in northern Bangladesh is an important place of pilgrimage.
"May I take a photograph?'' a father with children asks the guest from Germany before thrusting a baby into his arms. The child's mother poses for the picture too.
Bangladeshis love photos. Visitors are more than welcome, especially if they are willing to pose for pictures and enjoy a chat.
It is a shame to use the camera zoom in order to capture people from afar. Those who do so miss out on meeting locals who are friendly, helpful and inquisitive. They can be a little overbearing at times but are never threatening.
The latter adjective sometimes applies to Dhaka itself. This city of between 12 and 14 million people is a conglomerate of high-rise blocks, banks, mosques and slums.
Countless bicycle rickshaws choke the streets, particularly in the older part of town. Their drivers take up to four passengers at a time, pedalling their charges through the clamour and exhaust fumes. Gesticulating wildly, the drivers laugh, shout and ring their bells furiously.
Some of the rickshaws haul trailers in order to deliver goods to shops in narrow alleys, others are decorated by artists who cover the seats in images of tigers, lush blooms or famous film stars. For the tourists, who often stand and stare, these vehicles are a kind of art gallery on wheels.
For Bangladeshis, the long, sandy beach known as Cox's Bazar, in the south-east corner of the country, not far from Burma, is definitely the place to be.
"It gets so full in the winter that the beach loungers are even rented out at night and many tourists sleep in the buses that bring them here,'' said Samuel Hillary Gomes, manager of Mermaid Eco Tourism.
He went to university in London and said with regret: "Unfortunately most of the news from Bangladesh is not good - ferry disasters, extremes of weather and poverty. Not many articles describe everyday life and the beauty of our natural surroundings.''
It was 20 years ago that surfers from the US and Australia first discovered the surging waves in this bay.
"I got my first surfboard in 1995 and didn't really know what to do with it,'' said Jafar Alam.
The muscular, dark-skinned man runs the first surf school to have established itself in Cox's Bazar and he now stages international competitions in the autumn. "We do lack sponsors though,'' he said.
This is a Muslim country and the handful of women balance on their surfboards wearing shirts and long trousers.
More than 20 hotels along with numerous restaurants and teahouses compete for the attention of tourists. Several hotel bars dispense imported spirits such as whiskey or even Bangladesh-brewed beer.
"You mean my country actually makes its own beer?'' said tour guide Anamul Hoquem sceptically.
Together with a foreign visitor, the devout young man steps gingerly into a bar but resists temptation. The only Muslim on the premises, he orders a glass of lemonade.
- AAP