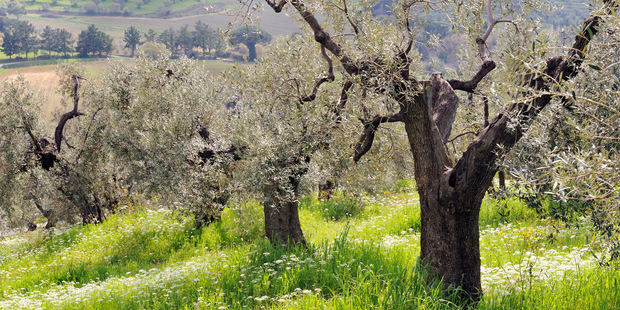 Two weeks' Wwoofing in Tuscany's Chianti region has taught us many things. New ways to live, new recipes, a masterclass in cheese and wine, the intricacies of hot air ballooning - and the devastating effects the worst heat wave in recent history has had on the area's fabled crops.
This summer, life under the Tuscan sun lost some of its shine. There's nothing romantic for farmers watching the mercury rise up and over 40 degrees daily - for the sixth successive week.
Grapes are shrunk and withered on vines across the region. Tuscany's olive trees fared only marginally better.
This season, we were witnesses.
For budget travellers like us, 'Willing Workers On Organic Farms', or Wwoofing as it's best known, is truly the cheapest way to experience the joys of foreign culture - working on local farms in return for accommodation and, in our case, home-cooked Italian food and the trappings of Italian life.
From its 1971 UK origins, when London secretary Sue Coppard instigated the concept to allow more 'townies' access to organic farms ('Working Weekends on Organic Farms'), Wwoofing has gone global, with employment options in Europe, Australasia, China, America and parts of Asia and Africa.
Last month we were pruning olive trees, weeding gardens, walking the dogs and - like everyone else - waiting for the heatwave to break. It wasn't glamorous stuff.
At our hilltop farm, half-an-hour from Florence and 15 minutes from rustic San Casciano, work started at 7am but was over before noon. An afternoon swim and siesta took priority.
There were also many other welcome distractions - like a live lunchtime All Black Bledisloe Cup rugby clash at an Irish pub in Florence. The beautiful walled cities of San Gimignano and Siena were nearby.
And then there was the food. Whether it was growing it, cooking it, debating it or simply eating it, local cuisine was never far from the lips.
Alfresco, hilltop aperitivo dining at dusk was the name of the game, amid an array of local wines, cheeses from the extended family, homemade pesto, fresh prosciutto, special salads and local fruits. And of course... gelato.
Homemade lamps illuminated the view out across one of the valleys surrounding the farm.
At the wooden table a strange mix of Wwoofers, friends and family swapped stories - Italian hot air balloonists, a Spanish theatre director, a French herbalist, a blacksmith, an architecture student, a lawyer - and one largely unemployed journalist. It was Tuscany as we had imagined.
Of course, when you turn up for these things you never quite know what you'll get.
Months earlier we'd bought the Wwoofing Italy guide off the web for €15. A list of all the farms needing Wwoofers - thousands of them - broken into regions with short descriptions (in English) of the farms, their requirements and their contact details. The choices seemed endless.
We'd also considered a stint in France, paid the fee and received the guide. Another long list - in French. So it doesn't always work out perfectly, but on the whole, Wwoofing is relatively easy to arrange. Communicate well (you won't always be dealing with English as a first language), arrange the deal, then trust in your host.
We were told Chianti thunderstorms would arrive, like every year, late in the month. On the last Sunday of August, after more than 10 months without rain - a record dry spell - the much-hoped-for downpour finally arrived. And just like that, summer was indeed over.
Temperatures dropped 10 degrees and stinking-hot nights suddenly became cold.
It was enough to save the olive crop at our farm, but too late for others.
We've finished our olive pruning now - but we're not done with Wwoofing. We have two more stints later in the year, helping with the harvests, where the working days will be cold - and much, much longer.
But they're another chance to meet the locals, drink good wine and sample the rural culture.
Like this stint, they'll also be easy on the pocket, and that suits us just fine.
Further information: See wwoof.org.