Advice on getting work in Switzerland and finding great grub in San Francisco and Hawaii.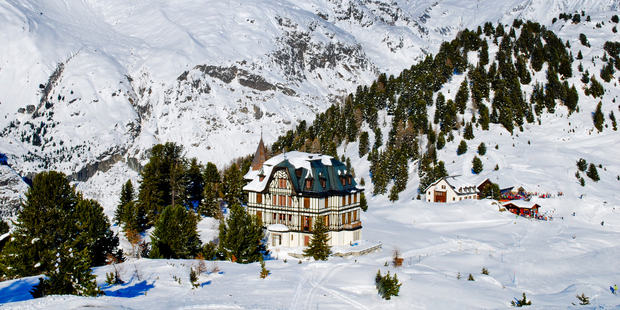 I've heard of towns in Switzerland that are up in the mountains, no cars allowed, snow everywhere, horse-drawn carriages and scenery you see only in the movies. Can you tell me the best places to go to experience this type of town? If I wanted to move to Switzerland, where is the best place to live and how easy is it to get jobs there?
- Karyn
Lonely Planet's Sarah Bennett & Lee Slater write:
Heidi may be fictional, but her Alpine village lifestyle definitely isn't. Switzerland will fill all your storybook fantasies: from hamlets in the Bernese Oberland with cow-bells as your wake-up call, to icicle-hung log cabins in Valais where you can snuggle by a crackling fire as snowflakes gently fall outside.
Lost in time and space, Val Fex is a vehicle-free side valley of the Upper Engadine, nestled amid glacial mountains, larch forests and alpine meadows.
Postcard Switzerland is also on offer at Riederalp and Bettmeralp, where cars are also conspicuous by their absence. Lonely Planet's new Switzerland guidebook details dozens of other bucolic backcountry havens.
Finding a job in Switzerland and acquiring the right work permit is not easy, especially if you're not a European Union resident. Visit the Swiss Federal Office for Migration website. Should you qualify, Zurich is one of the world's most liveable cities.
Culinary adventures in the States
My partner and I plan a two-week trip to San Francisco and Hawaii to celebrate our anniversary in December. We're big fans of cheap and tasty food and wonder if you could recommend anything in those places. Also keen to hear about where is best to stay in Hawaii, ideally somewhere not too family- or tourist-orientated.
- Allen S.W. Huang
Lonely Planet's Sarah Bennett & Lee Slater write:
You're definitely on the right trail for cheap and tasty food, with San Francisco packing in more restaurants per capita than any other North American city. San Fran's food trucks and market stalls are a satisfying and economical way of dining. Intercept mobile gourmet vans on Friday nights at Off the Grid in the Fort Mason parking lot.
Fine dining bargains are also available at some of San Fran's top restaurants through Blackboard Eats and Open Table.
For a less touristy experience in Hawaii, eschew the resorts of Oahu's Waikiki or West Maui and embark on more authentic and cheaper adventures on Kaua'i, the Big Island (Hawai'i), Lana'i or Moloka'i.
For a genuine slice of Hawaii's cuisine, skip the fancy eateries.
Instead, stray off the beaten track and sample the unknown - look for small, neighbourhood joints full of locals.
Pick up a free copy of Edible Hawaiian Islands, a colourful quarterly magazine focusing on Hawaii's foodie trends.