Jordan's World Heritage Site still enthrals visitors, writes Diana Balham.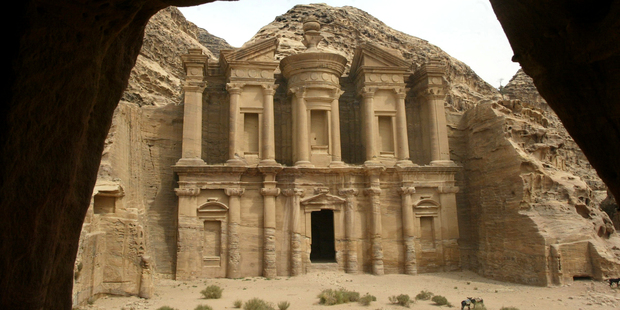 Petra, "a rose-red city half as old as time", as John William Burgon put it, might these days be called "a rose-red city twice as busy as Times Square".
In a couple of decades this ancient wonder and top-10 Middle Eastern attraction has gone from being a hard-to-reach World Heritage site that only dedicated travellers ever saw, to an extraordinarily popular draw card that puts Jordan on the tourist bus map.
These days you can stay in a hotel in the town that has sprung up around the old city, but we caught a taxi from the port of Aqaba. It's 130km of mountainous, merciless desert - a hard land in which to craft an empire out of rock, and even more of a feat when you consider the tools for the earliest builders of Petra, the Nabataean Arabs, who started work in 600BC.
Petra's most famous landmark is modelled around the glorious anticipation of a walk through the high-cliffed chasm known as the siq. At the end of it, you know the gorge will open out on to the valley floor and its extraordinary treasury building Al-Khazneh, an elaborate 43m facade hewn into the sandstone early in 1BC.
But even this knowledge doesn't make your first glimpse any less breathtaking. The rock glows terracotta rose in the morning sun. Tourists, horses, donkeys, camels and their masters mill about like star-struck ants. It's a public holiday and many of the visitors are locals - Jordanian families moving reverently around their most famous ancient site.
We make our way, on Shanks' pony, past some of the hundreds of rock-cut tombs, obelisks, monuments and temples that survive today, climbing hundreds of steps to a sacrificial altar high above the city. Channels have been cut into the rock - presumably to drain away the blood from the doomed creatures that breathed their last on this windy mountaintop.
Back down in the valley we move along the dusty streets past tombs where the sensuously weathered pillars of rock pulsate in brilliant shades of red and pink. It's like climbing into a huge mouth. Inside, cans and wrappers have been cast aside by bored kids. I'm sure teens have been hanging out here, dropping ancient litter and having sneaky fags for thousands of years.
We continue along the path past the huge theatre towards the monastery of Ad-Deir. It's up a flight of 800 stone steps, past craft stalls run by Bedouin families. I buy strings of beautiful glass beads, which may be ancient Bedouin plastic, but the fact that they've got one over me somehow doesn't matter. Jordanian men pass by on Arab horses. They all look like Captain Jack Sparrow, right down to their carefully crafted facial hair and shabby-chic pirate clothes.
The monastery was modelled on the treasury but, instead of huddling into the side of a rock gorge, it seems to soar upwards into the sky: it was dedicated to the god Obodas and was later used as a Christian chapel.
But to really get close to the gods, you need to climb just a little bit further - to "the best view in Petra". Up here, flags flutter and all of Petra is spread below us: for a moment, it feels as if we can gaze back into the past.
But Mohammed, our taxi driver, is waiting for us. We pick our way down the winding paths with the other pilgrims. We've had just six hours in this holy place and, as the tour bus passengers melt away, Petra returns to what it has been for hundreds of years - a mystical ghost town thoroughly unconcerned by the hordes that pass through it.
Mohammed drives us back to our ship. He plays his favourite Abba compilation and we rattle through the desert singing Swedish pop songs as we pass Bedouin camps where goats wander about in the dust. It's a rich man's world, indeed. But the funniest thing about Petra and the poet who immortalised it is that he never went there.
CHECKLIST
Getting there: Seabourn or contact Travel Marketing Cruise World. The Seabourn Pride's 18-day Dubai to Rome cruise, via Oman, Egypt and Jordan, is from $8973 a person on special and includes all meals, drinks and ocean-view accommodation. A standard suite is 26sq m and has a walk-in closet, flat-screen TV, DVD player, stereo, fully stocked bar, Wi-Fi access, private safe and spacious bathroom with bath and shower. Emirates flies to Dubai three times daily from Auckland and daily from Christchurch from $2275 return. Emirates connects to Rome daily from $2322 return to Auckland.
Diana Balham travelled as a guest of Seabourn Cruises and Emirates airline.