Sarah Ivey sends the snow flying on a heli-ski adventure in the Remarkables.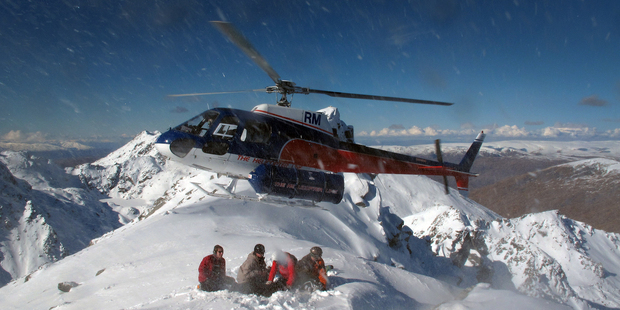 There's only one thing better than jumping in a helicopter and climbing up through the vertical, hugging the landscape as you fly up over snow-capped virgin peaks on a blue bird day: doing it with your skis in the basket underneath.
Dropped among the pinnacles of the Remarkables Range in the Southern Alps, the silence broken only by the drumming of the rotor blades circling overhead, the adrenaline started pumping at full throttle.
As the chopper peeled away from the hillside I felt humbled by the sheer size and scope of the ranges. Staring down at the steep, unforgiving chutes I felt grateful that the other three in the group didn't get too cocky when exaggerating their ability - this was no magic carpet...
Harris Mountains Heli-Ski (HMH) pioneered heli-skiing in New Zealand in 1979, securing the best terrain. With more than 200 peaks in seven mountain ranges, they cover 3000sq km of untouched wilderness playground through Queenstown, Wanaka and the Mt Cook region.
Our guide Andy Salek had been with HMH for almost as long as I've been alive. He assured us that over that period of time his wisdom had increased and testosterone decreased. Apparently he used to show-pony for the sheilas. I wasn't convinced much had changed, however his witty yarns from the past kept us entertained.
I chuckled to myself at visions of Andy on 210cm poker-straight skis, rocking a fluorescent one-piece ski suit. Apparently a stripe of zinc on your nose is considered uncool nowadays, and that windswept hair and sunglasses look has been replaced with stealthy looking helmets and mirror-tint goggles.
After being told how to operate the AV transceivers that were strapped to us, all that was left to do was click the skis on. Turn by turn, we sent the powder flying - gravity was working its white magic. We do two, three and then more runs. The legs start to get a good burn on and I start to wish I'd done those few extra spin classes at the gym.
We came together with a few other groups for a full buffet lunch, a refuel that was received gratefully by all. The coffee was hot, the view was magnificent and the gourmet sandwiches would rival that of any Ponsonby sandwich bar, that's for sure!
By the fifth and final run we were still eager to hunt for the deepest, driest snow we could find, and were by no means disappointed. Andy, I discovered, did know his stuff. That man reads snow like Tiger Woods reads a cross wind.
As we flew back down the valley over Lake Wakatipu towards Queenstown, I felt untouchable. I had just done what most only dare to dream about. I had just skied in paradise, and it was truly time for a beer.
Warm up by the fire
After a hard day on the hill there's nothing better than sharing the yarns over a cold beer or a glass of mulled wine. Arrowtown is home to a couple of hidden gems: We swapped our stories at Saffron Restaurant and The Blue Door provided the perfect setting for the apres-ski wind down.
Behind the infamous Blue Door is a rustic, intimate bar, nestled just below street level. Its historic charm warmed by the open fire and welcoming antique leather sofas. After a couple of drinks, the palate is prepared to head across to Saffron.
Melanie, the host of Saffron, has a smile that tells a hundred stories and, after tasting dish after dish of chef Peter's delectable food, I couldn't wipe the smile off my face either. Local produce is aplenty, with even the council-grown crabapples making an appearance.
Sarah Ivey travelled as a guest of Destination Queenstown.