There is no city in the world that's easier to get lost in than Venice, as Doug Conway discovers.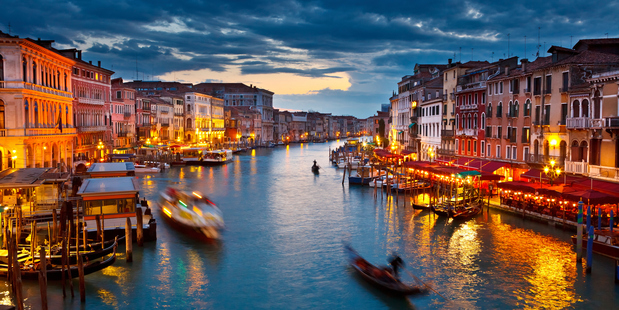 Get lost. In the nicest possible way, this could be the best advice you'll get for seeing the real Venice.
There's so much to see - six sestieri, or districts, featuring all manner of sights, sounds, flavours and activities, crammed into 118 islands linked by 400 bridges covering an area of just 410 square kilometres.
But up every narrow alleyway, every few steps you take, there's something to arrest your attention.
It could be a Venetian going about his daily life, opening a window to stretch in the morning sunlight in a fetching white singlet.
It could be gondoliers chatting in between gigs, or a barge taking away rubbish - no council trucks in the city of canals, remember - or a shop selling shoes you have never seen in your life, or pretty much any of the extraordinary buildings around you, with their cupolas, grand edifices, clock towers, gargoyles and sculptures. Or the bridges.
Venice is chaotic and unplanned, busy beyond imagining, but endlessly charming and surprising.
If you thought Auckland taxi plates were expensive, a gondola licence will set you back about €500,000 (NZ$787,880).
For a water taxi try about €1 million.
Don't begrudge the fare you pay, because there is no city in the world that's easier to get lost in than Venice.
Google Maps has its work cut out here, which makes finding an address a nightmare. Locals will tell you the Austrians stuffed up the numbering when they were in charge. The house on one side of a bridge, for example, might be number 348, while the house on the other side will be number 4100, because they are in different districts.
Venetians don't have many kind words for the French, either. One of my tour guides, describing Napoleon as "that little Frenchman", pointed out with disgust that he destroyed more of this beautiful city than two world wars combined.
I don't need to tell you about the things that are famous here - St Mark's Square, the Doge's Palace, the Basilica, the Rialto Bridge, the Lido and so on.
But I can suggest you take the "house ferry" out to the island that is home to the stellar Hotel Cipriani. You might not be wealthy enough to stay there, but you should be able to afford dinner at the lagoon-side restaurant that affords sunset views to die for.
My strong recommendation: don't go there with a girl you don't want to spend the rest of your life with, because you will end up proposing.
Remember, this city was home to Casanova, as well as Titian, Tintoretto and Marco Polo, whose house you can visit.
Marco Polo was adventurous enough to leave all this scintillating beauty behind and ended up spending 24 years living in China.
He was nothing if not mercantile, reaching the same economic conclusions about China that Gina Rinehart and Twiggy Forrest would reach 700 years later.
He also brought spaghetti back. How disappointing to learn the Italians didn't invent it, though they did improve it with much better sauce.
Maybe Marco Polo was away from home for so long because he got lost. Being a Venetian, he was bound to have had plenty of practice. This thought appeals to me if only because I was hopelessly lost within minutes of leaving the Londra Palace, the Grand Canal-side hotel where I was so happily ensconced.
I went out walking numerous times with my map, only to end up ditching it and strolling defiantly wherever the fancy took me. Once it took me an hour-plus to find my way back home. I have never felt so happy to be lost.
- AAP