Kristin Edge unwinds in style at the Chintamani Bali Retreat and Spa.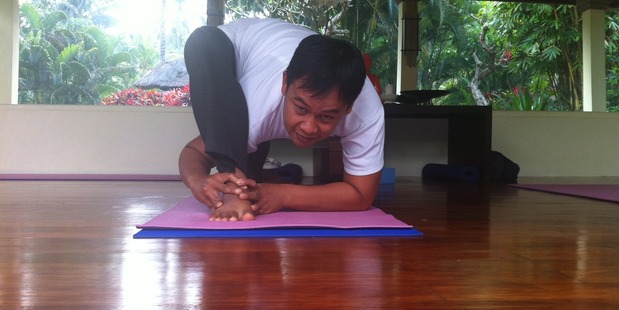 Shafts of early morning light filter through the tops of the coconut palms and gently warms the wooden floor of the yoga bale. I can feel the warmth of the sun on my face as I lie on my blue yoga matt in my favourite position - the corpse.
The sound of running water is everywhere and the subtle smell of incense drifts on the gentle breeze. Listening to the soft tones of the Balinese background music transports me to another place.
This is a slice of heaven - know as Chintamani Bali Retreat and Spa - on a hectare of landscaped hillside gardens.
Set amidst sprawling tropical gardens, lush paddy fields and lotus ponds, alongside the Laing River Valley on the west coast of Bali, the amazing resort is 30 minutes from Ubud and 45 minutes from Seminyak.
Budhi, our yoga guru, gets my attention. We stand.
"Peel your breathes. Peel the cold air as you inhales and the warm air as you exhales,'' he says slowly, almost hypnotically.
"Spread your pingers and open your heart.''
While he might struggle to pronounce some words, he has no trouble twisting, bending and stretching his body into remarkable yoga positions. I, on the other hand, have beads of sweat appearing on my forehead after the hour-long session but the overall yoga experience is amazing.
Over the eight-day spa and wellbeing programme at this luxurious resort I become stronger, more flexible and more balanced.
You leave the hustle and bustle of tourist hotspots like Kuta, or even your own hectic lifestyle behind as soon as you walk through the narrow gateway and step onto the smooth, cool white concrete slabs that appear to float on a pool of water. A calmness envelops you.
Our host Courtney greets us, barefooted I note, and I soon learn why.
The grass at Chitamani is soft. Your feet sink into the spongy greeness that carpets the beautifully manicured gardens. You literally get right back into touch with nature.
So how did this place come to fruition?
Enter Auckland barrister Wendy Matthews.
Juggling being a parent and a high-stress career, Wendy helped to keep her day-to-day life balanced by practising yoga and meditation and has been visiting Bali at least once a year for 20 years. Wendy fell in love with Bali - not just for its sheer beauty, but because of its rich, cultural history and the gentle, dignified ways of the Balinese people.
She found the perfect venue, and in April this year (2012) opened the luxury spa retreat for women.
"Bali became my paradise, and in the end I decided to open Chintamani bearing in mind of what modern women would want and need,'' Wendy says.
Chintamani, meaning a 'magical jewel that manifests whatever one wishes for' in Hindu and Buddhism, perfectly encapsulates the vision she had for her retreat and spa. And the balance at Chintamani is perfect. It combines the pleasures of a luxury resort with a carefully planned wellbeing programme.
There are only six bales, or villas, catering to a maximum 12 women, and the all-inclusive, week-long packages offer daily scheduled activities - yoga, meditation and spa treatments. But the great thing is you can set your own agenda and there is always time for shopping.
I easily settle into the relaxed atmosphere taking advantage of the 20x8 metre swimming pool.
I have a pretty hectic lifestyle working and playing sport, and upon reflection I don't really spend a lot of time pampering myself. A pedicure once a year is as much as my pampering extends too - embarrassing, I know. But at Chitamani I was in for a blissful delight.
There is a selection of beauty treatments on the menu and I was keen to try all of them.
First up was a massage using hot rocks. OMG bliss. All my sporting injuries are gently eased away in a two-hour long session by a local beauty therapist. The purpose built spa area must be the most beautiful in the world and comes complete with a jacuzzi, cold plunge pool and sauna.
The delicate scent of frangipani flowers is everywhere, as is the relaxing sound of running water. Cicadas buzz away, birds call and dart through the trees.
After each beauty session I drift back up to my room.
The treats never end at Chintamani with beautiful food presented at every meal. Fresh fruits such as watermelon, pineapple and pawpaw are dished up for breakfast along with omelettes made from free range eggs. (It's hard to believe they could be anything but free
range with chickens running all through the local village.)
All the vegetables are organically grown. The meals are served by the delightful staff, who always have a genuine smile on their faces.
And you have to love the little touches such as the frangipani flower laid on your pillow at night along with a tea tray. There is also a 24-hour butler service.
On one of the free days we utilise the resort's driver - the ever-smiling and absolutely charming Whiskey - to take us on a trip to Bali's volcano. We have lunch on the crater rim. It's amazing. Then there are the trips to Ubud, amazing local temples and a coffee plantation.
Another night we are treated to a cooking lesson, then there's the shopping excursion lead by the wonderful Courtney.
The great thing about staying at Chitamani is you decide how much or little you do while staying. Sometimes it's nice to just sit and be and let the rest of the world revolve around you rather than being sucked into the turbulent winds of a hurricane.
Chintamani is the perfect place to soothe your body and soul. A place to reflect, relax and rejuvenate.
It's a once in a lifetime opportunity - treat yourself and put it on your bucket list.
CHECKLIST
Getting there: Air New Zealand flies non-stop to Bali from Auckland
seasonally between 19 June - 14 October 2012.
Where to stay: Chintamani Retreat & Spa.