Graham Reid ditches Amsterdam's famous museums for a journey into tattoo history.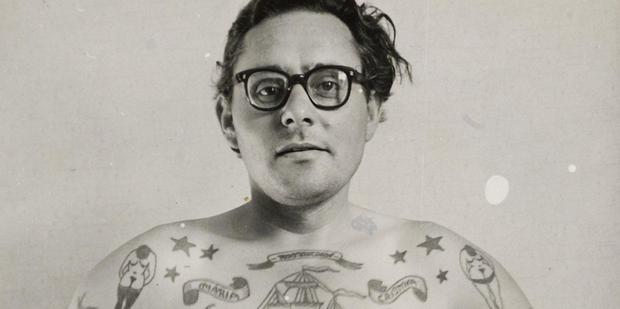 Three days before he was sentenced on firearms charges, I was looking Tame Iti directly in the eye, his stare unblinking. The room was all but empty, just my wife and me, and his was the first face I saw when we walked in.
Oddly enough, his familiar, assured but also rather gentle gaze seemed welcoming, given we were in the Amsterdam Tattoo Museum on the other side of the world while he, at the time, was in custody in Auckland.
But a photograph of his face with full moko - and a rather undistinguished painting of his from 1999 - took central place at a part of the museum dedicated to Maori moko.
Iti's photo, taken about 20 years ago at a guess, was beside a poster of Once Were Warriors (signed by Cliff Curtis), a truly awful embroidery of a Maori chief's head, a reproduction of Gottfried Lindauer's painting The Tohunga-ta-moko at Work, and a mock-up of a meeting house with carved boards.
All this sounds tacky and, although the notes in the adjoining display cases are clumsy ("the Maori wars" and "marai"), the display is well-intentioned and otherwise respectful.
And quite a surprise for any New Zealander who - taking time away from Amsterdam's major attractions like the Rijksmuseum, with its Rembrandts, and the Van Gogh Museum - turns up at this fascinating museum of tattoo culture, which is the physical coda to the life's work of famed tattooist and historian Henk Schiffmacher.
Hank Panky, as he is often known, has collected more than 24,000 examples of body art from around the globe and through history.
In two historic buildings near the zoo, which have been gutted and filled with display cases, large-format photos, video and collections of tattoo designs and equipment, the Tattoo Museum is an unexpected and interesting digression through an alternative and colourful history.
The museum opened a year ago has in-house tattooists should you be so moved (you can donate your skin when you pass on) and offers a library and study centre for the serious scholar of skin art. There's a gift shop, too. (I bought a badge, which didn't hurt at all when I poked the pointy bit through the lapel of my jacket.)
From the Iban people in Borneo (a longhouse is recreated), through Samoan pe'a and malu (male and female thigh tattoos), yakuza in Japan (a series of life-size and jaw-dropping photos of full torso tattoos on men and women) and on to rockstar body art, Hank Panky has been diligent in collecting and archiving this increasingly popular form of body decoration.
Some of it is chilling (the coded markings on ferocious-looking career criminals in Russian prisons) and others just look painful - not the least in the photos of genital tattoos, on a man and a woman, which are discreetly placed behind a mannequin but still quite visible.
Important tattooists such as Bristol's Les Skuse (1912-73, voted "the Champion Tattoo Artist of All England" in 1955) and his son Bill (married to Rusty Field, for years in the Guinness Book of Records as Europe's most frequently tattooed woman) are acknowledged.
There are old posters and signage from circuses which featured tattooed ladies, examples of artists' design books, numerous photos of tattooed bodies (some dramatically beautiful, others like they've been attacked by a demented child with a felt-tip pen) and upstairs by the cafe are album covers signed by big stars who have dropped by, like Bruce Springsteen.
Some of the explanatory notes on the examples from tribal cultures err to the amateur ethnographic, but the Amsterdam Tattoo Museum certainly makes for a very different afternoon out in Amsterdam, especially if you've done the refinement of Rembrandt and the vibrancy of Van Gogh.
Alongside the truly terrifying, head-shakingly strange and wonderfully weird, there is refinement and vibrancy here, too. Except most of it - unlike the Rembrandts and Van Goghs - looks really, really painful.
CHECKLIST
Getting there: Cathay Pacific operates up to two flights a day from Auckland to London, and one a day direct to Amsterdam, all via Hong Kong.
Further information: The Amsterdam Tattoo Museum is at Plantage Middenlaan 62.
Graham Reid flew to London with assistance from Cathay Pacific. He travelled to Amsterdam at his own expense.