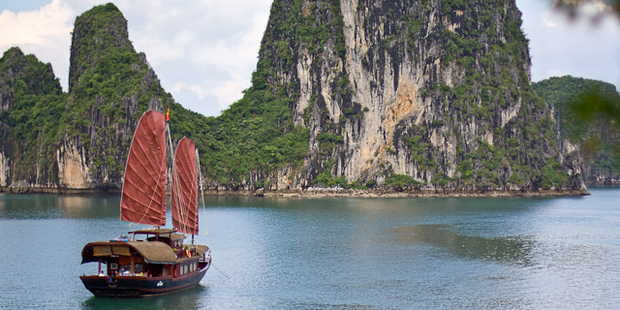 I'm off to Vietnam in January. Do you have any advice on getting the best out of a visit to Halong Bay?
- Gareth
Lonely Planet's Sarah Bennett & Lee Slater write:
Designated a World Heritage site in 1994, this mystical scene of about 2000 limestone islets is often compared to Guilin in China or Krabi in southern Thailand.
Sprawling Halong City is the bay's main gateway, but its raffish high-rise hotels and karaoke bars are not a great introduction. Most visitors opt for tours that include sleeping on a boat in the bay, while others dodge Halong City and head straight for Cat Ba Town from where trips to the alluring Lan Ha Bay are easily set up. Cat Ba Island is renowned for hiking, sailing and word-class rock climbing.
To the east, Bai Tu Long Bay continues nature's spectacle all the way to the Chinese border, and Quan Lan Island is popular with adventurous travellers.
There are many ways to experience the ethereal beauty of Halong Bay, but unless you have a private yacht you'll have to take a tour. For a big splurge, cruising aboard a luxury Chinese-style junk is hard to beat. Be aware, though, that many luxury trips operate on a fixed itinerary, taking in the well-known caves and islands.
Budget tours sold out of Hanoi start from a rock-bottom US$35 ($44) a person for a dodgy day trip, and rise to about US$150 for two nights on the bay with kayaking. For about US$80-$90, you should get a worthwhile overnight cruise. Lonely Planet hears many complaints about ultra-budget tours; spend a little more and enjoy the experience. Lonely Planet's Vietnam guidebook lists reliable Hanoi-based tour operators in Halong Bay.
Staying connected on the road
I'm planning to purchase a smartphone before heading to Europe via Korea with friends. I've heard that it is nigh on impossible to buy a SIM card in Korea unless you live there. We are also planning to visit Europe (Turkey, Greece, Italy, Germany, France, UK). What is the most cost-effective way for our group to stay connected?
- Sarah Young
Lonely Planet's Sarah Bennett & Lee Slater write:
In South Korea, to buy a pre-paid SIM card your phone will have to be compatible and unlocked, and you'll have to register in person.
Other options are hiring a phone through companies like S Roaming, or buying an international SIM card such as from OneSimCard. None of these options are particularly cheap so if you're visiting for a limited time it's probably more hassle than it's worth.
The simplest option is to set up roaming with your New Zealand provider, limit your use to texting, and use free Wi-Fi and internet cafes where you can.
If you're visiting North Korea, forget it. Your phone and any GPS-capable devices will be confiscated at the airport and returned to you when you leave the country.
Mobile comms in Europe are relatively cheap and it's easy to pick up cheap SIM cards. There are, however, no Europe-wide SIM cards and some will stop working as you cross borders. If they do work, you will incur roaming charges. Your best bet is to use up the balance on the SIM card and then pick up a local pre-paid SIM card in the next country you visit.
Free Wi-Fi is available in many parts of Europe: make the most of it when you can.
WIN A LONELY PLANET GUIDEBOOK
Email your questions to travel.info@lonelyplanet.com and they'll be answered by Lonely Planet's experts.
In addition, the best question each week will earn a Lonely Planet guidebook. Add your postal address and the guidebook you'd like (see lonelyplanet.com).
Not all questions are answered and Lonely Planet cannot correspond directly with readers.