Jumping out of a plane proves a great way to relax, writes Bronwyn Sell.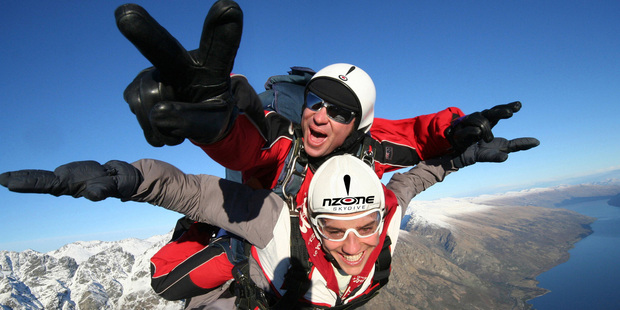 There's no more effective way to escape the mundane frustrations of life than by jumping from a plane.
It's impossible to visualise your to-do list when you're free-falling through thin alpine air for a minute. An entire minute. Go on, time it. It's a long time to be plummeting at 200km/h.
In hindsight, it seems crazy that I had to think twice before committing to a last-minute two-day trip to Queenstown - staying in a luxury hotel, eating at some of the country's best restaurants and having a clutch of once-in-a-lifetime experiences.
I just didn't have time for it. There was school stationery to track down, there were deadlines nagging, there was a husband who'd have to take time off to look after the kids. I almost didn't go.
But, several days later, there I was: stepping off a helicopter in an alpine valley in the Remarkables.
I crunched a safe distance away, busting through virgin snow up to my ankles. The helicopter whined back to life and rose, whipping up a thousand tiny diamonds of ice illuminated by the sun.
It whirred away and settled on a plateau in the distance, like a perching mosquito.
Thick snow curved and swelled around us, diving into meandering valleys and rising up to rock-studded peaks, the whiteness intensifying the uninterrupted cobalt of the sky. The slopes were scarred with old avalanches, and now and then a nugget of ice came scudding down.
Right about then, if I had still been in Auckland, I would probably have been trying to figure out if a 1U4 exercise book was close enough to the elusive LWB on my son's stationery list, or wondering if it would be better to stay up past midnight or set the alarm for 5am to finish an urgent piece of work.
Hundreds of scientific studies show the restorative benefits of retreating into nature. Now, I'm a believer.
I spent two glorious days leaving the world behind. And when I flew back into Auckland, it wasn't with the thud of the back-to-reality comedown that usually follows a holiday. I felt zen-like and bulletproof. And grateful that my parachute had opened.
Here, then, is your recipe for a soul-restoring trip to one of the most beautiful regions of New Zealand.
1. Skydiving
Perhaps I am in denial, but I approach skydiving blithely. What's so challenging about a tandem jump when you're strapped to an instructor who has done it thousands of times before and it's his job to pull the chute?
As the little plane roars above Queenstown, I peep through the flimsy looking roller door that separates me from nothing. My stomach lurches. The trees are dots, the river a rope, Lake Wakatipu a pond. I hadn't realised how sickeningly high 4500m was.
I think: I can't back out now.
I think: Can I back out now?
And then the burly bloke from Canterbury I've entrusted with my life opens the door. And boom, we're plummeting to Earth.
I'm blasted by a roaring rush of air and my heart goes off like a machine gun.
Then the Cantabrian pulls the cord and we lurch upwards and hover. This is more like it.
We silently sway down to earth, and the dots turn back into trees, the rope back into a river, the pond back into the lake.
When we coast in to land, I'm sure my body is raging with endorphins in delight at finding itself unexpectedly alive. But next time I'm going paragliding.
Details: NZONE has been tossing people out of planes above Queenstown for 22 years. Ph 0800 376 796.
2. Burton Mini High-Fives
Sometimes it's better for the soul to watch other people defy death and orthopaedic surgery.
We drive up to the fast-disappearing snowline and find Snow Park NZ, which is like a frozen skateboard park, with jumps and loud music and cool young bearded Americans. Here, 60 of the world's best snowboarders are competing in the Burton Mini High-Fives, a touring global competition.
We spend a few hours gaping and flinching as they fly down the slopes of the triple jump and then launch into the air, looping, twisting, somersaulting and, yes, occasionally crashing.
Details: The tour returns next year. See opensnowboarding.com.
3. Alpine BMW test driving
My motorhead friend Brett was devastated that I got to blat a BMW X3 30D around in the Southern Hemisphere Proving Grounds above Wanaka.
"It was wasted on you."
Apparently this place is legendary. I had no idea it existed.
Each winter it transforms into a secret-squirrel, high-security alpine testing ground for big international car companies. I got to have a go, sliding and lurching and inadvertently pirouetting around a glorified ice rink. Call it Wanaka Drift.
Details: BMW runs alpine driver training courses in August, and driver training experiences at Hampton Downs, in the Waikato, year-round. See tracktime.co.nz, (09) 585 1134.
4. Eating and drinking
Few things are better for the soul (and the body) than good food, good wine and good company.
We mix the old and the new, spending one evening at the legendary Saffron in Arrowtown and the other at Josh Emett's new Queenstown restaurant Rata. We fill the gaps in between with a mulled wine at the historic Cardrona Hotel and lunch at Vudu cafe in Queenstown. The highlight? Rata's seared First Light wagyu with soy, shiitake and ginger.
Details: Saffron, 18 Buckingham St, Arrowtown, (03) 442 0131; Rata, 43 Ballarat St, Queenstown, (03) 442 9393; Cardrona Hotel, Crown Range Rd, Wanaka, (03) 443 8153; Vudu has two cafes in Queenstown, at 16 Rees St, (03) 441 8370, and 23 Beach St, (03) 442 5357.
5. Heli snowshoeing
If a helicopter flight isn't enough of an indulgence, try a helicopter flight over the Remarkables, followed by a landing in the snow and a couple of hours of crunching around a pristine alpine area in high-tech snowshoes. It's like cross-country skiing without the skis. Before we lift off again we stop for a cuppa and cookies on a frozen lake.
"The highest cafe in Queenstown," proclaims our guide, Peter Hitchman, as he whips a shovel out of his bag and sculpts a bench from the ice, before laying down thin foam mats to protected our delicate city bottoms.
Details: Guided Nature Walks also offers snowshoeing via road and myriad other outdoor adventures, (03) 442 7126.
6. A massage at the Hilton
It's surreal to be lying on a massage table at the Hilton about half an hour after freefalling through the skies above. The therapist recommends the Meditation Massage. It's "perfectly suited", according to the brochure, "to the overworked, overtired and sleep deprived".
Ah yes, she saw me coming. Sixty minutes later, I wobble out of there. Happy body, happy soul. Fortified, and ready to return to the world.
Details: Eforea Spa at the Hilton Queenstown, (03) 450 9416.
WHERE TO STAY
Queenstown Park Boutique Hotel: 21 Robins Rd, ph (03) 441 8441.
Hilton Queenstown: Fifteen minutes from town. 79 Peninsula Rd, ph (03) 450 9400.
Cardrona Hotel: Twenty minutes to Wanaka. Crown Range Rd, ph (03) 443 8153.
Bronwyn Sell was hosted by Mini New Zealand and Destination Queenstown.