LA proved too much for this man. Overwhelmed by the contrast between the city's PR and its reality, Damien Grant was happy and relieved to see the green, green grass of home.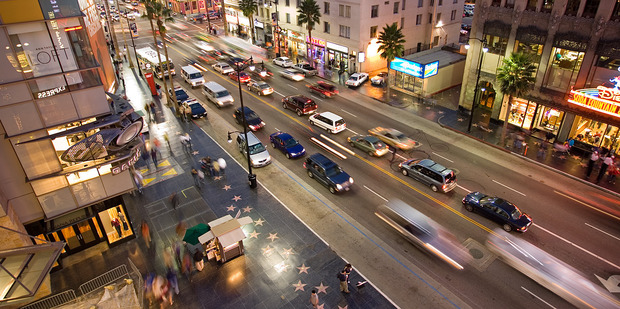 Los Angeles is like its street walkers. From a distance it shimmers: seductive, glamorous and alluring. Proximity diminishes its lustre.
There are many minor irritations: taxi drivers who take the scenic route, undisclosed sales taxes and, worst of all, antiquated rules that force strip joints to provide naked girls or booze, but not both.
But never mind all that.
Never mind the malcontents who man Customs, the incompetence of those who sell tickets at most attractions or the nasty glares from surly wait staff when you fail to tip.
This is LA, baby, and it rocks.
We were there on business, the Chairman and I, but business be damned. This was LA.
The Chairman was keen on finding Katy Perry; I was more interested in the Playboy Mansion.
We'd sleep when we got back.
Sunset Boulevard sounded like a good place to start and on the map it was a short walk from our hotel. LA on foot is a shockingly bad idea.
Five hours later, we discovered that the real action was on Hollywood Boulevard, chafing can be a real burden and that the scale on LA hotel maps is unreliable.
The next day we taxied to Hollywood Boulevard. Celebrities are minor deities; the Walk of Fame and the plethora of LA's waxworks is the new Pantheon. Ripley's, Madame Tussauds and the Hollywood Museum are simultaneously tawdry and excellent. You can sense the illusion and allure of the place, how close fame and wealth might be. Every Hooters girl and boisterous huckster is just an audition from their dreams.
The Kodak Theatre (since renamed the Dolby Theatre) makes glamour seem so accessible. It isn't. A glimpse into the nether world of panhandlers and Russian whores reveals the ugly truth, yet these human casualties are part of the city's fascination.
Being a business trip, along the way we found ourselves watching baseball from the comfort of a corporate box at Dodger Stadium.
Our hosts were lovely but baseball is a stupid game, cricket for dummies. I understood the genesis of the game in less than an innings. I'm not sure God understands cricket.
Three hours and three runs later, the Houston Astros won. The stadium holds nearly 60,000 people and is built for baseball. Nothing else. No utilitarian double purpose here.
The next day we were ensconced in the Kodak Theatre to see Cirque du Soleil and what a showcase of entertainment it was.
But Los Angeles is not just about shows and movies. They also have theme parks based on movies and the greatest theme park of them all is Universal Studios.
It is awesome.
A text from Mrs Grant asking, "Where are you?" got the reply, "Wisteria Lane".
A mixture of theme park and working studio, it's a fascinating place. For an extra US$50 you can jump to the front of any queue; the wait times for some rides was up to 90 minutes and most are over faster than a movie trailer, so this was an excellent investment.
The Chairman and I went on all the rides in a single morning and had time to watch Norman Bates dump a corpse before lunch.
Warner Bros was much less interactive; a working studio with no themed joyrides but we were able to visit the set of Friends and watch a sitcom in action. Pretty cool.
Disneyland was more of a challenge.
We went on Memorial Day. Big mistake. To honour the sacrifice of their troops, Disneyland allows anyone with a military pass, or so grossly obese they need a mobility scooter, in for nothing.
The morning was bearable; the roller coaster was worth the 40-minute wait and the Muppets in 3D was entertaining, but by the afternoon Disneyland was a Memorial Day disaster.
Ride time waits were stretching to two hours and the crush of people was worse than at a Len Brown World Cup party.
We glimpsed Mickey Mouse, and the twice-daily parade took me back to the joys of Peter Pan and the evil Captain Hook.
The moral of the story is, if you go, go early. The park is open until midnight at weekends and on public holidays but you would need to be a little unhinged to endure it for that long.
The Chairman was disappointed at not finding Katy Perry and I'd been unable to secure an invitation to the Playboy mansion so we abandoned LA and travelled several hours north to see a fantastic complex called Hearst Castle.
The name Randolph Hearst will resonate for many readers but the details of why he is famous are a little elusive.
Hearst was the Rupert Murdoch of his era, and his era ran for 50 years until his death in 1951.
His wealth was astounding and his castle is a massive 56-bedroom hilltop mansion overlooking the Pacific. His agents plundered the antique reservoirs of Europe; the estate contains everything from 3000-year-old Egyptian statues to medieval tapestries and Roman columns which adorn his outdoor pool.
Hearst would ship in celebrities, politicians and business executives so he could hold court.
He is immortalised in the movie Citizen Kane and is now better known for being the grandfather of alleged 1974 kidnap victim Patty Hearst.
We travelled with Air New Zealand and if you can talk your way into an upgrade, do.
The fold-out beds in business class were fantastic. It was the first time I've managed to lie flat in an airline seat and, despite my six-foot-something frame, my feet did not poke into the aisle.
But the real joy was on our arrival back in Auckland.
We may lack the glitz and glamour of our Pacific neighbour, but New Zealand Customs can teach the Yanks a few things about efficiency and courtesy. And the beagles are cute.
Damien Grant travelled to Los Angeles on a business trip not paid for by a tourism provider.